Metallica Shares New Single 'If Darkness Had A Son'
The new track is the latest taster for Metallica's new album '72 Seasons', out on April 14.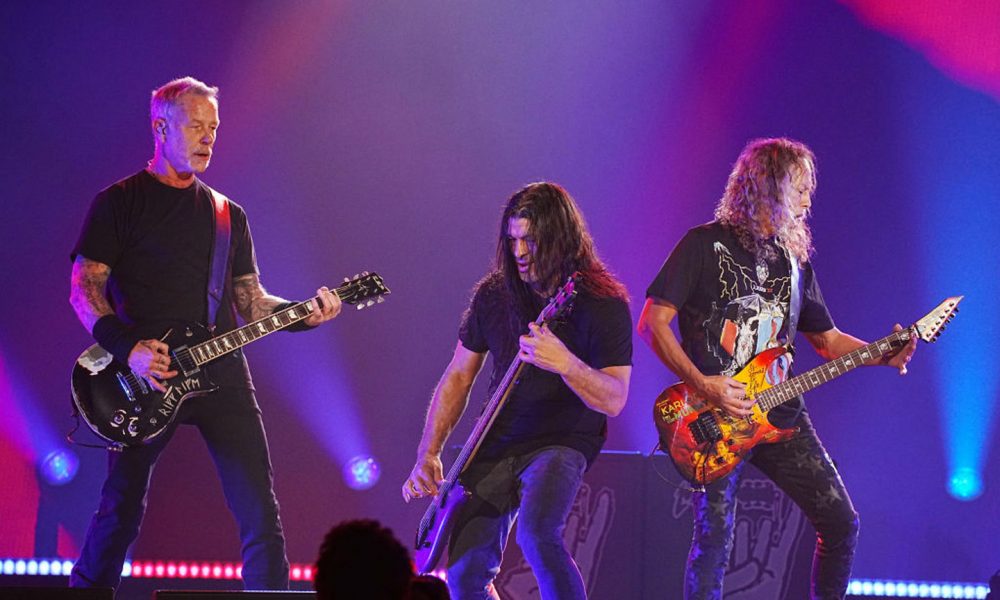 Metallica has released its new single "If Darkness Had A Son" – along with the song's official video which you can check out below.
Prior to the song's release, the heavy metal icons – James Hetfield, Lars Ulrich, Rob Trujillo, and Kirk Hammett – invited fans on TikTok to duet with them on the new track from their upcoming album 72 Seasons. They captioned a clip of the four band members rocking out to the tune on Tuesday (28.02.23): "#duet with @metallica #IfDarknessHadASon out tomorrow. #72seasons #metallica #duetchain (sic)"
"If Darkness Had A Son" follows the metal icons' recent singles "Lux Æterna" and "Screaming Suicide."  72 Seasons will follow on April 14 via Metallica's own Blackened Recordings. Produced by Greg Fidelman with Hetfield and Ulrich, and clocking in at over 77 minutes, the 12-track 72 Seasons is Metallica's first full length collection of new material since 2016's Hardwired…To Self-Destruct.
The album will be released in formats including 2LP 140g black vinyl and limited edition variants, CD, and digital.
In ddition, Metallica and Trafalgar Releasing are excited to extend an open invitation to a worldwide listening party: the global premiere of Metallica's forthcoming 12th studio album, 72 Seasons.
For one night only on Thursday, April 13, 72 Seasons will be played in full in pummeling surround sound, exclusively for cinema audiences worldwide—with every one of the new songs featuring its own music video and exclusive commentary from the band. The result will offer fans an unforgettable night as they experience 72 Seasons first and fully on the eve of its April 14 release date.
Though the band is focused on their new album, Metallica is also celebrating accomplishments of old hits, too. The band's most streamed song on Spotify, "Enter Sandman," recently surpassed the one billion streams mark. That's rarified air, especially in the rock world, where the songs that have reached the mark are still relatively minimal.