Metallica To Perform Four-Night Residency On 'Jimmy Kimmel Live!'
The metal titans will be the show's musical guest each night this week, beginning on Monday, April 10, through Thursday, April 13.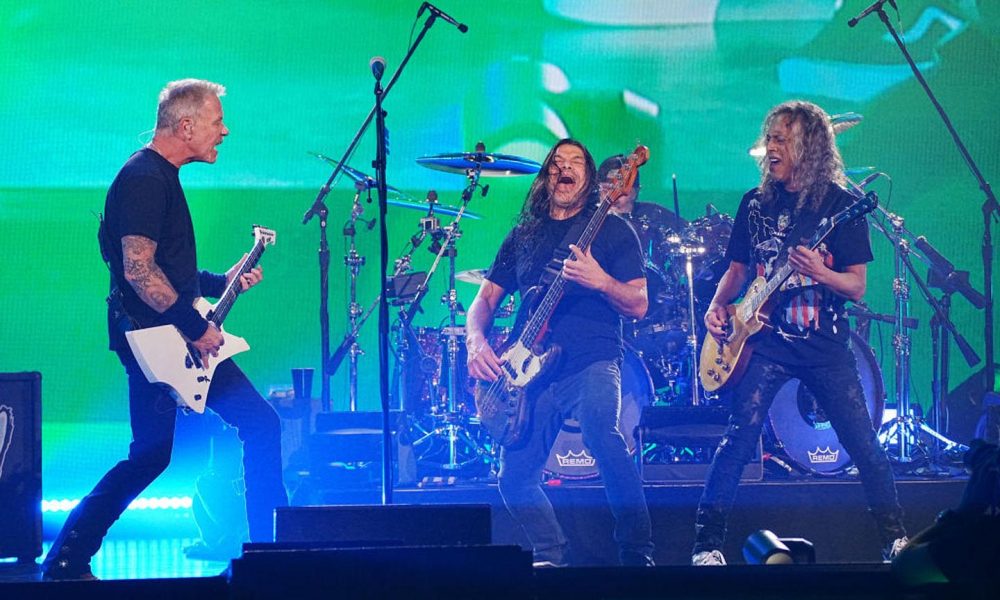 Metallica will celebrate the release of its new album, 72 Seasons, by performing four nights in a row on "Jimmy Kimmel Live!" this week.
Hosted by Jimmy Kimmel, who announced last year that he would continue his run as host through the show's 23rd season, "Jimmy Kimmel Live!" has the distinction of being the US' longest-running late night program still on the air.
"In a first for the Jimmy Kimmel Live! show, it's 'Metallica Week,' as we will be the musical guest each night, beginning on Monday, April 10, through Thursday, April 13," Metallica wrote in a message on social media. "We'll be playing live for all four shows, and you'll also catch us on the couch, chatting with Jimmy one night. Keep your eyes peeled for other sightings during the broadcast, as we really don't know what else Jimmy will get us involved in!"
Metallica previously appeared on "Jimmy Kimmel Live" in 2021 when they read one-star reviews of their classic "Black Album" on the show. More recently, Kimmel hosted Metallica's "All Within My Hands" benefit concert and auction in December.
72 Seasons will be released April 14 via Metallica's own Blackened Recordings. Produced by Greg Fidelman with Hetfield and drummer Lars Ulrich, and clocking in at over 77 minutes, the 12-track 72 Seasons is the band's first full-length collection of new material since 2016's Hardwired…To Self-Destruct. The album will be released in formats, including 2LP 140g black vinyl and limited-edition variants, CD and digital.
Metallica and Trafalgar Releasing will hold a worldwide 72 Seasons listening party. For one night only on Thursday, April 13, 72 Seasons will be played in full in surround sound, exclusively for cinema audiences worldwide — with every one of the new songs featuring its own music video and exclusive commentary from the band.
The 72 Seasons global premiere sees Metallica and Trafalgar joining forces once more, having previously worked together on the October 2019 worldwide cinematic release of S&M², which documented Metallica and San Francisco Symphony reuniting to celebrate the 20th anniversary of their original "S&M" (Symphony & Metallica) concerts and releases.