Motörhead Drummer Phil 'Philthy Animal' Taylor's Drum Kit Up For Auction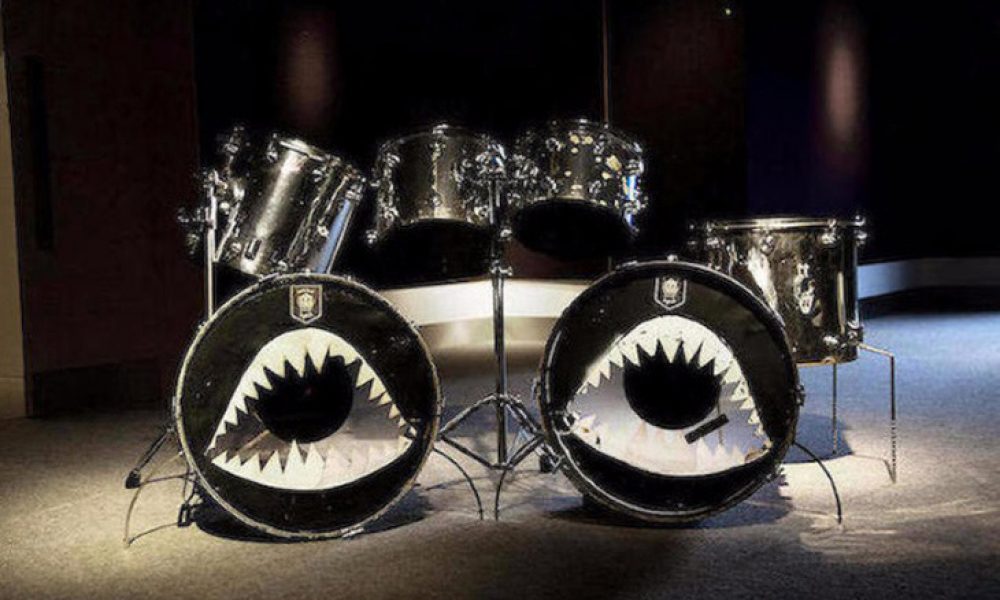 A drum kit formerly belonging to Late Motörhead drummer Phil 'Philthy Animal' Taylor is going under the hammer via Bonham's, the celebrated UK-based auction house.
The Camco drum kit includes shark motif bass drum skins which appeared on Taylor's kits at a number of live performances throughout the 1980s, among them Top Of The Pops in 1980 and the official music video for Motörhead's 1981 classic 'Ace Of Spades'.
The kit was given to the vendor by his friend, another fellow drummer, who had acquired it from a private sale in the early 1990s.
The Bonham's web site describes the item as: "Mirror finish, comprising; two 24 x 14-inch bass drums each fitted with original front skins bearing shark teeth motifs and with an original Motörhead sticker, two original black wooden front head hoops, an 18-inch floor Tom, a 16-inch hanging Tom, a 15-inch hanging Tom, and a 14-inch hanging Tom. 'Cloud' badge.
Motörhead - Overkill (live at Rock am Ring 2015)
"Each drum head on the Toms fitted with a clear Remo CS Black Dot. Accompanied by three vintage drum cases including a Le Blond bass drum case, one double braced double tom stand, various spare Remo CS Black Dot clear heads and various spare Camco lugs, dampers, and accessories."
Phil Taylor died on 11 November 015 of liver failure. He was 61 years old. A few days after Taylor's passing, Motörhead frontman Lemmy Classic Rock magazine that he was "devastated" to have lost one of his best friends. He said: "Now [Phil has] died and it really pisses me off that they take somebody like him and leave George Bush alive."
Taylor played in the classic Motörhead line-up from 1975 to 1984 and again from 1987 to 1992. He appeared on the band's debut album, On Parole, and played on a further ten albums, including the classic trio of Overkill (1979) Bomber (1979) and November 1980's Ace Of Spades.
Taylor contributed to Motörhead's 1992 album March Or Die but departed the band during the recording process. The album was completed by drummers Tommy Aldridge and the band's most recent sticksman, Mikkey Dee.
Explore Our Motörhead Artist Page
Format:
UK English