The Edge, Paul McCartney, Dave Grohl, And More To Auction Off Instruments For Charity
Music Rising was founded in 2005 by The Edge and producer Bob Ezrin.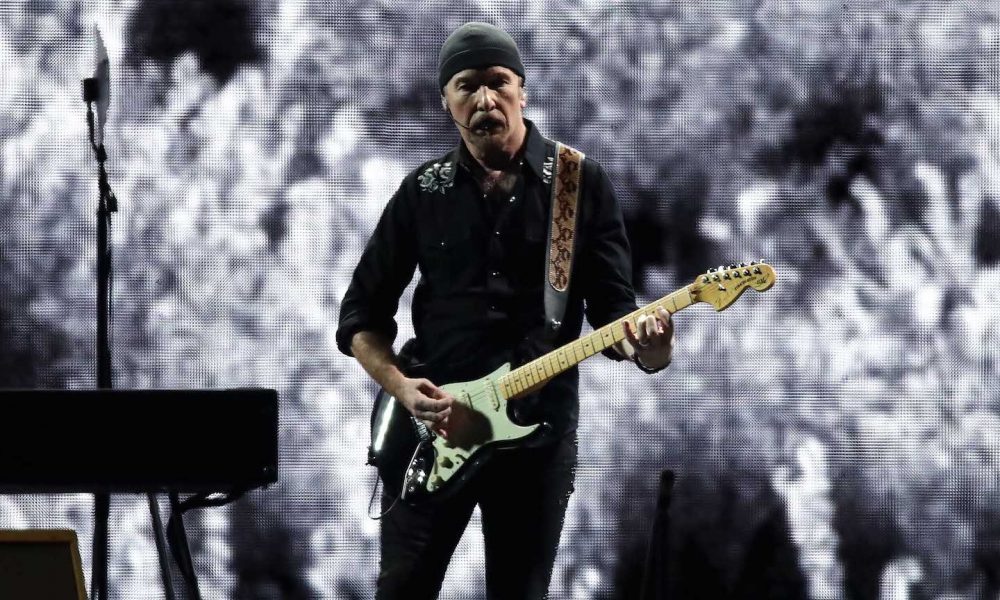 The Edge and producer Bob Ezrin have assembled a collection of guitars and other musical instruments from Paul McCartney, Rush, Radiohead, Pearl Jam, Joe Walsh, Green Day, Ron Wood, Dave Grohl, Tom Morello, Noel Gallagher, Joan Jett, and many others to benefit Music Rising, the charity they formed in 2005 to aid musicians devastated by Hurricane Katrina. Guitars Icons: A Musical Instrument Auction to Benefit Music Rising will take place on December 11 at Van Eaton Galleries in Los Angeles, but bids will also be accepted via the Internet.
Some of the most notable items come from U2's private collection, including the 2005 Limited Edition Gibson Les Paul Music Rising guitar that Edge played during "One" on the Joshua Tree tours of 2017 and 2019 along with many other shows during the past 15 years, including the 2006 Grammys where the guitarist performed alongside Bruce Springsteen and Elvis Costello.
They're also selling the Custom Signature Fender Stratocaster that Edge used on "Bad" and "I Still Haven't Found What I'm Looking For" in 2017 and 2019, Adam Clayton's Fender Standard Precision Bass he used on "A Sort of Homecoming," "Bullet The Blue Sky," "Running to Stand Still" and "One Tree Hill" in 2017, and Bono's Custom Gibson ES-175 Electric Guitar he played throughout the Zoo TV tour on "The Fly" and "Angel of Harlem."
The organization is also auctioning a Yamaha BB-1200 Electric Bass Guitar that McCartney played on Wings tours in the late 70s, a Gibson Custom Shop "Victoria" Les Paul Goldtop Model Electric Guitar signed by Slash, Noel Gallagher's Telecaster guitar he played on tour with the High Flying Birds, an autographed Yamaha Motif-8 Keyboard that Elton John used on the road for nearly a decade, Alex Lifeson's Signature Hughes & Kettner RUSH Amp and Cabinet Half Stack that were used on Rush's 40th anniversary tour, a Fender Stratocaster that Eddie Vedder smashed onstage at Wrigley Field in 2018 during the conclusion of "Baba O'Riley," and three guitars that were played by Lou Reed.