Nathaniel Rateliff And The Night Sweats Sing 'National Anthem' During NBA Finals, Share New EP
The new EP marks the band's first body of work since its acclaimed 2021 album 'The Future.'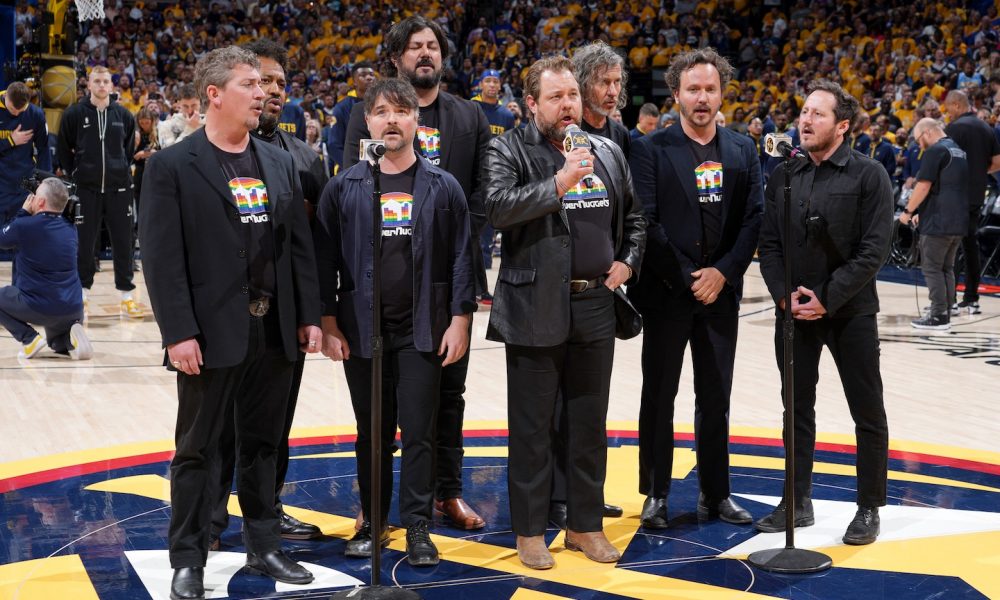 Last night, Nathaniel Rateliff & The Night Sweats performed the National Anthem at Denver's Ball Arena to kick off the NBA Finals series between the Denver Nuggets and Miami Heat.
In other exciting news, What If I, the new five track EP from Rateliff and his band, is out now on Stax. The EP marks the band's first body of work since its acclaimed 2021 album The Future.
Nathaniel Rateliff & The Night Sweats - "Slow Pace Of Time" (Official Audio)
The EP features a selection of unreleased songs recorded during The Future sessions as well as the new track "Buy My Round." All songs on the new record are produced by Bradley Cook (Bon Iver, Kevin Morby, The War on Drugs) and R.M.B., the production trio of Rateliff, Patrick Meese, and James Barone (Beach House). In addition, the song "Slow Pace of Time" features Preservation Hall Jazz Band leader and clarinetist Charlie Gabriel.
Additionally, the group continues to take its lauded live show on the road this summer and fall for an extensive run of worldwide dates. The U.S. tour includes multiple shows at Denver's Red Rocks Amphitheatre, Chicago's The Salt Shed, and Minneapolis' Surly Brewing Festival Field.
The band will also be making appearances at the Outlaw Music Festival with Willie Nelson & Family, Pilgrimage Music & Cultural Festival, Sea.Hear.Now Festival, and more. The current run of shows follows a recent performance at Willie Nelson's 90th Birthday Celebration at Los Angeles' Hollywood Bowl as well as an appearance at Brandi Carlile's Mothership Weekend at Seascape Resort in Florida.
In support of The Future, which was released to widespread acclaim, the group performed multiple times on The Tonight Show Starring Jimmy Fallon, The Late Show with Stephen Colbert, CBS This Morning: Saturday, and Austin City Limits. In addition, Rateliff sat with Anthony Mason of CBS Sunday Morning to discuss the band's rise to stardom.