Nubya Garcia Taps Into The Frenzy Of Life On New Single 'Lean In'
The track follows Garcia's Amazon original from April, 'Rude Boy/It's Love.'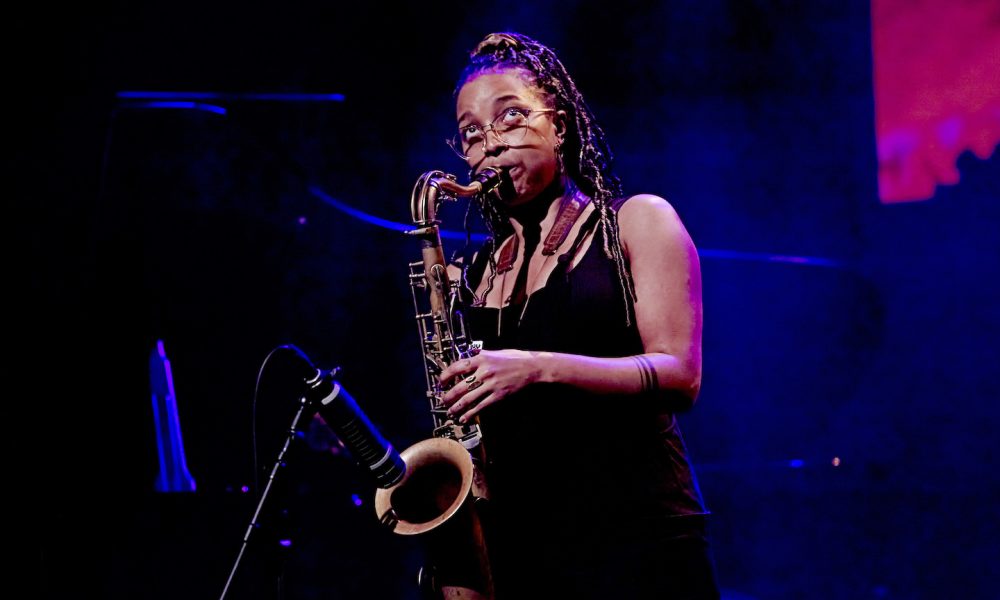 Nubya Garcia returns with a joyfully frenetic new single in the form of "Lean In." The sterling jazz composition is built around Garcia's horn, keyboard melodies, and skittering drums. Check it out below.
"Inspired by the sounds of garage that I grew up around, this track is about the combination of leaning in to the frenzy of life and going with the flow, letting the universe keep things moving, and trusting it's all gonna bop along", says Garcia.
The new track is Garcia's first solo Concord Jazz release since 2021, following her remix album, SOURCE ⧺ WE MOVE, a nine-track remix album of her Mercury Prize-nominated debut solo album Source. On SOURCE ⧺ WE MOVE, the celebrated musician recruited fellow players Nala Sinephro, Georgia Anne Muldrow, and Moses Boyd, to name a few.
Back in April, Garcia released the Amazon Original "Rude Boy/It's Love," an inspired mashup of Prince Jammy and Lee "Scratch" Perry's dub classic "Rude Boy" and "It's Love," a deep cut from Jill Scott's groundbreaking debut album.
Garcia lays a fluid and sinuous saxophone melody over percussive keyboard and drum flourishes that seamlessly blend the two songs into a stirring, intoxicating sonic collage.
"I have been incredibly inspired by the music of both Jill Scott and Prince Jammy (now known as King Jammy) for such a long time. I thought it would be amazing to see how it felt to combine their music and add my own sound to it," said Garcia. "Think big sound system, feeling the bass in your chest, everyone dancing, your community all out in celebration of each other, living in their truth…those are the energies I wanted to bring to this: upliftment, enjoyment, and a celebration of love from your soul."
Fans can hear Nubya Garcia's Amazon Original on the The Pocket playlist or by simply asking "Alexa, play the Amazon Original from Nubya Garcia" in the Amazon Music app for iOS and Android, and on Alexa-enabled devices.