Queen + Adam Lambert Add Further Shows To 2022 UK & Europe 'Rhapsody' Tour
New shows have been added to the itinerary in Belfast, Bologna, Oslo, Stockholm and Helsinki.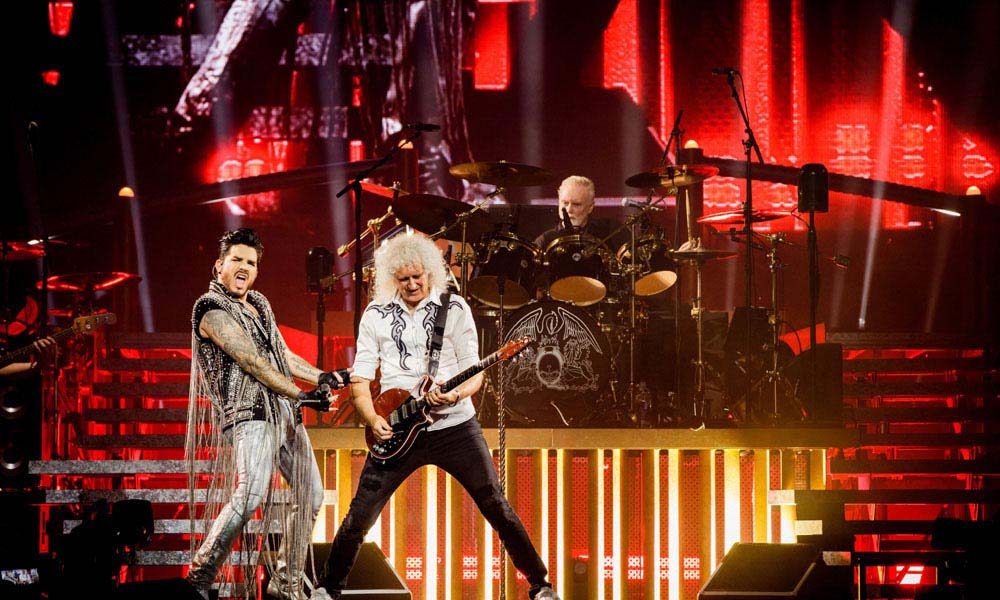 Queen + Adam Lambert have today announced further European shows are being added to the band's twice-postponed 'Rhapsody' UK & Europe tour, now set to take place next year.
Extending the mainland Europe leg of its highly anticipated tour, the band will also play newly set shows in Italy, Sweden, Norway, and winding the tour up with a new final show in Finland on 24 July 2022. In all, Queen + Adam Lambert will now perform 34 shows across their Rhapsody UK & Europe 2022 tour.
Queen + Adam Lambert's 2022 "Rhapsody" concerts will be the band's first European dates since the worldwide box office sensation that was the Bohemian Rhapsody film.
The all-new "Rhapsody" show, already hailed as "a marvel of technical advances," originally kicked off the new year of 2020 with 17 giant arena and stadium shows across South Korea, Japan, Australia and New Zealand playing to audiences as large as 60,000 in one night.
Twice postponed due to the arrival of the COVID pandemic, the mega-show is now scheduled to be performed in the UK and Europe in late spring, 2022 as Queen original band members Brian May and Roger Taylor team up once more with long-time front man Adam Lambert on lead vocals to perform shows from mid May to late July. "It's loud, it's fun, and it's unforgettable" is how the new show was greeted on its initial arrival.
The 2022 European tour will launch in Belfast, UK, on 28 May, with its final stop in Helsinki, Finland on 24 July.
Over the "Rhapsody" tour 2022, European audiences will at last have the chance to see the epic new show which drew awe and acclaim on its initial outing in North American in 2019, and became Rock's hottest ticket of the year in the US. Ever the masters of extravagant performance and sumptuous visuals, Queen + Adam Lambert's newest production is again the work of Stufish Entertainment Architects' set designer Ric Lipson and lighting designer Rob Sinclair who both have a long-term association with Queen including the band's 2017-2018 eye-popping "News Of The World" inspired touring show.
Lipson describes the two-and-a-half-hour production as: "A new chapter in the history of the band. Once again for them expanding the parameters of what a live music experience can be, this new show delivers the band's most spectacular yet, an innovative and interactive celebration of the continued power of Queen's music."
On originally announcing the band's UK and Europe fans, Queen's Roger Taylor stated: "We're back and we're hot."
An enthused Brian May said: "This is a fearsome new production taking the Queen legacy to a new place. I'm well proud."
Adam Lambert joined in saying: "I can't wait to get back to Europe, we had a blast on our last tour, and I am so excited to bring this new show over there!"
Since Adam Lambert first shared the stage with Queen for the 2009 American Idol final, his dynamic performances have reinvigorated the band and delighted fans worldwide. Starting as they meant to go on, their first full show together in June 2012 thrilled a crowd of half a million strong in the Ukraine capital city of Kiev. Since then, May and Taylor's musical fireworks have been matched by Lambert's vocal prowess and stage presence, making for an explosive combination. Over 200 gigs later, the partnership has remained a commercial and critical triumph, playing to enraptured full houses in every corner of the world.
To date Queen + Adam Lambert have played 218 shows to an audience of close on four million spectators.
Queen + Adam Lambert's newly-announced UK & Europe 'Rhapsody' Tour dates are as follows:
UK: Belfast, The SSE Arena, Saturday 28 May, 2022
Italy: Bologna, Unipol Arena, Sunday 10 July, 2022
Sweden: Stockholm, Avicii Arena, Wednesday 20 July, 2022
Norway: Oslo, Telenor Arena, Thursday 21 July, 2022
Finland: Helsinki, Hartwall Arena, Sunday 24 July, 2022.