Rush Album Landmark 'A Farewell To Kings' Gets Multi-Format 40th Anniversary Update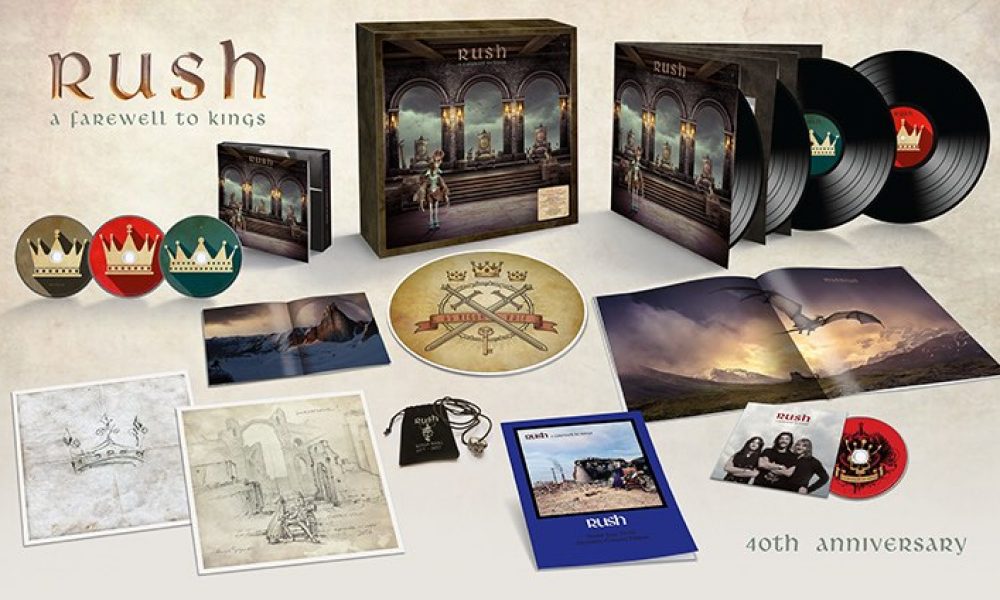 The 40th anniversary album celebrations of the Rush catalogue will continue with UMe/Anthem/ole label group's 1 December release of a lavish, expanded edition of their landmark 1977 album A Farewell To Kings.
The Canadian heroes'  fifth LP was instrumental in their progress to the top table of international bands, offering up their first radio hit 'Closer To The Heart,' and such staples as 'Madrigal,' 'Xanadu,' 'Cinderella Man,' 'Cygnus X-1' and the title track. The album reached No. 33, their highest peak at that point, in a 33-week run on the US chart, swiftly going gold. Platinum status followed in 1993.
In his new liner notes, Grammy-winning rock historian Rob Bowman describes A Farewell to Kings as "the beginning of Chapter Two" for Rush.  "No longer was the majority of the record dominated by the sound of a power trio.  A more mature Rush now embraced a wider sound palette using synthesizers, Taurus bass pedals, classical guitar, tubular bells, temple blocks and orchestral bells to create greater contrast and colour within their compositions. Yet, when desired, Rush continued to deploy the intensity, ferocity and power that they were justifiably known for."
A Farewell To Kings — 40th Anniversary will be available in four configurations: super deluxe, 3-CD deluxe, 4-LP deluxe and the deluxe digital edition. The super deluxe edition will include three CDs, one Blu-ray Audio disc and four high-quality, 180-gram vinyl LPs. 
For the first time on CD, the set will feature 2015's Abbey Road Mastering Studios remastered edition of the album, along with a complete Rush concert of February 1978 at Hammersmith Odeon in London, newly mixed by Terry Brown, the longtime Rush engineer and producer of A Farewell to Kings from the multi-track live tapes. It also offers newly-recorded covers of tracks from the original album by Dream Theater, Big Wreck, the Trews and Alain Johannes; and an instrumental studio outtake of "spacey" sound effects which Rush have titled 'Cygnus X-2 Eh.'
Contained within the Hammersmith show recording are over 34 minutes of unreleased performances including a complete '2112' suite, 'Lakeside Park,' a drum solo and 'Closer To The Heart.' The audio content of the super deluxe edition CDs is duplicated on its vinyl discs. 
The Blu-ray Audio disc of the album contains a new 5.1 surround mix by modern-day progressive rock figurehead Steven Wilson, plus three original 1977 promo videos from a newly-unearthed, two-inch quad video master, which significantly improves the video quality for 'Closer To The Heart.' The super deluxe package also has an elaborate new 40th anniversary cover treatment by longtime Rush creative director Hugh Syme. He has also created new artwork for each of the album's six songs, which are accompanied by Bowman's 12,000-word liner notes.
The super deluxe editon of A Farewell To Kings — 40th Anniversary offers several exclusive items, including a unique King's Ring, with custom velvet pouch and neck chain; two lithographs with original artwork by Hugh Syme; a special 12-inch turntable mat featuring distinctive artwork by Hugh Syme; and a reproduction of Rush's original 1978 A Farewell To Kings tour programme.
The 3-CD Deluxe Edition will have the newly "reasserted" album, the Hammersmith Odeon show, the four new cover songs, 'Cygnus X-2 Eh' outtake, Hugh Syme's song-specific artwork and Rob Bowman's liner notes. The audiophile four-LP deluxe edition will have the same audio content as the 3-CD edition with double-gatefold packaging, 32-page vinyl-size booklet, the special 12-inch turntable mat, Syme's artwork and Bowman's liner notes.
The deluxe digital edition will feature the original album as disc one, the complete Hammersmith concert unedited as disc two, and the four new cover versions plus the 'Cygnus X-2 Eh' outtake as disc 3.
On November 24, UMe will release a 7-inch vinyl single for Record Store Day's annual Black Friday event, featuring 'Closer to the Heart,' with a custom large-hole adapter and new artwork by Hugh Syme.
Order A Farewell To Kings — 40th Anniversary here.
Format:
UK English