Rush Unveil 'YYZ' Music Video From Stacked 'Moving Pictures (40th Anniversary)' Album Collection
The super deluxe edition of 'Moving Pictures – 40th Anniversary' arrives on April 15.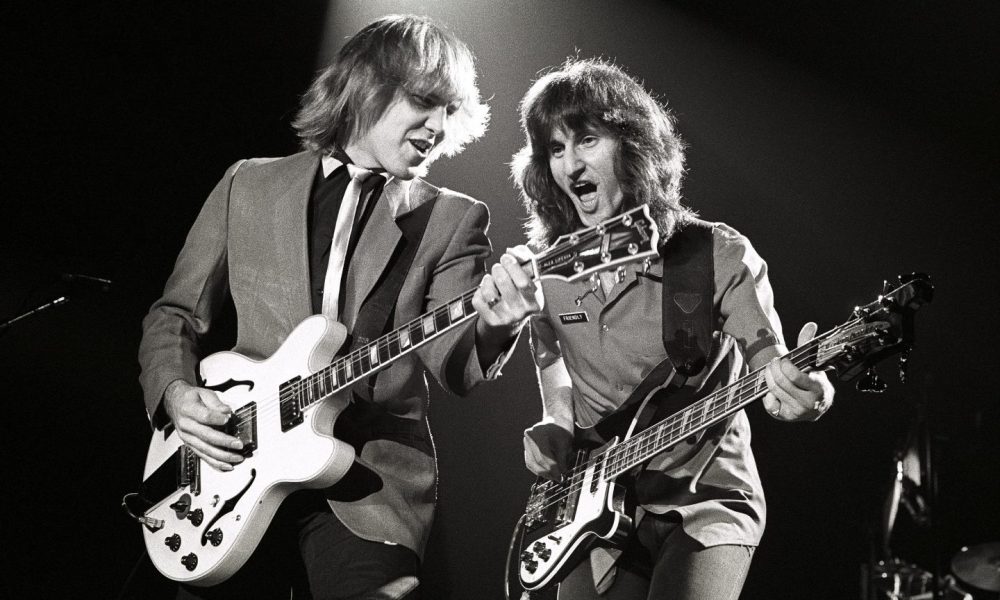 Rush appear as animated stars in the sketchy noir comedy shared as the official "YYZ" music video for the band's forthcoming Moving Pictures – 40th Anniversary album collection, out April 15 via UMe/Mercury and Anthem Records.
Animated by Fantoons Animation Studios, the video for the 1981 album cut features Geddy Lee and Alex Lifeson as the voices behind two cops on the job while an art heist ensues. The animated band performs as the story unfolds, eventually concluding with Lee, Lifeson and Neil Peart being tied up by the skilled thieves.
"Hey, Dirk, let's go back to the station," Lifeson voices, his cop character completely oblivious to the crimes committed. Lee adds: "Great, I got the new Rush cassette for the road." The cassette reads a listing of songs from Moving Pictures that includes "Tom Sawyer," "YYZ," "Limelight," and "Red Barchetta."
The Super Deluxe Edition of Moving Pictures – 40th Anniversary also features videos for "Tom Sawyer" and "Limelight," as well as a remastered vintage promo video for "Vital Signs." The videos will be contained on a Blu-ray audio disc included in the top-tier package along with a complete 1981 Maple Leaf Gardens concert, the band's seminal eighth studio album on three CDs, a Blu-ray audio disc, and five high-quality 180 gram black vinyl LPs all encompassing the 2015 remastered edition of the record from Abbey Road Mastering Studios.
Five other variations of the album collection will be made available, including the three-CD Deluxe Edition, five-LP Deluxe Edition, one-LP Edition, the Digital Deluxe Edition, and the Dolby Atmos Digital Edition. Rush recently offered a first look at the expansive collection of material with the official audio for "Vital Signs" recorded live in YYZ 1981. The newly restored live material was mixed by original Rush producer Terry Brown from the original analog live multi-tracks.
Pre-order the 40th anniversary expanded editions of Moving Pictures.