Shania Twain Tells Björn Ulvaeus Of Her Love Of ABBA, Possibility Of Musical
'It would be interesting to see what a Shania Twain musical is,' she said during an appearance on 'Björn From ABBA & Friends Radio' on Apple Music.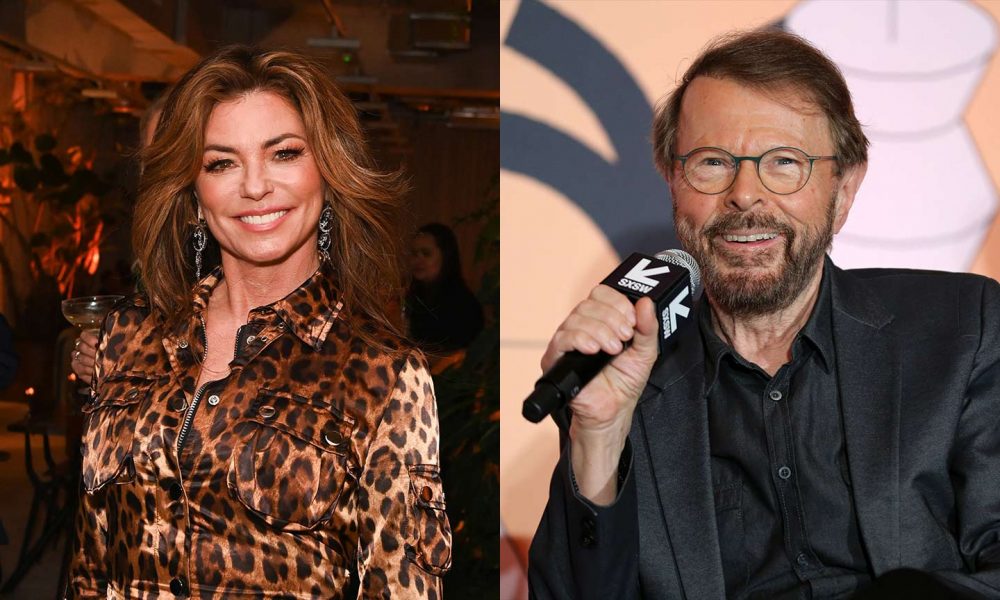 Shania Twain has discussed her love of ABBA, and the possibility of a Mamma Mia-style musical based on her songs, during an appearance on Björn Ulvaeus' Björn From ABBA & Friends Radio on Apple Music.
Shop the best of Shania Twain's discography on vinyl and more.
"When I listened to a couple of your tracks," Ulvaeus told the superstar Canadian artist, "it's very much storytelling, which means that you could probably make a musical. I did Mamma Mia on ABBA songs,…have you ever thought about that?"
Replied Twain: "Yes, there actually is an interest in doing a musical, you see our music is very different and I can definitely visualize your music…I just wanted to take a second to say how much ABBA music has inspired me and in the sense of broadening my sense of…I grew up listening to two, three chord songs, very simple and a lot of storytelling, but musically when I heard ABBA, I'm like 'This is a whole other planet of arrangement and time signature changes,' and [it] just went to so many unexpected places.
"My imagination went crazy, so I can definitely see your music in a musical, in that sense. It would be interesting to see what a Shania Twain musical is."
Abba - Dancing Queen (Official Music Video Remastered)
Twain also revealed that one particular ABBA song literally moved her as a young pop fan. "I could go on forever about my love of ABBA songs, but 'Dancing Queen' is the first song that I ever got up on the dance floor to in grade 7 at the school dance. When you're in grade 7 and you're 12 years old and really shy – but that song – you just can't help yourself. You don't care who's looking, you just close your eyes and move your body and celebrate the music."
Speaking of how her own writing skills developed, she added: "My songwriting started as way of escaping and running away from reality as a kid. 'Cause I lived somewhere very remote in the Canadian wilderness, it was easier for me to walk somewhere for five minutes and be in the middle of the forest.
"And I would just take my guitar out there and write music and it was just a way of creating my own narrative or writing things that I wouldn't want to say to other people. That I wouldn't share, but I could write them in a song, so it was more out of necessity and then the joy of just…it was kind of play, too. I didn't play with dolls, I played a lot with music and with melody and songs and storytelling."
Shania Twain - Waking Up Dreaming (Official Music Video)
Ulvaeus expressed his admiration for "Waking Up Dreaming," from Twain's new Queen Of Me album, to which she replied: "I always wanted to share the idea of daydreaming in a song. I'm a big daydreamer. I was one of those kids whose report card would say, she's such a daydreamer at school. To me that's the greatest escape of all, dreaming and letting your imagination run wild, so I wanted to write a song about letting yourself get a little crazy, outside of your dreaming."
The conversation also touched on Twain's favorite country artists, including Dolly Parton ("a great storyteller, fabulous songwriter, melodically always very unique") and Kris Kristofferson ("one of the great songwriters, and really more folk"). She added: "Joni Mitchell is not a country artist, but she was a big influence for me as well. I always thought she was country when I was a kid. She was always telling such deep stories and such literal stories about life. And almost autobiographical."
Buy or stream Queen Of Me.