Watch St. Vincent Sing From Behind A Bar On James Corden
The two also discussed St. Vincent's influences and her work with Paul McCartney.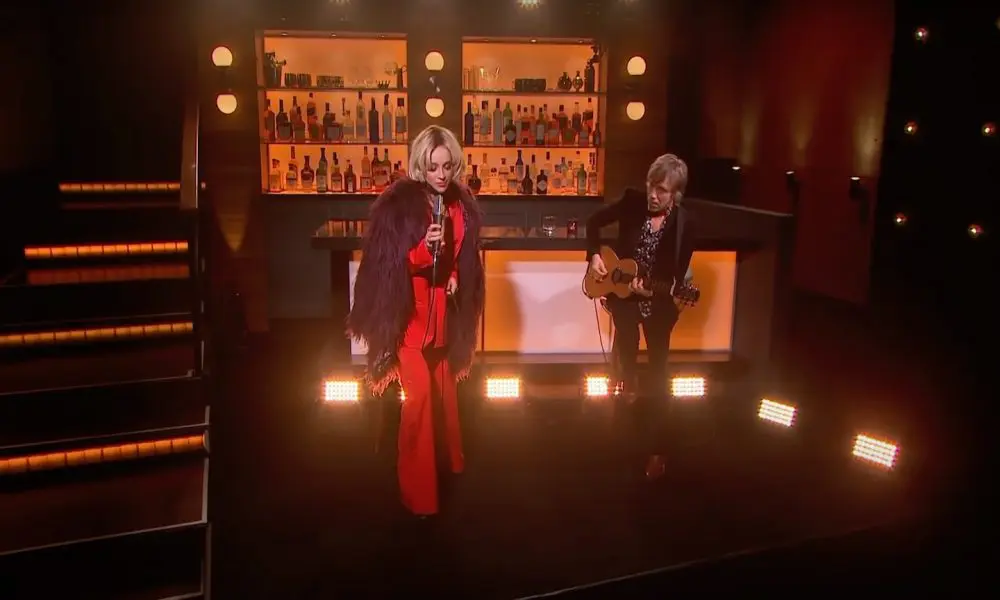 St. Vincent stopped by James Corden's The Late Late Show to chat with the host and offer up a rendition of her Daddy's Home track "…At The Holiday Party."
The two touched on a number of topics, including the 70s influence of Daddy's Home and her time collaborating with Paul McCartney.
St. Vincent also released a festive performance of "…At The Holiday Party" back in December. The musician performed two shows for Austin City Limit's home venue of The Moody Theatre in Austin, Texas earlier this year as part of the Daddy's Home tour. During both sets, she played "…At The Holiday Party," which appeared on that record, released in May 2021.
In the video, St. Vincent – aka Annie Clark – is brought a drink by a woman in a yellow and red waitress outfit. "I would like to have a toast," Clark tells the crowd. "To Austin City Limits and the third time being here, and more than anything, to all of us getting to be back together again."
After clinking their cups, Clark and her band launched into the song, which the star told The Sun is a "modern take on "You Can't Always Get What You Want" by The Rolling Stones."
St. Vincent has previously appeared on Austin City Limits in 2009 and 2018. The full episode with her latest performance will be broadcast on January 15, 2022, alongside footage of singer-songwriter Joy Oladokun.
The 47th season of Austin City Limits will premiere on PBS at 9 pm ET on January 8. The series will feature performances from Olivia Rodrigo, Duran Duran, Terry Allen, and Phoebe Bridgers, as well as special episodes dedicated to Nanci Griffith and the ACL 7th Annual Hall Of Fame Honors.
As well as being nominated for Best Alternative Music Album at the 2022 Grammys, Daddy's Home was recently named among one of influential indie retailer Rough Trade's best albums of 2021. To commemorate the record making it into the list's Top 20, it has been released on a new colorway vinyl, exclusive to the store.