Steve Harwell, Smash Mouth Frontman, Dies At Age 56
The original frontman with the much-loved Californian alt-rock outfit, Harwell died from acute liver disease.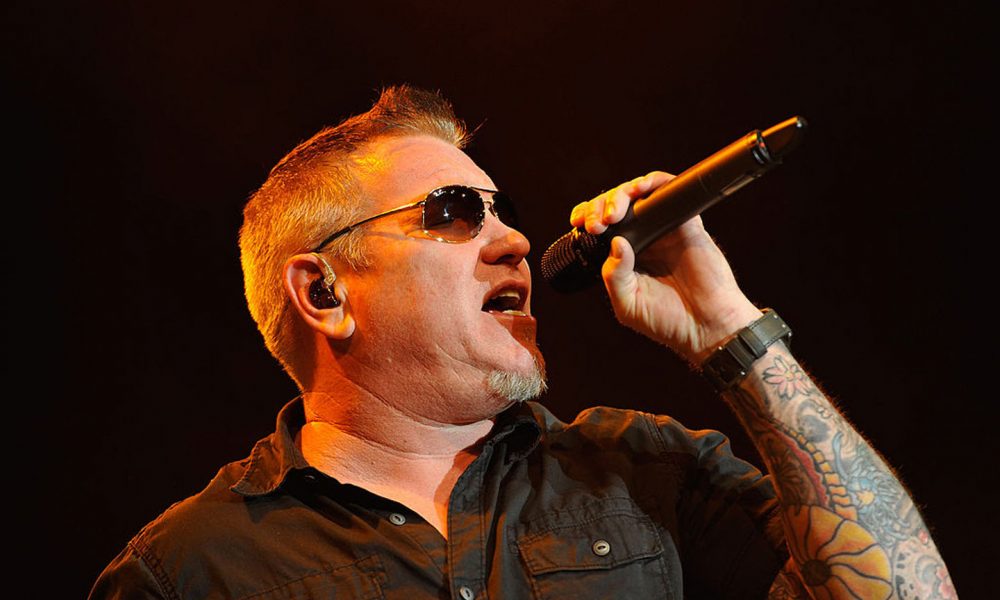 Steve Harwell, the former frontman of much-loved US alt-rock outfit Smash Mouth, has died at the age of 56. His passing was confirmed by his band manager Robert Hayes.
Harwell died of liver failure after receiving treatment in hospital and spending the last few days of his life in a hospice. A representative for the band previously confirmed that had been moved back home with "only a week or so to live," with friends and loved ones gathering to see him for the last time.
"Steve has been retired from Smash Mouth for two years now, and the band continues to tour with new vocalist Zach Goode," Hayes said in a statement to Rolling Stone. "That said, Steve's legacy will live on through the music. With Steve, Smash Mouth has sold over 10 Million albums worldwide and topped the charts with two No.1 hit singles, five Top 40 singles, three Hot 100 singles, four Billboard 200 albums, and a Grammy nomination, not to mention the hundreds of film and television placements and of course those musical features in Shrek."
The vocalist had been suffering from health-related issues for a number of years. He was previously hospitalized in August 2016 after collapsing mid-concert in Urbana, Ill. and being rushed away in an ambulance. In 2017, the Smash Mouth postponed several performances while Harwell underwent treatment for heart problems.
The frontman for the acclaimed Californian band — best known for 90s hits like "All Star" and "Walkin' on the Sun" — retired in 2021 due to medical issues. Zach Goode, formerly of Ghoulspoon, Divided By Zero and The Secret Seven, stepped in as the band's new lead singer.
Smash Mouth - All Star (Official Music Video)
After being diagnosed with cardiomyopathy a decade ago, Harwell suffered medical setbacks, including heart failure and acute Wernicke's encephalopathy, which impacts motor functions such as his speech and memory. The singer had also previously struggled with alcohol abuse.
Harwell formed Smash Mouth (originally Smashmouth) with drummer Kevin Coleman, bassist Paul De Lisle and guitarist Greg Camp in 1994 in San Jose, California. Signing with Interscope Records, the band first came to prominence with its debut album, 1997's double-platinum Fush Yu Mang, featuring Smash Mouth's first major hit "Walkin' On The Sun."
The band's second album, 1999's Astro Lounge, marked a change in direction, as it had less of the previous ska influence and more of a pop sound. It led to more publicity for the band, and ended up being one of its most critically acclaimed releases. Supported by the hit singles "All Star" (which was featured in several film soundtracks, most notably the first Shrek film, although the official music video references Mystery Men) and "Then the Morning Comes", Astro Lounge was eventually certified as triple platinum. The band also did good business with its self-titled third album from 2001, which went gold in the US.
Harwell announced his retirement from Smash Mouth after a difficult concert in upstate New York in 2021, where he was clearly in poor health. Days after the incident, Harwell officially announced that he was retiring. "Ever since I was a kid, I dreamed of being a Rockstar performing in front of sold-out arenas and have been so fortunate to live out that dream," the singer said in a statement. "To my bandmates, it's been an honor performing with you all these years, and I can't think of anyone else I would have rather gone on this wild journey with."
He added, "To our loyal and amazing fans, thank you, all of this was possible because of you. I've tried so hard to power through my physical and mental health issues, and to play in front of you one last time, but I just wasn't able to."