Tanya Tucker Joined By Brenda Lee, LeAnn Rimes, More At Unique Anniversary Show
The Ryman Auditorium show also featured Jessi Colter, Delbert McClinton, Paul Overstreet, and many others.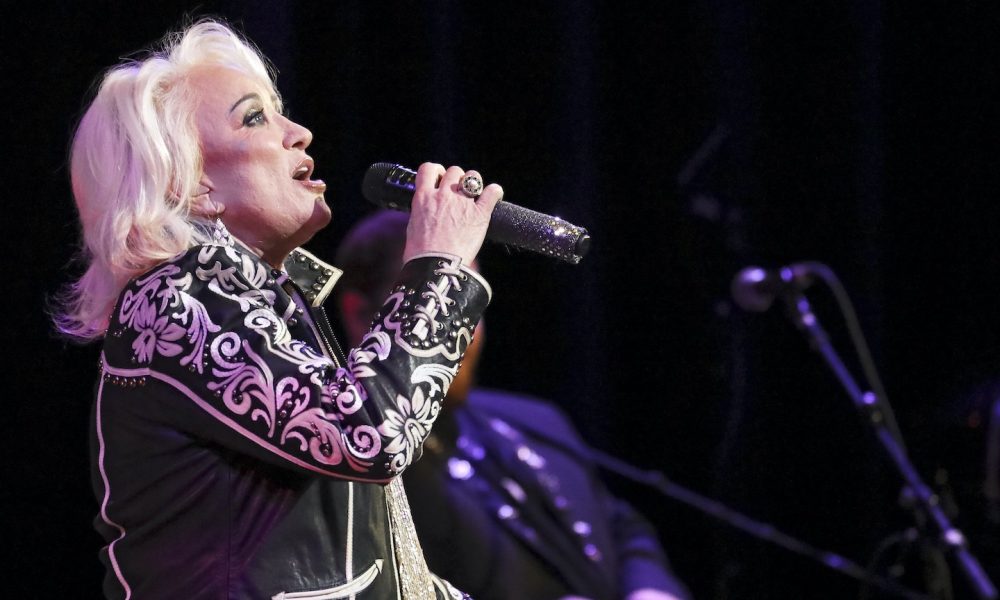 Tanya Tucker gave a unique concert at Nashville's Ryman Auditorium on Sunday night (10) which became a starry celebration of her 50-year career. It featured guest appearances by Brenda Lee, LeAnn Rimes, Jessi Colter, Delbert McClinton, Paul Overstreet and others, with all three of Tucker's children present, and daughter Presley contributing backing vocals throughout.
The star of the show opened with "Would You Lay With Me (In a Field of Stone)" and other hits such as "Down to My Last Teardrop" and the Grammy-winning "Bring My Flowers Now," produced by Brandi Carlile for Tucker]s 2019 album While I'm Livin".
Tanya Tucker - Bring My Flowers Now
It's 50 years next month since the Texan singer became a 13-year-old sensation when her first hit "Delta Dawn" entered the country charts. Now 63, she revisited many of her career highlights in the company of fellow artists, collaborators and admirers. For instance, Rimes, who was 13 herself when she smashed onto the scene with "Blue" in 1996, offered harmonies to Tucker's 1987 hit "Love Me Like You Used To."
Lee's appearance, at the age of 77, was a special surprise for fans of "Little Miss Dynamite," as was the fact that, in April, she sang a truncated "Rockin' Around the Christmas Tree." Delbert McClinton was on hand to restage the 1993 Top 5 country duet with Tucker, "Tell Me About It," as was Paul Overstreet for their 1987 collaboration "I Won't Take Less Than Your Love," the record of which also featured Paul Davis. In another duet revival, T. Graham Brown joined her to sing 1990's "Don't Go Out."
Other surprise cameos included the arrival of songwriter Sonny Throckmorton, at 81, to sing "The Cowboy Rides Away," which he co-wrote with Casey Kelly for George Strait, and a rare performance by Colter, who revived her 1981 hit with her late husband Waylon Jennings, "Storms Never Last."
Ty Herndon sang "Two Sparrows in a Hurricane" and Tucker's daughter Layla offered Merle Haggard's "The Way I Am," before all of the participants returned to the stage to accompany Tanya as she went back to the beginning for "Delta Dawn."
"This concert also served as a simultaneous stroll through the Rock and Roll, Country Music and Songwriters Hall of Fame of sorts," wrote Marcus K. Dowling in The Tennessean. "Because of the deluge of hit-makers, a party atmosphere emerged. All of the Ryman's sold-out attendees were on their feet for the event's duration."
As she works on a follow-up to While I'm Livin' and a duets project, Tucker continues her Hard Luck tour this summer, and will guest at Carlile's show in Kansas City on July 6.
Buy or stream Tanya Tucker's 2020 Live From The Troubadour album.