Taylor Swift Recounts '13 Sleepless Nights' On Shimmering New Album 'Midnights'
Shortly after the album's release, Swift dropped seven bonus songs as part of a special '3am' edition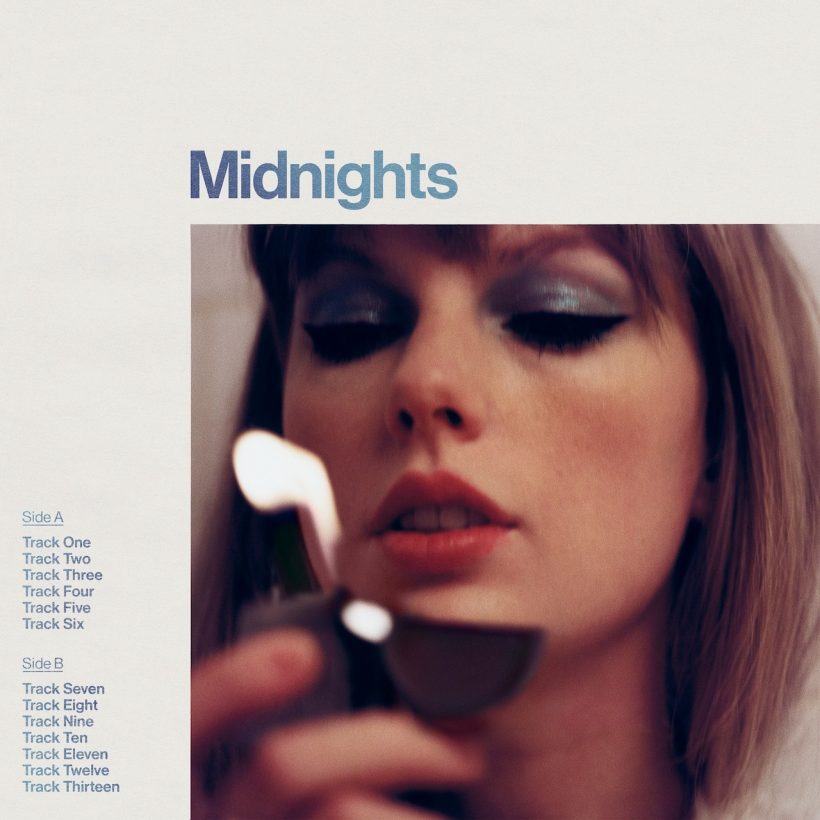 Taylor Swift has released her tenth studio album Midnights, on which she recounts stories from "13 sleepless nights" throughout her life.
The record was originally announced during the star's acceptance speech for Video Of The Year at the 2022 MTV VMAs. Later, Swift shared more details about the album, writing online: "This is a collection of music written in the middle of the night, a journey through terrors and sweet dreams. The floors we pace and the demons we face. For all of us who have tossed and turned and decided to keep the lanterns lit and go searching – hoping that just maybe when the clock strikes twelve… we'll meet ourselves."
Midnights was co-produced by Jack Antonoff, who Swift has worked with since 2014's 1989, and the singer herself. Antonoff also has writing credits on several of the songs, including album opener "Lavender Haze," which was co-written with Hollywood star Zoë Kravitz, Mark Spears, Jahaan Sweet, and Sam Dew. Elsewhere, actor Joe Alwyn is also credited on "Sweet Nothing" under the alias William Bowery.
There is one feature on the album – Lana Del Rey on "Snow On The Beach." Swift shared more information about the collaboration ahead of the album's release, saying the song is "about falling in love with someone at the same time as they're falling in love with you, sort of in this sort of cataclysmic, fated moment where you realize someone feels exactly the same way that you feel." She said it was like wondering, "'Wait, is this real? Is this a dream?'… Kind of like it would be if you were to see snow falling on a beach."
The record's lead single will be "Anti-Hero," one of the acclaimed artist's "favorite songs I've ever written." "I don't think I've delved this far into my insecurities in this detail before," Swift said of the track. "I struggle a lot with the idea that my life has become unmanageably sized, and not to sound too dark, I struggle with the idea of not feeling like a person."
"It's me, hi/I'm the problem, it's me," she sings in the song. "I tick time, everybody agrees/I'll stare directly at the sun, but never in the mirror/It must be exhausting always rooting for the anti-hero." A video for "Anti-Hero" will follow at 8am ET today (October 21).
Swift shared a teaser trailer for the visuals from Midnights last night during Amazon Prime Video's Thursday Night Football. The short clip showed the star in outfits recalling a 1920s flapper, Marie Antoinette, and more, while a title screen at the end revealed numerous star-studded cameos. Haim, Dita Von Teese, Laura Dern, Jack Antonoff, and more will all appear in the Midnights music videos.
In a message at the start of the trailer, Swift shared a short message. "I just wanted to, first of all, say thank you so much to Amazon for giving me an opportunity to show you guys a first-look teaser trailer of the secret projects that I've been working on for a really long time," she began. "Those projects are the Midnights music movies, the music videos that I've made for this album to sort of explore visually the world of this record. And I love storytelling, I love songwriting, I love writing videos, I love directing them.
"And this was a really fun opportunity to work again with the cinematographer Rina Yang, who was my collaborator on the "All Too Well" 10-minute short film. So we really wanted to challenge ourselves to do different things this time around and stretch, and I'm really proud of what we made, and I really hope you like them. We worked with some amazing actors, which you'll find out more about at the end of the teaser trailer."
Three hours after Midnights dropped, Swift surprised fans with a batch of seven bonus tracks, which form a "3am" deluxe edition of the record. "I think of Midnights as a complete concept album, with those 13 songs forming a full picture of the intensities of that mystifying, mad hour," the star explained on Instagram. "I'm calling them 3am tracks. Lately I've been loving the feeling of sharing more of our creative process with you, like we do with From The Vault tracks. So it's 3am and I'm giving them to you now."
The new songs added to the surprise edition of the album include "Paris," "Bigger Than The Whole Sky," "High Fidelity," and "Would've, Could've, Should've," among others.
Earlier this week (October 17), Swift shared a schedule of Midnights release week activities, from music videos to TV performances. On Monday (24), Swift will appear on The Tonight Show starring Jimmy Fallon, while a second music video will be released on Tuesday. The release week concludes with an appearance on The Graham Norton Show in the UK, while the other days are filled with requests to stream the album and buy the record from local record stores.