Terry Hall, Legendary Lead Singer Of The Specials, Dies At 63
'He will be deeply missed by all who knew and loved him,' the band said in a statement.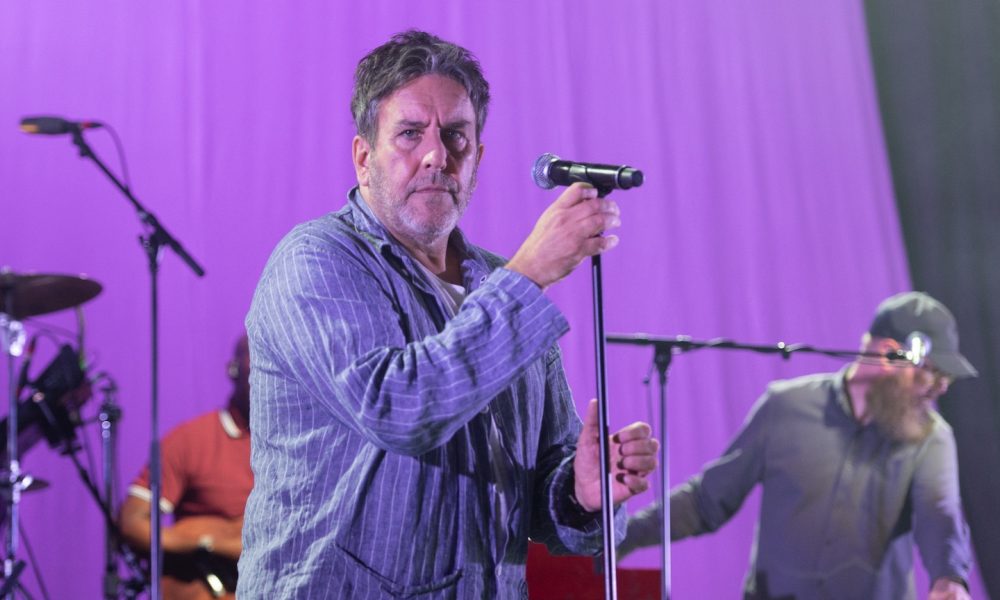 Terry Hall, the lead singer of pioneering ska band The Specials, has died at the age of 63. The singer died after a brief illness, The Specials said in a statement.
"Terry was a wonderful husband and father and one of the kindest, funniest, and most genuine of souls," they wrote. "His music and his performances encapsulated the very essence of life… the joy, the pain, the humor, the fight for justice, but mostly the love. He will be deeply missed by all who knew and loved him and leaves behind the gift of his remarkable music and profound humanity."
In a separate note to The BBC, Neville Staple of The Specials reflected on the loss. "It's really hit me hard. We fronted The Specials and Fun Boy Three together, making history. Terry, he surely will be missed."
Terry Hall was born in Coventry on 19 March 1959 to a family who predominantly worked in the car industry. He was an academically gifted child and also a noted footballer who was invited to try out for West Bromwich Albion – an opportunity his parents declined based on the inconvenience of travelling across the Midlands. After he sailed through the 11-plus exam, his parents also declined his place at a nearby grammar school.
"All of a sudden they were expected to buy books and a school uniform," he told Fantastic Man. "I'd just been walking to school dressed in my football kit. So there's always been a bit of that kicking around in the back of my mind. Not being educated. Wondering what would have happened if I'd gone."
After working as a bricklayer, among other jobs, Hall joined his first band, the punk outfit Squad, inspired by The Clash and Sex Pistols. His older sister, and guiding influence, Teresa introduced him to Trojan Records, while it was David Bowie's 1975 album Young Americans that pushed Hall towards becoming a singer, he told the Guardian in 2009. "I come from a gypsy-spirited family, and everyone used to sing in pubs whether you liked it or not. I didn't want to be that sort of singer. Then when I was 16 this album gave me a look, a sound, and a way of holding yourself. Apparently all [Bowie's] clothes were from WalMart at this time. He put a blond streak in his hair and we would do the same."
His political awakening came in his teenage years "when I discovered that working men's clubs had a color bar on their doors. You could only get in if you were white. That really shook me. I couldn't work it out."
As uDiscoverMusic staff writer Tim Peacock wrote in 2021, "Standing up for your rights has always been paramount for The Specials. The very epitome of sharply-dressed cool when they first emerged in the late 70s, the Coventry group spearheaded the UK's multi-racial 2-Tone movement, and their classic hits such as "Rat Race," "Stereotypes," and "Ghost Town" railed against socio-political problems ranging from racism to police harassment and mass unemployment."
Originally known as The Coventry Automatics, The Specials pioneered the 2-Tone sound – an exhilarating amalgam of reggae, ska, and punk – which yielded considerable success. The band's first two albums, The Specials and More Specials, both went gold, while their run of seven consecutive UK Top 10 hits included two chart-toppers, "Too Much Too Young" and the aforementioned "Ghost Town." The latter – a bleak, but memorable paean to unemployment in Thatcher's Britain – remains The Specials' signature song.
The Specials - Ghost Town [Official HD Remastered Video]
"Ghost Town"s popularity peaked in early summer 1981 as riots between young Black people and police were erupting across the UK in response to racist discrimination and the use of stop-and-search tactics. It remained at No 1 for three weeks, spending 10 weeks in the Top 40, and is widely considered one of the greatest pop records of all time. "It sits in the past, brooding and glowering at us, its remarkable, dark power undimmed," Guardian critic Alexis Petridis wrote in 2020.
In an interview with Peacock, Terry Hall reflected on the ongoing relevance of The Specials. "It's actually quite sad the songs from our first two albums are still so relevant," Hall said. "The first time round we screamed about the injustices because we were kids, but now we're trying to take a more mature view, though we're still angry and we're still trying to make people aware of what's going on around them.
"Yet having said that, it's exciting too, because I feel the music hasn't dated," he finishes. "Without wanting to sound arrogant, I think we made some important music and there's a timelessness about it, so I hope new generations of fans can continue to latch onto it."
After the success of "Ghost Town" in 1981, the band split that same July. "It felt like the perfect moment to stop the Specials part one," Hall said. "We'd gone from seven kids in the back of a van to being presented with gold discs and I never felt massively comfortable with that."
Terry Hall formed then Fun Boy Three with his Specials bandmates Staple and Lynval Golding. They also enjoyed chart success for several years, collaborating twice with girl band Bananarama, on "It Ain't What You Do (It's the Way That You Do It)" and "Really Saying Something." Hall would also land a Top 10 single with "Our Lips Are Sealed," a song he co-wrote with US indie star – and then romantic partner – Jane Wiedlin for her band the Go-Go's.
Hall would form another band, The Colourfield, in 1984, which had a hit with "Thinking of You." He became a frequent collaborator over subsequent decades, working with the likes of the Lightning Seeds' Ian Broudie, US actress Blair Booth, Toots and the Maytals, Lily Allen, Blur's Damon Albarn – and later with his band Gorillaz – and Eurythmics' Dave Stewart with whom he formed a duo known as Vegas in 1992.
Hall wasn't part of a Specials reunion, the Specials Mk 2, which lasted from 1993 to 1998. He released his debut solo album in 1994, Home, produced by Broudie; a follow-up, Laugh, came in 1997.
In 2008, inspired by the Pixies' reunion in 2004, Hall announced that he would be reforming the Specials for a tour and new music, albeit without founding member Jerry Dammers, who claimed he had been forced out. "The Specials was this big hole which took up four years of my life," Hall told the Telegraph. "More than anything, I really wanted to see these people again."
They embarked on a 30th anniversary tour in 2009 and performed at the 2012 London Olympics closing concert, but faced the death of drummer John Bradbury, and the departure of vocalist Staple and guitarist Roddy Radiation over the next few years.
In 2019, The Specials released a new album, Encore, which charted at No 1 in the UK albums chart – their highest-ever album placing. "Achieving a first No 1 album in our 60s restored our faith in humanity," Hall told the Quietus.
The band went on to release another well-received album, the UK Top 5 success, Protest Songs 1924-2012, in 2021 and were still very much a going concern at the time of Hall's death.
Among those to pay tribute to Terry Hall was UK singer-songwriter Billy Bragg. "The Specials were a celebration of how British culture was invigorated by Caribbean immigration but the onstage demeanor of their lead singer was a reminder that they were in the serious business of challenging our perception of who we were in the late 1970s," he tweeted.
Jane Wiedlin wrote that she was "gutted". "He was a lovely, sensitive, talented and unique person. Our extremely brief romance resulted in the song "Our Lips Are Sealed," which will forever tie us together in music history. Terrible news to hear this," she tweeted.