'We Had To Make Our Voices Heard': The Specials' Track-By-Track Guide To 'Protest Songs 1924-2012'
The 2-Tone icons' fiery new album shows they won't be silenced anytime soon.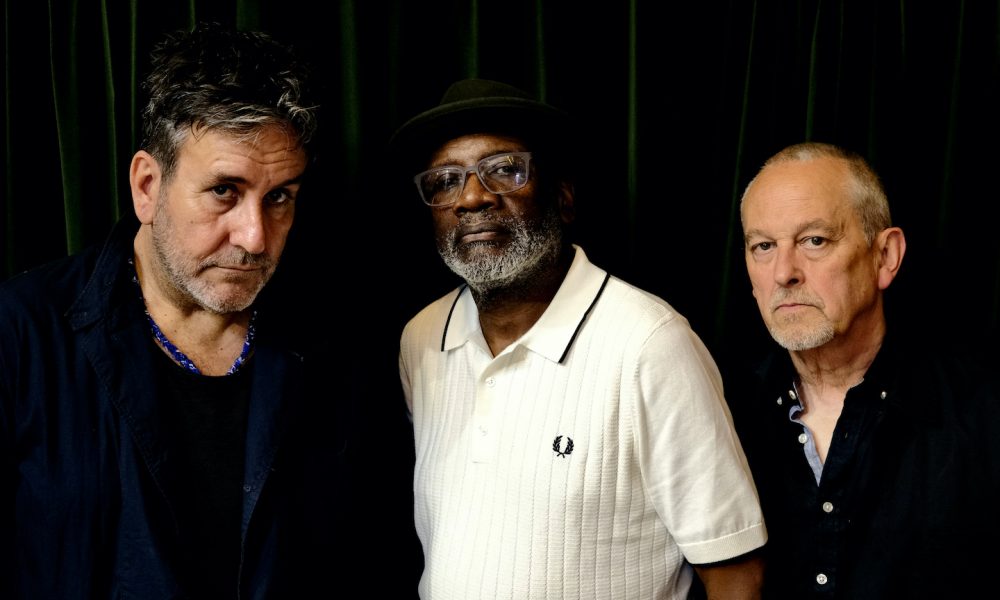 Standing up for your rights has always been paramount for The Specials. The very epitome of sharply-dressed cool when they first emerged in the late 70s, the Coventry group spearheaded the UK's multi-racial 2-Tone movement, and their classic hits such as "Rat Race," "Stereotypes," and "Ghost Town" railed against socio-political problems ranging from racism to police harassment and mass unemployment.
As their UK-chart topping comeback album Encore proved in 2019, many of the topics The Specials addressed four decades ago remain contemporary issues. Indeed, it seems entirely apt that they should follow it up with Protest Songs 1924-2012: a record that takes a stand against all forms of injustice in modern society.
"I think inevitably the air of paranoia that's affected society because of the pandemic also affected the mood of the record," The Specials' bassist Horace Panter reveals.
"But even allowing for that, it became obvious that 2020 became the year of protest. To a degree, the new record was our response to the murder of George Floyd, but really there are so many things to get serious about right now. We felt we had to make our voices heard."
Protest Songs 1924-2012 allows The Specials the freedom to do exactly that. In the very broadest sense, it is a "covers" album, but as the titular dates suggest, it's been drawn from the most diverse source material imaginable – and it's offered the band the chance to broaden their own sonic palette.
As the recording process started, 50 songs were in contention, which The Specials then reduced to 30 and finally to the 12 cuts that made the record. After the lockdowns, Horace says that finally getting back in the studio "is what keeps us going – it's our soul food," so now he's suitably nourished, the bassist is ready to give an exclusive track-by-track guide to Protest Songs 1924-2012.
1: Freedom Highway
The Staples Singers (1965)
This makes for a suitably anthemic way to start the album as it's all about unity and it captures the spontaneity of the recording. With a lot of these songs, we didn't have a set arrangement before we went into the studio and with "Freedom Highway," what we ended up with came from us trying to perform the song in different ways.
We'd started to break a few rules of what The Specials' "sound" supposedly constitutes on our last album, Encore, and we wanted to continue that with this record. We weren't exactly throwing the rule book out, but the overriding attitude was"'f__k it, let's just play what we want to play," so being constrained by what we'd done on our previous records went out of the window. "Liberation" is a word I use a lot and I think a sense of that runs through Protest Songs.
The Specials - Freedom Highway
2: Everybody Knows
Leonard Cohen (1988)
Terry [Hall, The Specials' vocalist] chose this one. He's a big fan of Leonard Cohen's, though I've since discovered this song has been covered several times, including for one of the Marvel movies and (in 2008) for an anti-smoking campaign in Australia, of all things. We changed the song's original arrangement quite considerably. The original version features an oud, it's brilliant but insane. We've given it a Sly and Robbie or Grace Jones kind of vibe, which I really like. It's got a quintessential Specials-style groove, but we haven't detracted from the laconic way Leonard Cohen delivered his original recording.
3: I Don't Mind Failing
Malvina Reynolds (1967)
One of the joys of making Protest Songs was discovering Malvina Reynolds' catalog. Most people only know her for the songs "Little Boxes" and (anti-nuclear anthem) "What Have They Done To The Rain?" – but there's so much more to her. She was from a Jewish immigrant background and her people were opposed to the Second World War. She studied music theory at the University of California in Berkeley and she was a contemporary of Pete Seeger's.
There were actually five Malvina Reynolds songs up for selection at one time, though we ended up picking this one and "I Live In A City" for Protest Songs. I particularly like "I Don't Mind Failing," because it's saying you absolutely don't have to be perfect as a person, but it doesn't point its finger about it. It's not saying "you mustn't succeed"' either, but it's saying "so what if you don't." Just do your best, but if you fail that's fine – you're human. The message is ideal for The Specials, because we like to put things out there and give our audience the space to make up their own minds rather than trying to ram things down their throats.
4: Black, Brown & White
Big Bill Broonzy (1938)
This is sung by Lynval [Golding, vocals, and guitar]. Big Bill Broonzy was a great influence on a lot of the English guys who became famous during Britain's 1960s blues boom, like John Mayall and Jeff Beck. People mostly remember him for the song "Key To The Highway," but he wrote loads of songs, he copyrighted over 300 during his lifetime. The version of this song that inspired us was recorded in 1947, but he recorded "Black Brown And White" quite a few times. In those days, the situation would be, "Hey, I'll give you $15 if you go in the studio and record that song," to which Broonzy would say "But I've already recorded it," but the reply would be "Doesn't matter, go and do it again."
5: Ain't Going To Let Nobody Turn Us Around
The Dixie Jubilee Singers (1924)
This is the oldest song on the record. The version that inspired us was by the Dixie Jubilee Singers and theirs was a capella take. But I'm pretty sure the song was around much longer than that. It could well have been around since the American Civil War and I would imagine it originally came straight out of the church as it has that gospel thing going on.
It's been covered any number of times. I remember we heard another jazzy version of it by a woman singer whose name escapes me, but Steve Miller also cut a version of it for an album called Your Saving Grace in 1969 (as "Don't Let Nobody Turn You Around") which I also remembered from my youth. That's why our version of it starts with the a capella part and then the band comes in full tilt. It was a blast to record and the organ solo on it is just amazing. It captures the joy of us actually being in a room together and being able to play music together – that's what being in The Specials is all about, after all.
6: F__k All The Perfect People
Chip Taylor & The New Ukrainians (2012)
By comparison, this is the newest song on Protest Songs and it might surprise you to learn this was written and performed by Chip Taylor, who – to most people – is best known for writing "Wild Thing" (The Troggs, Jimi Hendrix) and Juice Newton's "Angel Of The Morning." But he's had quite a career. He's something of an Americana cult figure (he's also actor Jon Voight's brother) and he recorded this with his recent band, The New Ukrainians.
Apparently, he was in Norway and he visited a prison, so he wrote this with the prisoners in mind. It's more about perspective than anything and it goes back to the same kind of sentiments that Malvina Reynolds expresses on "I Don't Mind Failing." It's a great song and it was made for Terry [Hall] to sing. Chip Taylor's version is good – it's pretty laconic – but I think Terry certainly equals it, if not betters it.
7: My Next Door Neighbor
Jerry McCain & His Upstarts (1957)
We originally found this on an American Library Of Congress compilation as I recall, but mostly I remember hearing this for the first time and thinking"'this is insane – we have to do this song!'" Jerry McCain was apparently a contemporary of [another harmonica wizard] Little Walter and yes, effectively the song's a jump blues, so it's the sound of The Specials playing jump blues, but why not?
We're really lucky to work with some fantastic musicians to be able to pull this off. Kenrick [Rowe] is a fantastic drummer, who also works with Jazz Jamaica and Aswad and he also previously worked with PJ Harvey. He's world-class and so is Steve [Cradock] who everyone knows from his work with Paul Weller and Ocean Colour Scene. And Nikolaj [Torp Larsen] is a consummate musician. His arranging skills are great as well as his keyboard playing."
It all meant we could tackle a song like this and it was great fun. As for the song itself – well, obviously it's important to talk about the big issues like civil rights, but what about the guy next door who won't give you your vacuum cleaner back? That's something to protest about too!"
8: Trouble Every Day
The Mothers Of Invention (1966)
Freak Out! was the first album I ever bought and I didn't like it. I remember thinking "What is this?" The second side, especially, was unplayable to me, but the first side was OK. But back then I couldn't tell anybody that I didn't like it because I was only 15 and trying to be hip!
But this particular song stuck with me and it seemed to fit as we were doing an album called Protest Songs as it's about the Watts Riots of 1965. Listening to it again, I thought it could have been written last week. I like the fact it doesn't condone violence. It's more about the stupidity of human nature. It's about the man who burns down the shop during the riot, but doesn't think about where he's going to get his milk from the next day now he's burnt the shop down."
It was great fun to record. We're were trying to goad Steve [Cradock] into freaking out on guitar and we succeeded as he goes crazy on it. Once again, we've never recorded anything like it with The Specials. It's got that driving, motorik beat and it sounds German. It could be Amon Düül or something."
9: Listening Wind
Talking Heads (1980)
This is sung by Hannah Hu, a young and very talented singer from Bradford, Yorkshire, who also features on "Freedom Highway." Terry [Hall] brought this one to the table because he's a big Talking Heads fan, but he also said "I love this song, but I can't sing it convincingly," which is why Hannah was brought in.
We didn't want to do it like Talking Heads did, which was like a sparse, proto-electro song. I suggested we do it in an indigenous Rasta way, so Kenrick [Rowe] brought up two guys he knew from Brixton, Bammy and Tony. The latter's 92 years old, but he did this amazing drumming and it just sounded fantastic when added to the Count Rastafarian horns.
To have all these guys work with us and also this terrific 23-year old from Bradford singing was just something else. It's that inter-generational thing about working together and making music sound astonishing.
10: I Live In A City
Malvina Reynolds (1960)
This song has a really childlike quality about it. I was surfing around on the internet looking at videos when we were researching this song and there was one of Malvina [Reynolds] looking like a school teacher-y mom with a big acoustic guitar playing this song. You can hear why, because it's almost like a nursery rhyme, like "The Wheels On The Bus" or something – it has that innocence about it. It's just lovely and that was its innate charm. But it's also an important song because it's about equality. It's saying, "well, everybody here helped to make this world we live in, so we need to look after it – and each other while we're at it."
11: Soldiers Who Want To Be Heroes
Rod McKuen (1963)
Rod McKuen was an American singer-songwriter and a poet, too, but he fell between stools. He was derided by a lot of the hippies for being some sort of whimsical, Kingston Trio-type folky, but he spent a lot of time in Europe. He's well known for having discovered Jacques Brel and for translating his work into English – and of course, a lot of Brel's stuff was later popularized by Scott Walker. McKuen also had one of the biggest record collections in the world at the time of his death, which I didn't know either.
But this one is a strange song. It was first recorded in 1963, before America's wide-scale involvement in Vietnam. It's got an almost whimsical quality, as if it could have been written at the time of the American Civil War. But then, when it was re-released in 1971, it immediately struck a chord and became this anti-war anthem, because of the draft. It's got those lines about "Come and take my eldest son/Show him how to shoot a gun" – about the idealism and promise of youth being destroyed by war, so every generation can relate to it.
12: Get Up, Stand Up
Bob Marley & The Wailers (1973)
It's really difficult to do a Bob Marley cover because…well, how can you do anything with something that's perfect to begin with? Besides, everyone knows it as a full band song and you can't top The Wailers' performance. So we tried to deconstruct it to get down to what the words really mean. The music's great, but sometimes the words get lost as a result. Lynval [Golding] did a really good job on it, he got right inside the song.
With help from Peter Tosh, Bob Marley originally wrote the song after he'd toured in Haiti, where he experienced the poverty that people were going through first-hand and the regime the people were forced to live under at the time. He was deeply moved by it and "Get Up, Stand Up" was the result. Sadly, the message is just as relevant now and the song resonates as strongly as it ever did.
The Specials - Get Up, Stand Up