Hear U2 And Elton John Cover T. Rex's 'Bang A Gong (Get It On)'
The scorching rendition of the glam-rock anthem features Bono on vocals and Elton on piano.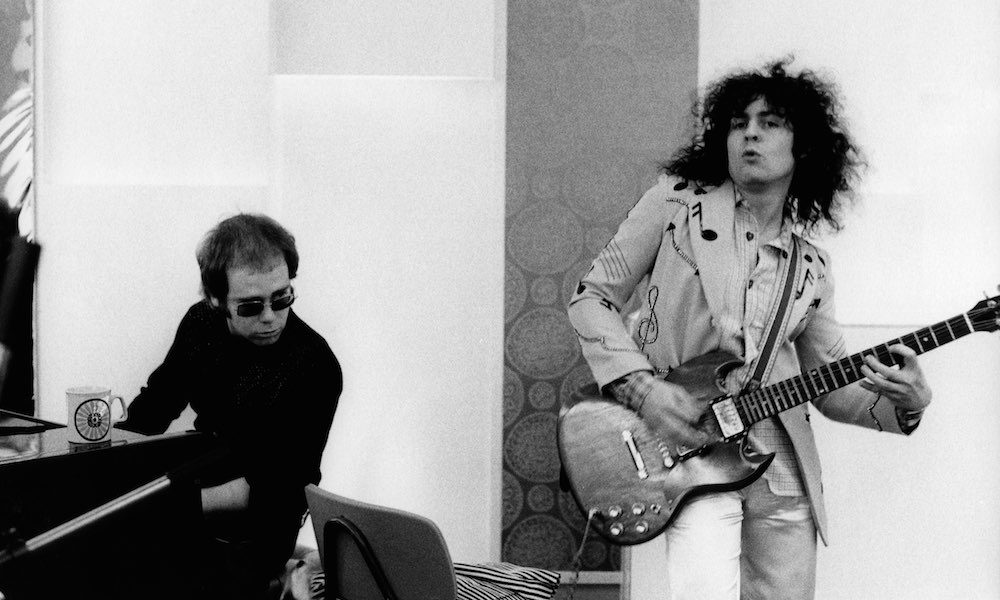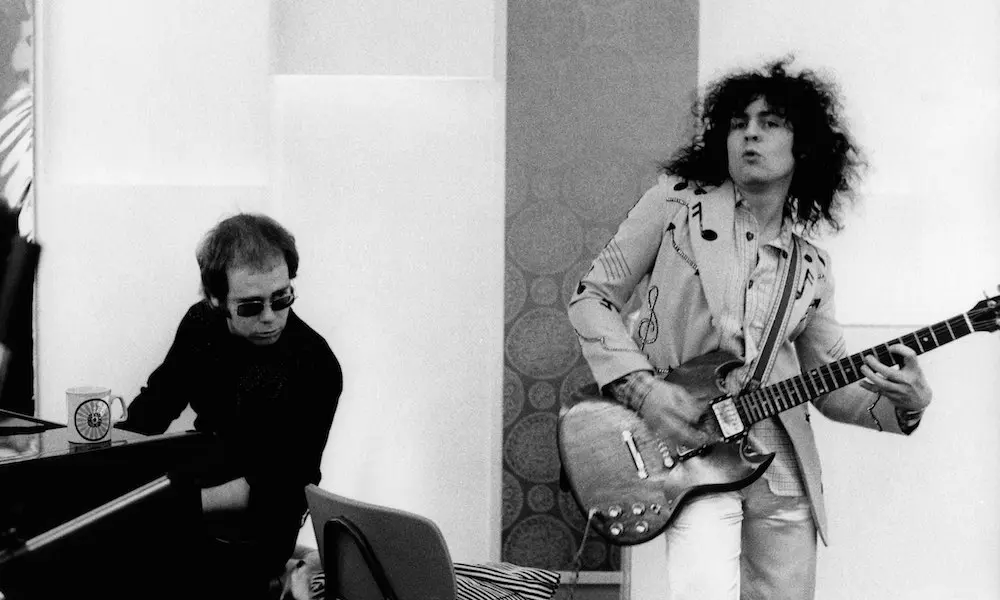 U2 and Elton John have released a fiery new cover of T. Rex's iconic, 1971 hit "Bang a Gong (Get it On)." The track, available now as a digital single, is an outtake from AngelHeaded Hipster, a star-studded tribute to the music of Marc Bolan and T-Rex that was helmed by the acclaimed late producer, Hal Wilner.
The song features a sultry vocal performance by Bono, who is accompanied by the unmistakable piano stylings of Elton John.
In a new interview with The Guardian, U2 guitarist The Edge spoke about seeing T. Rex for the first time in 1971 on Top of the Pops. "Marc Bolan was magical, but also sexually heightened and androgynous, with this glitter and makeup…I'd never seen anything like it. But when I picked up a guitar a year later, 'Hot Love' was the first song I learned to play."
He added, "There was incredible discipline in T. Rex's work…They were an amazing band from that point of view, and that's the thing that I think a lot of rock lost sight of, progressive rock and whatever – whatever it was, it was not sexy music. I think the T. Rex discipline is what gave them the chance to survive."
In the same feature, Elton John recalled that Bolan "was the perfect pop star. His songs were great, his records rocked, he had attitude, he had performing skills, he looked fabulous, he dressed the part. At a time when I was still becoming Elton John, he was a great role model. I thought: 'This guy doesn't give a f__k, he's just being who he is and he's loving every single minute of it.' And that had a great effect on me."
Elton and Marc would go on to become good friends. In fact, Elton performed "Bang A Gong (Get It On)" alongside T-Rex during the aforementioned 1971 Top of the Pops appearance.  Later, he penned the song "I'm Going to Be a Teenage Idol" about Bolan.
A highly-prolific artist, Bolan began his recording career in the mid-60s and released more than a dozen studio albums with Tyrannosaurus Rex (later shortened to T. Rex) before his tragic death in 1977 – just short of his 30th birthday. Often credited with launching the glam rock movement, the pioneering artist's vast collection of songs have continued to influence new generations of artists – as evidenced in the incredible line-up of talent on AngelHeaded Hipster. Highlights include Nick Cave's cover of "Cosmic Dancer," Kesha's rendition of "Children of the Revolution," Lucinda Williams on "Life's a Gas," and King Kahn's performance of"I Love to Boogie."
Explore our T. Rex artist page.