U2's The Edge And Bono Take The Stage With Ukrainian Band Antytila
The duo helped the band perform 'Mothers Of The Disappeared.'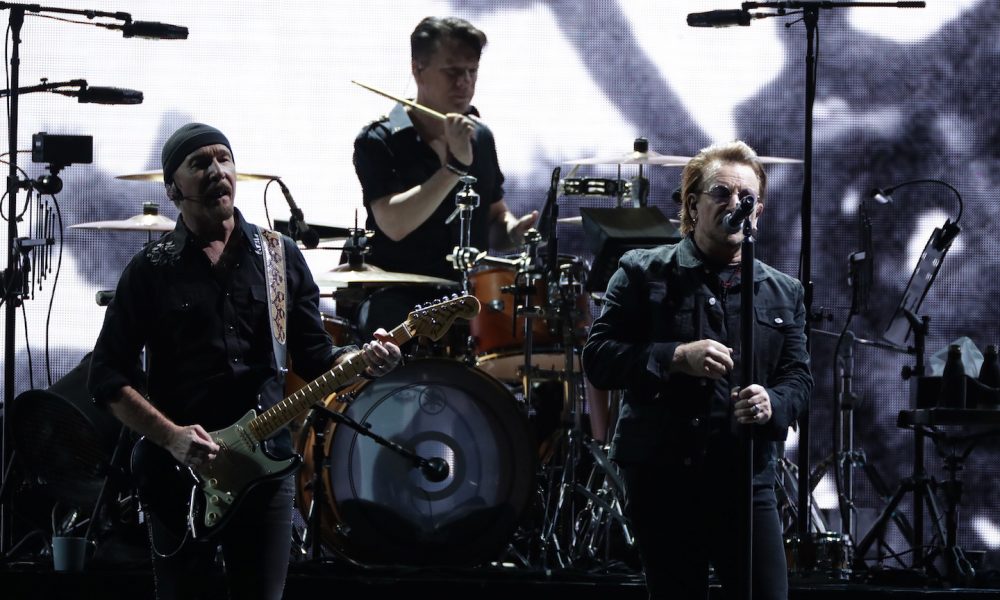 In May of 2022, U2's Bono and the Edge played an unexpected concert in a Ukrainian bomb shelter. At that performance, they collaborated with Taras Topolya, a Ukrainian soldier who also fronts the band Antytila. Last night (February 26) in London, Bono and The Edge showed up at Antytila's concert at Electric Brixton to join in for a cover of The Joshua Tree closer "Mothers Of The Disappeared."
Shop the best of U2's discography on vinyl and more.
On Twitter, U2 shared some pictures of the event and wrote, "A privilege to join Antytila at Electric Brixton last night to perform 'Mothers Of The Disappeared.' These musicians – Taras, Dmytros, Sherhi, Dmytros, Mykhailo… The people of Ukraine, don't want to be at war…They want peace, but not without freedom."
Earlier this month, U2 announced U2:UV Achtung Baby Live At The Sphere, a special run of shows this fall to launch the new state-of-the-art venue MSG Sphere in Las Vegas.
The news of the band's first live shows in four years, at which they will perform their classic 1991 album, arrived in a full-length trailer announcement. It features a group of new and longtime U2 fans, as welll as a few doppelgangers of the band, coming together for "a futuristic Achtung Baby adventure in a unique desert landscape."
U2's new shows at the Sphere, the state-of-the art venue that currently dominates the Las Vegas skyline, will be typically boundary-pushing for a group that have always embraced cutting-edge technology to enhance their live reputation. The announcement also contains confirmation that drummer Larry Mullen Jr, will not take part in the shows, as he takes time out this year to undergo and recuperate from surgery. His place will be filled by Bram van den Berg, from the Dutch band Krezip.
"The Sphere show has been in the works for a long time. We don't want to let people down, least of all our audience…the truth is we miss them as much as they appear to miss us…our audience was always the fifth member of the band. Bottom line, U2 hasn't played live since December 2019 and we need to get back on stage and see the faces of our fans again.