Style, Profile: Beastie Boys Photos
Tracing their entire career, these Beastie Boys photos capture the group as hardcore punks, 70s throwbacks and "appropriately" attired jazz cats.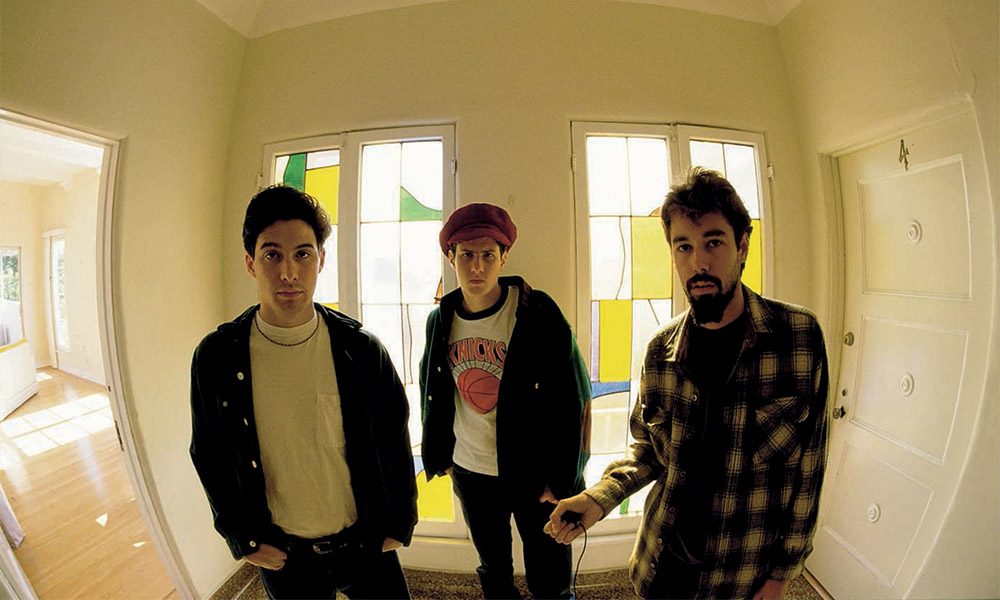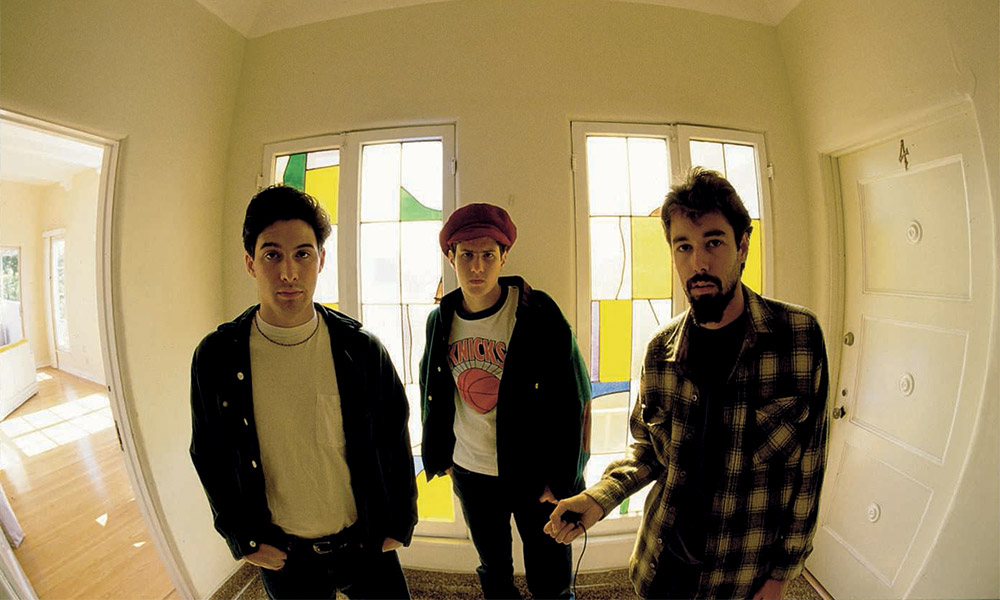 "No, no, no – nah – oh no! Ucch!" That's how fashion journalist and former editor-at-large of Vogue describes Beastie Boys' look while in conversation with Adam "Ad-Rock" Horowitz for the group's memoir, Beastie Boys Book. And yet Beastie Boys somehow emerged as style icons in the 90s, launching their own clothing store and fashion line (X-Large), becoming almost as synonymous with Adidas as Run-DMC, and, arguably, single-handedly starting the 70s retro craze that swept through the decade like wildfire. These Beastie Boys photos trace the group's history from fashion-unconscious hardcore punks to elder statesmen who'd "gone and become grown-ups."
"Don't step out of this house if that's the clothes you're gonna wear"
Known as an all-male hip-hop trio, Beastie Boys were initially a four-piece hardcore punk group boasting a female drummer, Kate Schellenbach. Pictured on the back of the 1982 Polly Wog Stew EP, they looked every bit the Lower East Side punks they were.
In their next incarnation, the three-piece Beasties sent up hip-hop and frat-boy culture, even as they established their credentials as the fastest-rising hip-hop group on the planet. Mike D's ironic Volkswagen chain even led the car manufacturers to run their own ad campaign acknowledging a spate of badge thefts in the wake of Beasties' popularity. "Designer labels always get ripped off," it said, tongue firmly in cheek.
"A barrage of crazy s__t"
Relocating to LA to record Paul's Boutique, the sun, the lifestyle, the expansiveness of the city seemed to take hold. "None of us had actual jobs, so we could really focus on what was important: pot, snacks, mixtapes, going out to clubs, and, oh yeah… making new songs," Ad-Rock recalled. This photo of MCA perfectly encapsulates how a bright future lay ahead of them.
Renting a house on Mulholland Drive, Beastie Boys discovered a cache of vintage clothing belonging to the owners' wife, Madilyn Grasshoff: "A f__king barrage of crazy s__t from the 70s. Like, if you would have said that Sly & The Family Stone wore this stuff on the There's A Riot Goin' On tour in 1972, we would have been like, 'Ooohh shh__tt!!!'" Ad-Rock writes in Beastie Boys Book. "So, of course, we started wearing Madilyn's clothes around the house… often… Then we started to wear them out. On the town, that is."
Here Mike D sports one of the more restrained items in Mrs. Grasshoff's wardrobe.
B-boys makin' with the freak freak
Feeling that they'd "pushed sample-based songs as far as they could go on Paul's Boutique", as Mike D recalls in Beastie Boys Book, the group found their own studio space in Atwater Village, LA, set up their own instruments, and started recording Check Your Head, an album "super-inspired by a bunch of the soul, funk, and jazz records we were buying." The G-Son studio became Beastie Boys' base of operations for most of the 90s, housing not only their recording studio but, before long, the group's record label and magazine enterprises.
G-Son is also where they started recording with Mark Ramos Nishita, aka Money Mark, the group's insanely talented long-term keyboardist, adept at "the Wurlitzer, the organ, the Moog, and the clavinet."
A lot of work went into kitting G-Son out. "To make a separate control room, we decided to tear up and combine two adjoining closets," Mike D recalled. "Then we'd need to build out that control room and get the main room right. And by 'get the main room right', I mean we had to build a skate ramp and install a basketball hoop in there." Biz Markie, Q-Tip, and Jungle Brothers' Afrika Baby Bam were just three of the legendary MCs to shoot hoops with Beastie Boys.
Style, profile
A dancing robot and octopus-headed monster cause havoc in downtown Tokyo, while Beastie Boys don construction-worker gear to bust some moves in train stations. It can only be the "Intergalactic" video – winner of the 1999 MTV Video Music Awards' Best Hip-Hop Video.
"Hello Nasty is our best record," Ad-Rock declares in Beastie Boys Book before listing the reasons why. No. 3: "It has the song 'Intergalactic', and that song is the f__in'jam, right?!"
Right.
In a mix-up fa-shun
"If your band is gonna record an all-instrumental record, you should dress accordingly, like jazz cats," says Ad-Rock. A turnaround from their previous styles, the The Mix-Up era found Beastie Boys suited and booted, dressed in clothes that dated only from 1956-54.
The strict dress code extended to the tour, whose rules included "must wear dress shirt a/k/a button down" and "must wear clip-on tie or some kind of sash or neck scarf."
"It was like we'd become grown-ups"
By the time of their final album, 2011's Hot Sauce Committee Part Two, Beastie Boys had become elder statesmen of hip-hop. Wives and children came on tour; younger artists such as Santigold and producer Switch were making guest appearances on their records; the group was sending up their own send-up past with videos that spoofed their Licensed To Ill-era personas. "It was almost like we'd gone and become grown-ups," Mike D writes. "Almost."
But the fundamentals never changed: Beastie Boys never lost their urge to create, their sense of experimentation or their utmost loyalty to each other. "For me, the reason why Beastie Boys stayed together so long and had so much fun being a band is because Yauch+Mike are the family members I wanna see," Ad-Rock writes in Beastie Boys Book. "They're my two other brothers I love, and can depend on… And all three of us in the end were the friends that inspired one another to go big."