Best Garbage Songs: 20 Genre-Defying Anthems
Here's where to start with the 90s alt-pop favorites, whose work ranges from grungy confessionals and rave-ready, electro-pop hits to astute socio-political anthems.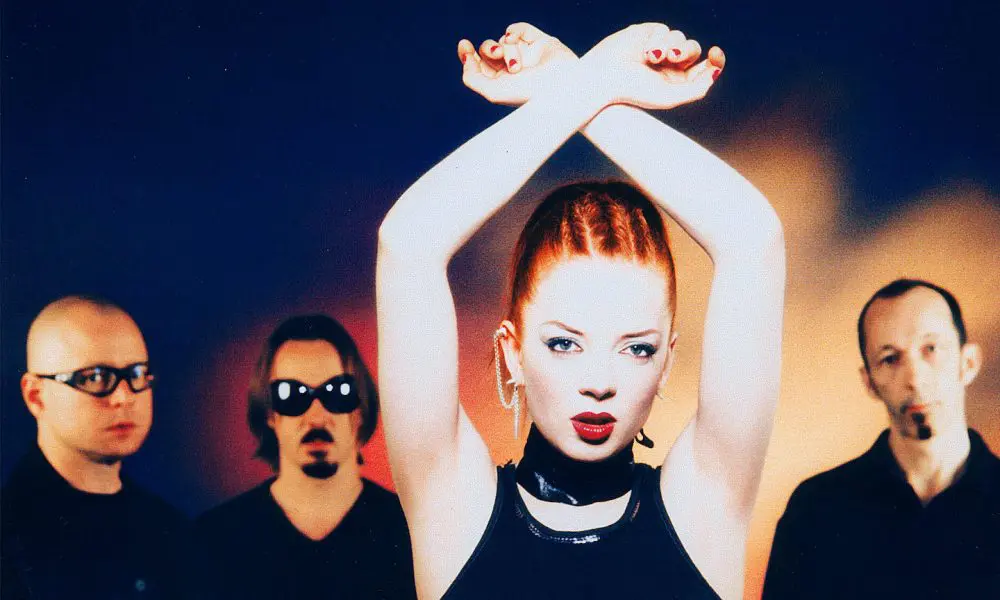 Given Garbage's grunge-adjacent beginnings, it would've been easy to group them in with other alternative acts that dominated the mid-90s pop music scene. But the quartet, fronted by Scottish singer Shirley Manson, has proven exceptional many times over. Soon after Manson joined forces with drummer/producer Butch Vig and guitarists Duke Erikson and Steve Marker, Garbage broke into the mainstream with confessional guitar-pop songs that touched on relatable anxieties and insecurities. Musically, they innovated by combining several on-trend genres, building a muddy-grunge foundation, and layering in dance, electronica, and hip-hop, among others.
As alt-rock gave way to a glossier, futuristic aesthetic, Garbage also evolved their sound while never altering their trademark edge. Over the course of three decades and seven albums, Garbage have explored exciting new ways to challenge themselves musically, whether it was modernizing their sound on the slick Version 2.0 or paying homage to 60s girl groups on the criminally underrated Beautiful Garbage (2001). Lyrically, they've been constant truth-tellers, especially on the politically minded Strange Little Birds (2016) and No Gods No Masters (2021), which tackle polarizing sociological issues like systemic racism and corporate greed.
Below, we've rounded up some of the best Garbage songs, from alternative radio staples like "Only Happy When It Rains" and "Queer" to hook-heavy pop cuts like "Special" and "Androgyny" to protest anthems like "The Men Who Rule The World" and more.
Listen to the best Garbage songs on Apple Music and Spotify, and scroll down for our list.
The Gritty, Grungy Confessionals
(Only Happy When It Rains; Stupid Girl; Fix Me Now; Not My Idea; Queer)
Early in the quartet's career, Garbage made their mark on pop radio by both leaning into – and building on – the 90s omnipresent grunge trend. (Of course, it didn't hurt that drummer and producer Butch Vig had a sparkling resume, having produced genre touchstones Nirvana's Nevermind and Smashing Pumpkins' Gish and Siamese Dream.) While the muddy guitar aesthetic is represented on Garbage's early singles like "Only Happy When It Rains," "Queer," and "Stupid Girl," the band was also extremely intentional in their decision to layer in myriad other influences of the era – trip-hop, electronica, punk, and hip-hop.
And it wasn't just that Clinton-era sound the band explored on their multi-platinum debut: Each of the aforementioned Garbage songs were deeply introspective, rolling out like diary entries that dug into self-immolating feelings of insecurity, anxiety, and doubt. Moody trip-hop standout "Queer," for example, was adopted by the LGBTQ+ community as an anthem about tolerance (the band has applauded this, while explaining that the single was not written explicitly about being gay). Elsewhere, the sulky single "Only Happy When It Rains" offered a poppified punch to depressive days spent indoors. Electro-rock bop "Stupid Girl" both laid the groundwork for the band's slicker follow-up album, Version 2.0, while telling a story about "a girl who won't settle for less than what she wants," as lead singer Shirley Manson explained at the time.
Similarly, the irresistible "Fix Me Now" blends pop hooks with hard-driving guitar, while a self-loathing Manson sings about an immense personal discomfort, and the angst-ridden "Not My Idea" actively pushes back on the notion that a person's coming-of-age years are the ones worth remembering.
The Anti-Establishment Anthems
(The Men Who Rule The World, So We Can Feel Alive, Empty, No Gods No Masters, This City Will Kill You)
Garbage's later cuts – specifically the tracks on 2021's No Gods No Masters and 2016's Strange Little Birds – are reflections of tumultuous times. Without sacrificing their experimental, genre-diverse sound, the band digs deeper into sociopolitical issues of the day: climate change, wealth inequality, government corruption, and global poverty, just to name a few.
"The Men Who Rule The World" kicks off with slot machine samples and thudding percussion, before evolving into a series of disjointed guitar licks, with Manson calling out those with power who "have made a f_cking mess." The band goes just as hard on the hook-heavy "No Gods No Masters," which chronicles a trip Manson took to Santiago, Chile, during the country's protests against corruption and inequality.
On the orchestral ballad "This City Will Kill You," Garbage sound worried about Manson's adopted metropolis of Los Angeles, which could be a stand-in for any place where "the lights are shining / And the girls are dancing / All the lights are sparkling / And the drugs are working." It's incredibly easy to fall victim to a place rich with shallow distractions, a place where "everybody is praying that it rains / It's been promised now for days / But the sun is high in the sky again."
Strange Little Birds standout "So We Can Feel Alive," meanwhile, is one of Garbage's more sonically aggressive tracks, crashing in with an electro-industrial melody. Lyrically, it's rife with frustration around what the band sees as a crumbling society. Their warning speaks for itself: "Be careful what it is you break / Every broken thing can't be fixed." Finally, Garbage direct their ire to the entertainment industry itself, using Strange Little Birds single "Empty" as a sharply worded vehicle to pick apart the music business' fickle nature.
Thoroughly Modern Melodies
(I Think I'm Paranoid, Special, Androgyny, Breaking Up The Girl, The World Is Not Enough)
By the late 90s and early 00s, Garbage's sound had noticeably evolved from gloomy grunge-pop to slicker, clubbier compositions, while still keeping their rock-band foundations intact. Nowhere is this more evident than on 1998's Version 2.0, which houses the rave-ready "I Think I'm Paranoid" and the glossily harmonized "Special." Each of these futuristic electro-pop classics find the band tinkering more with their trademark genre-mashing sound, while Manson's vocals are more up-front and confident than ever, especially on "Paranoid," as she pivots to a positively demonic alto.
When their highly underrated third album, Beautiful Garbage, arrived in 2001, the band delved into even more experimental territory, fusing electronic and hip-hop rhythms with 60s girl-group pop. That album's lead single, the sensual "Androgyny," is an ahead-of-its-time ode to gender expression (keep in mind, it came out 20 years ago). The more straightforward "Breaking Up The Girl," meanwhile, fused the band's penchant for classic-rock rhythms with Phil Spector-era pop. The result was unlike anything their peers were doing at the time, which could perhaps explain why Beautiful Garbage was so underappreciated upon its release.
And let's not leave out Garbage's entry to the greater James Bond cinematic universe: "The World Is Not Enough," which soundtracked the 1999 007 film of the same name. The band's one-off single was a fascinating hybrid of ideas and falls nicely into line with other Bond themes, incorporating cinematic strings and a slow-building structure.
The Roll-The-Window-Down Bangers
(Cherry Lips (Go Baby Go), Automatic Systematic Habit, Till The Day I Die, Run Baby Run)
One of the most consistent qualities of Garbage is their ability to write pop banger after pop banger, and they've been doing it now for well over *checks calendar* three decades. Though every one of Garbage's albums features radio-friendly pop jams, one of the stickiest hooks they've ever written came a few years into their career: "Cherry Lips (Go Baby Go)," featured on 2001's Beautiful Garbage, kicks off with energetic womp-womp-womp-womp keystrokes before blossoming into a heady, adrenaline-surging chorus. (Is it any wonder Manson once said that "Cherry Lips" was "probably the most celebratory song we've ever written"?) That same bombast is present for "Til The Day That I Die" (also on Beautiful Garbage), which chugs with a more aggressive guitar line but is still rooted in pop sensibility.
Later in Garbage's discography, specifically on 2012's Not Your Kind Of People, the band had no interest in slowing down. Their fifth studio album came bashing in on "Automatic Systematic Habit," which features a pulsating, club-ready rhythm. Likewise, Garbage's undersung 2005 record Bleed Like Me came packed with songs ideal for hitting the open road. One such cut was "Run Baby Run," which opens an echoing, U2-inspired guitar line and evolves into an explosive anthem about love's bittersweet rush.
The 20th-anniversary edition of Beautiful Garbage is out on November 5 and is available for pre-order.