'Homogenic': The Boldly Innovative Album That Reconfigured Björk's Career
Marking a turn away from shiny experimental pop towards darker, more challenging themes, 'Homogenic' set the tone for Björk's most bold and innovative work.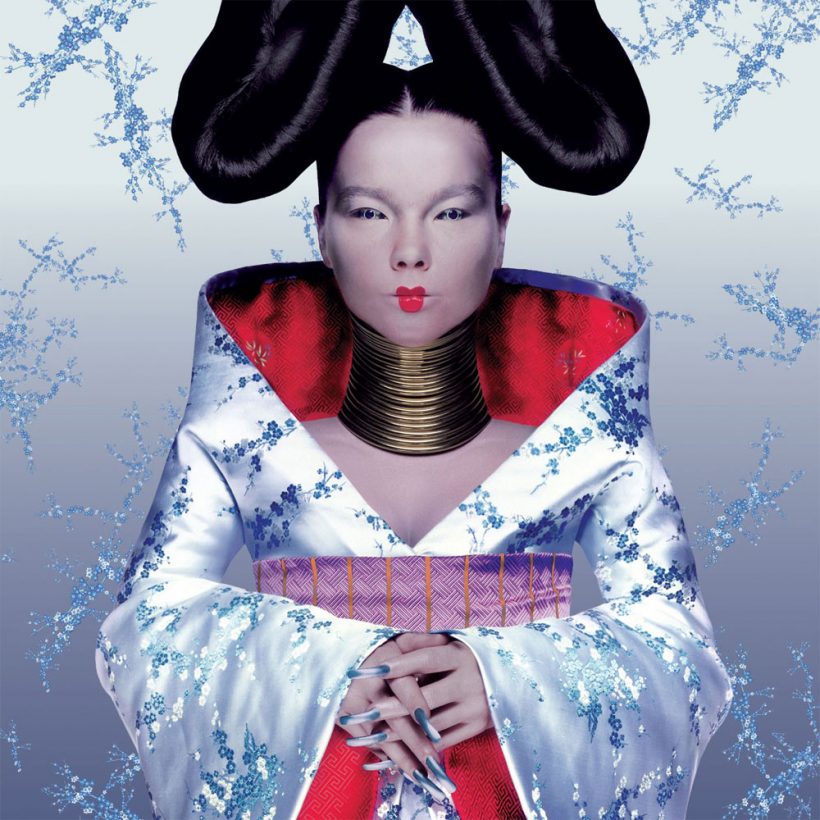 Though Björk had made a name for herself with cult indie darlings The Sugarcubes, few expected the huge success that followed when she launched a solo career. However, her first two albums, Debut and Post, and their accompanying hits, such as "Violently Happy," "Army Of Me" and "It's Oh So Quiet," had proved huge commercial successes, and she was subsequently embraced as a bona fide pop star, paving the way to her perfectly focused fourth album, Homogenic.
A fondness for collaboration (the likes of Tricky, Nellee Hooper, and Howie B, among others, were involved in her debut and sophomore albums) had resulted in two wildly eclectic works. For Homogenic, however, Björk sought to craft a more homogenous entity with a consistency of sound (what she termed "one flavor") that would clearly define her unique aesthetic. To this end, she began recording in London with only an engineer, Markus Dravs, for company.
Those sessions were cut short after a horrific incident: an obsessed fan named Ricardo Lopez filmed himself making a letter bomb intended to kill or disfigure the singer, before he committed suicide. The episode prompted a media frenzy resulting in an encampment of paparazzi outside Björk's London home. Initially so distraught that she considered quitting the music business, Björk was offered the Malaga-based studio of her tour drummer Trevor Morais as an escape, and fled to Spain.
Settled in the Andalusian hills, she brought in producers Guy Sigsworth, Howie B, and LFO's Mark Bell to help craft her vision of a work defined by a set of seemingly contradictory themes. Fiercely patriotic yet avowedly cosmopolitan, both traditional and tech-savvy, emotionally defensive and open-hearted, the resultant Homogenic managed to embrace both nature and technology with equal fervor.
Though a recurring feature of previous albums, Björk's heritage was fully embraced for the first time on Homogenic, with the Icelandic String Octet brought in to provide a classical orchestral foil to Mark Bell's modern techno beats, sculpted at the singer's request to suggest the harsh, volcanic nature of Iceland's landscapes, perhaps best encapsulated on opener "Hunter'"s chilly mix of traditional Icelandic accordion, gorgeous violin lines, and sparse, stuttering, beats.
Lyrically, the album addresses the frustrations of recent failed relationships. On "5 Years" she is angry and defiant ("You can't handle love"), while on "Immature" she is more introspective ("How could I be so immature/To think he would replace/The missing elements in me?"). Elsewhere, the singer finds solace in other forms of love: celebrating the entire human race on "Alarm Call" (remixed by Beck for the single's "Bjeck Remix" B-side), and embracing the simple act of giving on "All Is Full Of Love." Meanwhile, "Jóga" (named for the singer's close friend) espouses the beauty of female friendship.
Marking a sharp turn away from shiny experimental pop towards darker, more challenging directions, Homogenic, which was released on September 22, 1997, set the tone for the boldly innovative work that has since defined Björk's career.