'Crush': How Stadium Heroes Bon Jovi Reclaimed The Rock Scene
In terms of career longevity, 'Crush' was the album that gave Bon Jovi a good name, remaking the rock veterans as 00s chartbusters.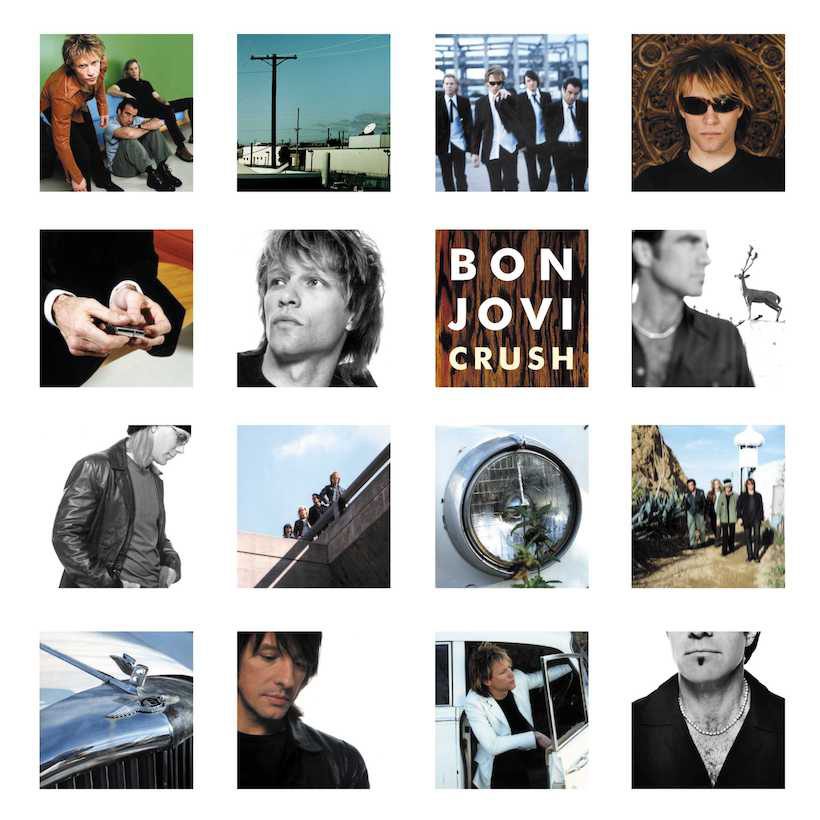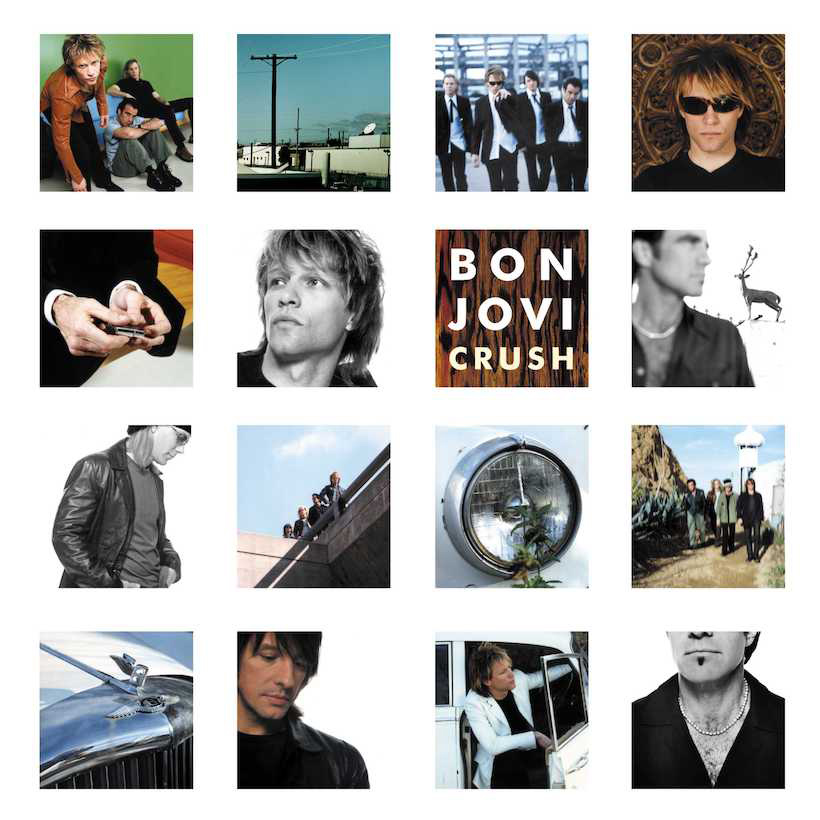 After their meteoric rise in the 80s, Bon Jovi spent most of the next decade weathering the trends and outlasting the tag of being a hair metal band. After the hard-rockin' hedonism of Slippery When Wet and New Jersey, both 90s albums (Keep the Faith and These Days) were about getting serious. There were more epics, more stories, and a lot less fist-waving. Both had darker lyrics than usual, and Keep the Faith included "Dry County," their first and only ten-minute track. The results were critical praise but a lower commercial profile (in the United States, at least). But Crush changed all that, rebooting the band when it arrived in June 2000.
The album opens with a trio of hit singles, but there isn't a song here that wouldn't jump right out of the radio. It's really the first Bon Jovi album that doesn't aim for a unified sound, giving each track a feel of its own. They do sleek and modern, they do guitar-slinging retro, post-grunge, and pure pop, depending on what a song calls for. There are also a few hints of the Americana direction they'd head in over the next decade.
Listen to Bon Jovi's Crush on Apple Music and Spotify.
Much of Crush's success can be credited to an infusion of new blood. Bassist Hugh McDonald was now settled in the band, having officially replaced Alec John Such in Bon Jovi's first-ever personnel change – a move that initially shocked fans who thought the five-way partnership was unshakeable. Another key player who took a backseat this time around was songwriter Desmond Child, who added the hit sheen to "You Give Love a Bad Name" and "Livin' On A Prayer." Jon Bon Jovi and Richie Sambora did the lion's share of writing on Crush and the main co-writer was Billy Falcon, an upstart whose only previous major credit was co-writing (with Bon Jovi) "Sometimes It's a B__ch" for Stevie Nicks.
The gamble paid off
Most surprisingly, there's no big-name producer involved with Crush. Hitmaker Bruce Fairbairn was set to produce before his sudden heart attack, followed by Metallica man Bob Rock who was also considered. Finally, Bon Jovi and Sambora decided to co-produce with Luke Ebbins – a young guy with plenty of ideas and zero hits to his credit. The gamble paid off, and Crush came out sounding polished but fresh, with no obvious fingerprints on it.
While there's more to Crush than its singles, let's dive right into the singles. For most bands, "It's My Life" is the kind of song that comes along once in a career – an undeniable anthem, with a universal message and an unshakeable hook. From the two pounded chords that open, it has the sparkle of a pop hit, but it's also steeped in classic rock. During promotions for the album, Jon Bon Jovi freely admitted he pinched the song's title and attitude from the Animals. The lyric also namechecks Sinatra and checks in with Tommy and Gina from "Livin' On a Prayer" – turns out they're doing fine – and Sambora caps it all off with a talkbox solo, likely the last one to appear on a hit single.
Bon Jovi - It's My Life (Official Music Video)
The second single, "Say It Isn't So," pulls off the neat trick of sounding like Humble Pie in the verses and The Beatles in the choruses, while "Thank You for Loving Me" is the album's obligatory ballad, this time done with real strings (and a nice Sambora riff at the very end).
Sambora does some of his best work between the lines, including a few big moments on "Next 100 Years," which is a three-minute song with a four-minute coda. It starts as a catchy love song, then pulls a chanted "Hey Jude"-type fade before the band revs up and Sambora cuts loose. It's a live-sounding moment and tops the list of singles that should have been.
A return to pure fun
In the period leading up to the 90s and then post-9/11, Bon Jovi got political, but Crush marked the band's return to pure, uncomplicated fun. Long-haul fans doubtlessly appreciated "Just Older," a rousing tune that argued hitting middle age was no big deal. And anyone who remembered the 70s had to appreciate "Captain Crash & the Beauty Queen from Mars," the only Bon Jovi song that clearly nods to the glitter era. (Even the title sounds like a lost Mott the Hoople track). The finale, "One Wild Night," is such a fist-waver that it became the title of a live album a year later.
But the buried treasure on Crush is "I Got the Girl," tucked away toward the end. Musically it encapsulates the album, starting as moody electronic pop and then chord-slinging in the chorus. Lyrically it appears to be one more Bon Jovi song about lucking out and finding the perfect partner, until he comes up with the easy-to-miss line "the Queen of Hearts will always be a five-year-old princess to me." Yes, he's singing about his daughter, pulling the same narrative trick Chuck Berry did on "Memphis." It's the kind of moment that keeps Bon Jovi honest, and a little endearing: Behind all that streamlined pop and arena fireworks sits a beaming dad.