'Cosmic Empire': The Story Behind The George Harrison Song
The story of 'Cosmic Empire' is the story of George Harrison's spiritual journey.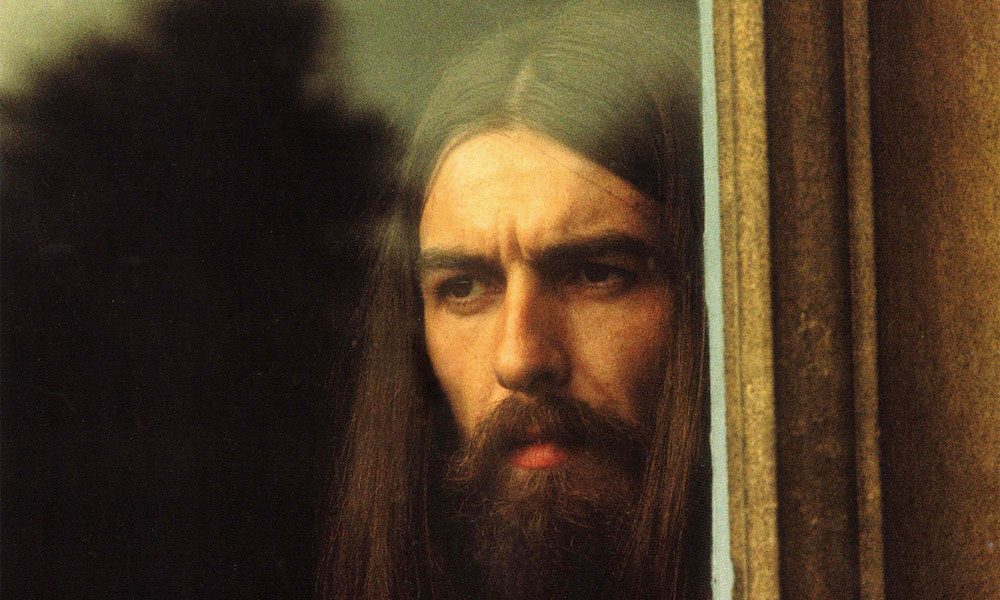 At the close of the 1960s, a decade that witnessed a generation explore the expansion of one's consciousness through the opened doors of perception and a subsequent rise in religious awareness, George Harrison was in the midst of his own personal awakenings.
Life in The Beatles had lost its luster during the making of The White Album in 1968, as his songwriting contributions continued to be unjustly stifled by the group's dominant Lennon/McCartney partnership, who still viewed him more as a guitarist and secondary vocalist than an author of merit. "As a singer, we allowed him only one track on each album," John Lennon later admitted. "The songs he and Ringo sang at first were the songs that used to be part of my repertoire in the dance halls. I used to pick songs for them from my repertoire… the easier ones to sing."
Harrison persevered, piling up worthy songs that were either rejected by – or never presented to – The Beatles. The group's public split in April 1970 provided the catalyst for those songs to finally see the light of day. "He knew he had something special there and he wasn't covered with a blanket anymore," said Delaney Bramlett, with whom George briefly toured in 1969, subsequently borrowing his core backing group for the All Things Must Pass recording sessions the following year. "You see, George played me a bunch of songs when he was with me, and I kept saying, 'Why aren't some of these on those Beatle records, George?' He said, 'They let me do one, maybe two, on an album.' I didn't think he had much to develop – he was ready. How much development does a man need?"
Listen to "Cosmic Empire" on George Harrison's All Things Must Pass 50th Anniversary Edition here.
Ahead of work beginning on All Things Must Pass, George met with producer Phil Spector to play him everything he'd amassed. "It was endless," Spector said, "and each one was better than the last." Everything had to be considered, George insisted, to draw a line between the past and the future. "I didn't really want to chuck anything away," Harrison revealed. "I wanted to get shot of them so I could catch up on myself."
George Harrison's "Cosmic Empire"
With so many contenders and a finite amount of space on disc – even for what turned out to be a triple album – there were bound to be leftovers, and so it was that "Cosmic Empire" didn't make the cut.
George Harrison - Cosmic Empire (Day 2 Demo / Take 1 / Lyric Video)
Prefaced by an instruction that the finished song should be "full of chorus voices," the demo features George on acoustic guitar and begins with the song's recurring riff before settling into a bright 4/4 shuffle that recalls his earlier "Old Brown Shoe."
"I'm waiting in the queue down at the Cosmic Empire," George sings, his voice mirroring the introductory motif, "I want a front-row pew down at the Cosmic Empire." What he's presenting is the idea of a virtual realm from where he can see the inner truths of life as it unfolds; in this instance it is a theatre – based upon the myriad Empires found across Britain, such as Liverpool's Empire Theatre, the site of The Beatles' last ever gig in their home city in December 1965 – from where he has an "omnipresent view" of the universe.
Looking inward for answers
This yearning for metaphysical insight is a theme that had permeated much of George's work since the mid-'60s, when the crushing weight of Beatlemania and his inescapable fame led him to look inwards for answers to questions he'd long wrestled with.
In early 1965, George began experimenting with LSD, the psychedelic experience allowing him to feel at one with the world around him. "I fell in love, not with anything or anybody in particular," he said of the drug's effect, "but with everything." In turn, it stirred up a theological curiosity that had been long dormant.
The impact of Indian music and spiritual practices
That same year, George also discovered the sitar, a long-necked Indian stringed instrument that he first put to use on "Norwegian Wood." George's longing to master it eventually directed him to learn under the Indian maestro Ravi Shankar. Immediately, Shankar became more than just Harrison's sitar teacher. "From the moment we met, George was asking questions," Ravi said, "and I felt he was genuinely interested in Indian music and religion."
Adopting Ravi as a spiritual guide, George delved into Eastern philosophies and the tenets of Hinduism. "Ravi was my link into the Vedic world," George said. "Ravi plugged me into the whole of reality." The impact of George's spiritual probing was reflected in songs like "Within You Without You" and "The Inner Light," which was released in early 1968 while The Beatles were in India to study Transcendental Meditation under Maharishi Mahesh Yogi.
Then, in December 1968, a chance meeting with Hare Krishna devotee Shyamasdar Das at the Apple offices ("Where have you been?" George had cryptically asked. "I've been waiting for you.") instigated an alliance with the movement that George upheld for the remainder of his life.
All of this naturally imbued George's songs, and while some could be interpreted as relating to more corporeal matters, "Cosmic Empire" was undeniably the blueprint for a venue hosting a direct audience with God; a place where "truth comes shining clear," where "our souls are filled with joy," and where we're guaranteed to find bliss.
Listen to "Cosmic Empire" on George Harrison's All Things Must Pass 50th Anniversary Edition here.