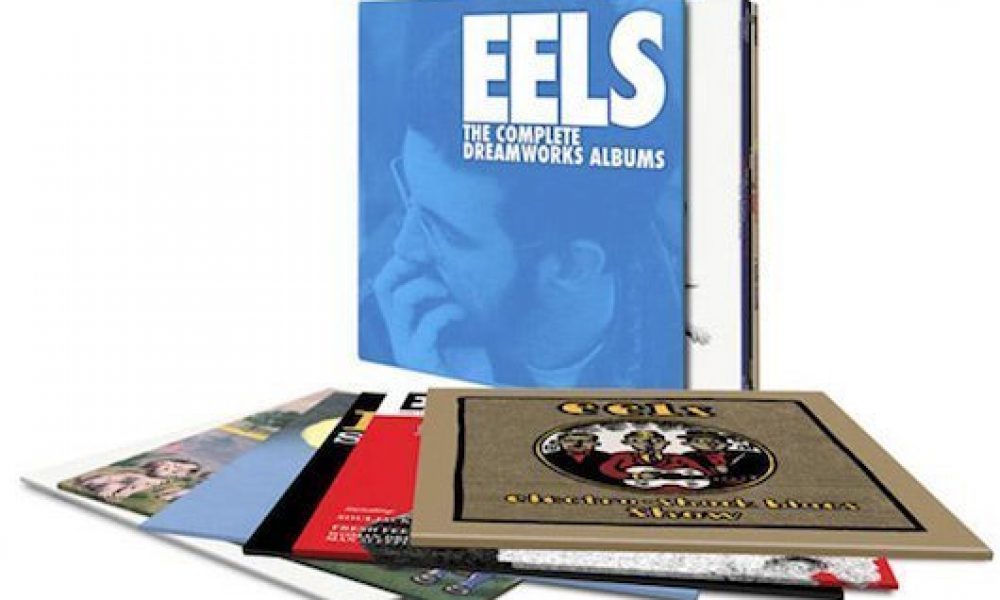 Condensing the musical life and times of Mark Everett and his fellow travelers into 20 songs is a tall order, because Eels have built up a mighty body of work in the two decades they've worked together in that configuration. But we hope our new uDiscover playlist will offer a good flavor of a catalogue that's distinctive, sometimes eccentric, and always engrossing — and is further celebrated today (30) by the release of The Complete DreamWorks Albums, in Universal's Back To Black series, as an eight-LP vinyl set and as individual albums.
We begin with selections from Beautiful Freak, the 1996 album that signaled Eels' debut as a band after Everett's earlier recordings under the identity of E. It was a record that made a much greater initial impression in the UK than in the American band's home country, reaching No. 5 there and establishing an audience that remains large and loyal to this day. The brilliantly atmospheric singles 'Novocaine For The Soul' and 'Susan's House' were a perfect counterpoint to the all-pervading Britpop of the era, and both made the top ten.
There are selections from every Eels studio album since, as well as this year's live album, as the band's profile continued to expand and Everett's songs established the individual presence achieved by only a handful of other American mavericks, from Beck to Flaming Lips. Electro-Shock Blues featured contributions from such notables as T-Bone Burnett, Lisa Germano, and Jon Brion, while R.E.M.'s Peter Buck guested on Daisies Of The Galaxy.
Eels have continued to have significant success in the UK and other parts of Europe even when their albums have charted modestly, or sometimes not at all, in the US. Even as the band line-up ebbed and flowed, and latterly consisted effectively of only Everett himself, each release has been greeted warmly by critics and fans.
There was a return to the British top ten with 2010's Tomorrow Morning, from which we feature Spectacular Girl, and Eels went there again last year with The Cautionary Tales Of Mark Oliver Everett, in which reviews praised the writer-frontman's now familiar ability to create beauty from darkness in his compositions. "As always with the finest of Eels albums," wrote Q magazine, "Everett's loss is the listener's gain."
Listen to Eels In 20 Songs on Spotify
Explore our dedicated Eels Artist Page
Format:
UK English