Frank Sinatra At Capitol Studios: How The Voice Captured His Vocal Masterpieces
The histories of Frank Sinatra and Capitols Studio are forever entwined. The singer immortalized the facilities when he became the first artist to record there.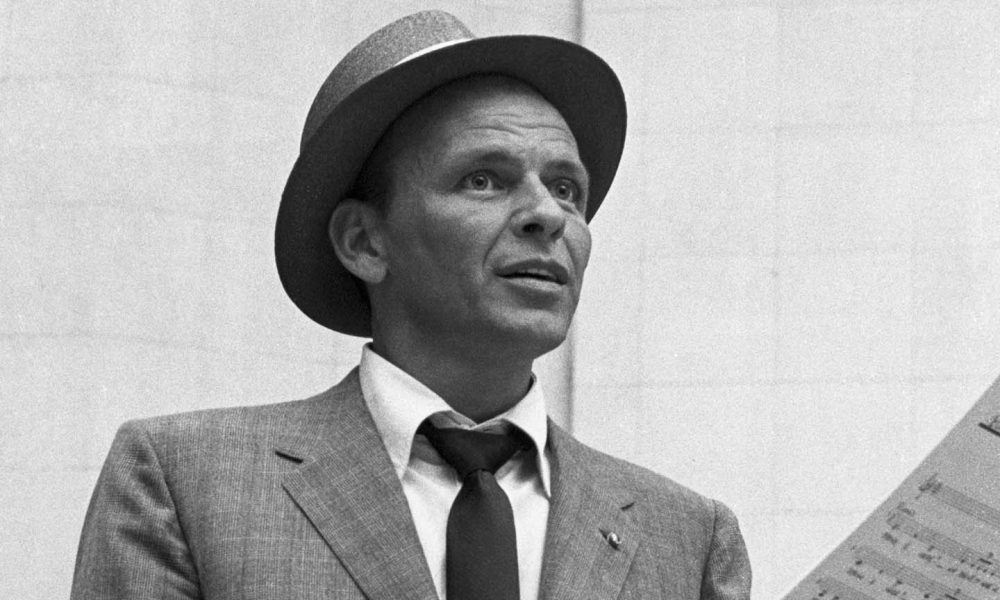 If a picture is worth a thousand words, then the iconic photograph depicting Frank Sinatra during a recording session for his 1961 album Sinatra's Swingin' Session!!! tells a compelling story: of how the singer, in his trademark fedora hat, together with arranger Nelson Riddle and a large orchestra, combined their talents to make music for the ages. What we shouldn't forget is the importance of the location: Capitol Studios' Studio A facility, which brought a profound influence to bear on Sinatra's music during the 50s and 60s.
Listen to the best of Frank Sinatra on Apple Music and Spotify.
The beating heart of Hollywood
Located in the beating heart of Hollywood, at 1750 Vine Street, and housed within a 13-story office building shaped like a tower of stacked LPs, Capitol Studios officially opened in early 1956. It contained four recording studios of various sizes, ranging from the largest, A, through to the smallest, D. Many world-famous performers have gone through its doors to record music there, but there's one singer whose name is truly synonymous with the iconic Los Angeles recording facility: Frank Sinatra, who made history by being the first person to record there.
By the time he entered Capitol Studios, Sinatra had recorded several classic albums for the label at KHJ Studio on Melrose Avenue, Hollywood. From March 1956 to November 1961, however, he would record many of his best-loved works at Studio A, among them A Swingin' Affair, Come Fly With Me, Frank Sinatra Sings For Only The Lonely, and Nice'n'Easy. The impeccable sound of those records, combined with Sinatra's fame, earned Capitol Studios renown as a state-of-the-art recording facility. From 1968 onwards, when artists not signed to Capitol could use it, the place became a highly desirable recording location for those looking to follow in Frank's footsteps.
Come Fly With Me (Remastered 1998)
Frank Sinatra… conducts?
Ironically, though, for his first recording session at Capitol Studios, held in February 1956, Sinatra was not booked to sing. Rather, he picked up a conductor's baton and commanded a 60-piece symphony orchestra for an instrumental album. Comprised of compositions by leading Hollywood composers/arrangers, among them Nelson Riddle, Billy May, Gordon Jenkins, Elmer Bernstein, and Alec Wilder, the sessions took place between February 22 and March 15, and the results were released later that year as Frank Sinatra Conducts Tone Poem Of Color.
Sinatra first stood before a microphone in Capitol Studios on March 8, 1956, when he began recording material that eventually came out on the 1957 album Close To You. Low-key and devoted to mournful ballads, it is arguably the most overlooked gem in his Capitol Records discography.
With Every Breath I Take (Remastered)
Groundbreaking recording techniques
Capitol Studios distinguished itself by being one of the first US recording facilities to use magnetic tape rather than record directly to disc, a feature that helped to give Sinatra's recordings a warmer sound. Also, very importantly, the studio used a groundbreaking Neumann U47 capacitor valve microphone that captured every nuance of Sinatra's voice while preventing it being overpowered by the orchestras that often accompanied him. And the size of Studio A (which Sinatra used exclusively), with its 2,700 square feet of floor space, allowed him to sing alongside the orchestra, rather than in a separate vocal booth.
By the time that Sinatra recorded what would be his final album sessions at Capitol Studios, in September 1961 (for the appropriately-titled Point Of No Return), the Hoboken singer was focused on starting his own label, Reprise (which he launched with the equally appropriately-titled single, "The Second Time Around"). It started another era of successes to add to those he'd accrued over the previous half decade.
As Time Goes By (1999 ' Digital Remaster)
There in spirit
The singer they called The Voice may be long gone, but the long-running studio is still active today, and, amazingly, the famous Neumann microphone he sang into remains in use. Many of those that have been privileged enough to record in Studio A say they can still feel Sinatra's presence. That's understandable. The singer's history is inextricably entwined with the birth, growth, and success of Capitol Studios.
As long as the facilities exist, Frank Sinatra will always be there in spirit.
Looking for more? Discover the history behind Frank Sinatra and Quincy Jones' recordings together.