Still On The Line: The Unmatched Voice And Guitar Of Glen Campbell
A selection of the finest work by a true great of American music.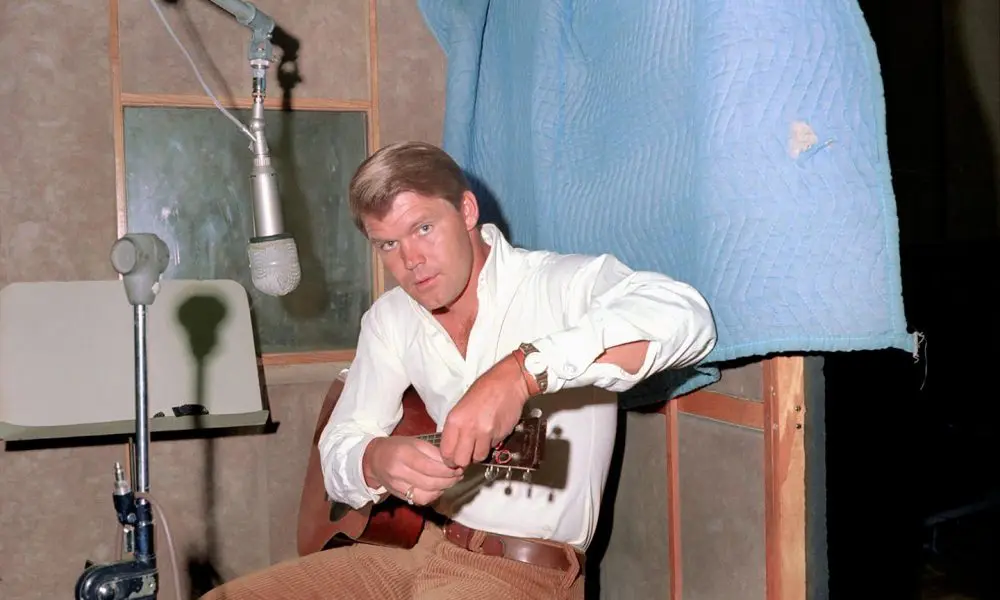 To celebrate one of the true figureheads of American pop and country music of the last half-century, we proudly presents our playlist featuring the very best of Glen Campbell.
Campbell was born in Delight, Arkansas on April 22, 1936. He played with the band headed by his uncle, Dick Bills, while still a teenager in the 1950s. When he moved to Los Angeles, Glen honed his reputation as a brilliant guitarist for hire. He worked with the Champs in 1960 and then as a member of the famed Wrecking Crew. There were bookings with other such groups as the Hondells and then, most famously, the Beach Boys, of whom he was also a touring member for a time.
Session man supreme
We could have filled another playlist with songs featuring Glen's session guitar work. It included appearances on Beach Boys singles such as "Dance, Dance, Dance" and "Help Me Rhonda" and the classic Pet Sounds album. He plays on Frank Sinatra's "Strangers In The Night" and Frank's "Somethin' Stupid" duet smash with daughter Nancy. He was also part of the studio aggregation Sagittarius, with fellow Beach Boys members and alumni Bruce Johnston, Terry Melcher, Gary Usher, and colleague Curt Boettcher. Their Hot 100 entry "My World Fell Down" is a prime example of superior West Coast pop of 1967.
Campbell made his national chart debut as early as 1961 when, signed to the Crest label, he reached No.62 with "Turn Around, Look At Me." Jimmy Webb, whose brilliant songs would become such an essential part of Glen's repertoire, later revealed that the bond went back even further than anyone realised: "Turn Around" was the first single he ever bought.
By the following year, Campbell had started his long association with Capitol Records, and was already showing his ability to straddle the pop and country markets. "Too Late To Worry – Too Blue To Cry" was a modest Hot 100 hit. "Kentucky Means Paradise" (credited to the Green River Boys featuring Glen Campbell) gave him an initial Top 20 country success.
Television and movies call
After a mid-1960s chart flirtation with Buffy Sainte-Marie's protest song "Universal Soldier," and another country hit with "Burning Bridges," Campbell hit his stride. He became a major national and international star, and a much-loved TV series host and personality, his Grammy-winning recording of John Hartford's "Gentle On My Mind" paving the way in 1967. His enduring association with Webb started with his interpretation of "By The Time I Get To Phoenix."
The improbable combination of the liberal-minded songwriter and the conservative vocalist would prove unstoppable, most memorably on indelible pop classics such as "Wichita Lineman" and "Galveston." But Campbell and Webb's partnership produced countless other landmark recordings, including the further hits "Where's The Playground Susie" and "Honey Come Back" as well as later album projects such as 1974's wonderful Reunion: The Songs Of Jimmy Webb.
Five of the vocalist-guitarist's singles topped the country chart, and he continued to produce major hits in the format even when his acceptance in the pop market declined in the early 1970s. Campbell was also in demand as an actor, starring opposite John Wayne in True Grit (the title song of which was another memorable 45), and later in Norwood and Strange Homecoming.
Glen would prove himself a versatile interpreter of other writers' material, notably of Larry Weiss' "Rhinestone Cowboy" and Allen Toussaint's "Southern Nights," both of which Capitol singles reached No.1 on the country and pop charts. Country hits such as "A Lady Like You," "The Hand That Rocks The Cradle" (with Steve Wariner), and "I Have You" continued throughout the 1980s. Campbell continued to be a huge box office draw worldwide, notwithstanding a period of well-publicized marital and drug-related problems.
A noble marriage
Happily, he would find lasting love with his third wife Kim, whom he married in 1982. They remained married until his death, after a long fight with Alzheimer's disease, in 2017. Kim's role in his care through his illness, and her decision with their family to go public about it spoke volumes for their devotion and helped to shine a light on an often unspoken mental condition.
Joyously, in the musical care of such supporters as producers Julian Raymond and Howard Willing, Glen's final years of recording were full of some of the most memorable albums he had ever made. 2008's Meet Glen Campbell, 2011's Ghost On The Canvas and the 2013 release See You There overflowed with imaginatively-chosen covers, admirably suited to Campbell's golden tones. They featured material by everyone from Jackson Browne and Tom Petty to Lou Reed and Paul Westerberg.
This late career renaissance was further amplified, in the most poignant way imaginable, by the 2014 documentary Glen Campbell: I'll Be Me, directed by James Keach. The film followed the artist on his long farewell tour, and the soundtrack included both covers of his hits by modern-day admirers, and the deeply touching "I'm Not Gonna Miss You." His final studio album Adiós was released by UMe in June 2017. to huge acclaim and success.
Listen to the best of Glen Campbell on Apple Music and Spotify.