'Back Here On Earth': Gordon Lightfoot Travels Internationally With Fourth LP
With his fourth studio set, the name of the gifted singer-songwriter was now on lips far beyond just his native Canada.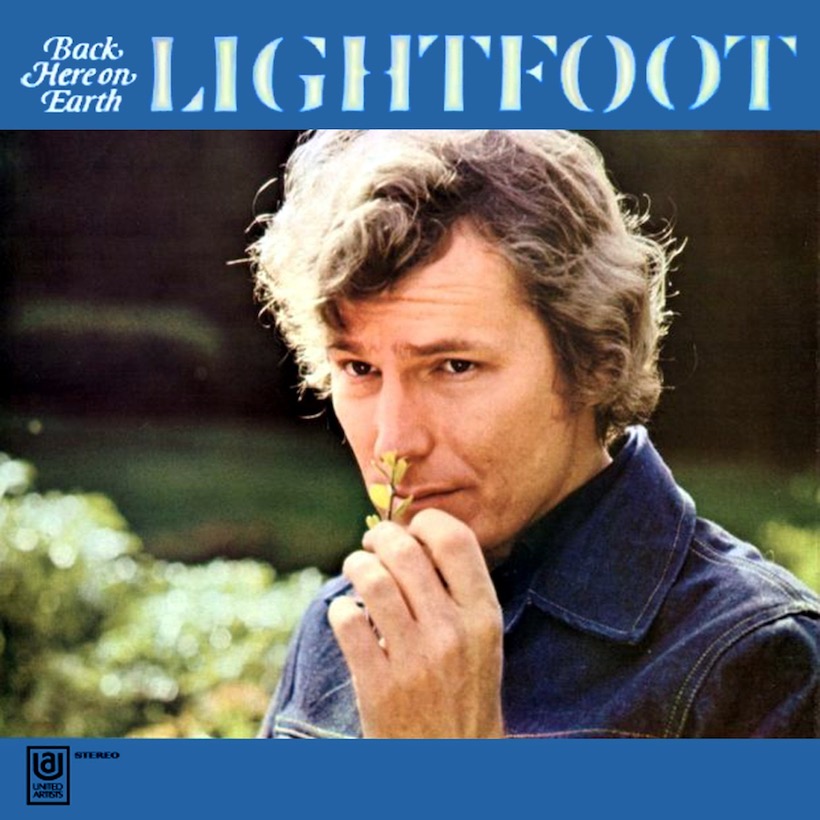 As 1968 came to an end, Gordon Lightfoot would celebrate his 30th birthday with a great sense of satisfaction. His busy year, and an intense period of creative and commercial growth, culminated in a fourth studio album, Back Here On Earth, that would prove to be his last studio set for United Artists. The name of the gifted singer-songwriter was now on lips far beyond just his native Canada.
Another album meant another change of producer, as Lightfoot, again recording in Nashville, now worked with New Yorker Elliot Mazer. Like John Simon, who oversaw Did She Mention My Name?, released at the beginning of the year, Mazer would count The Band among his credits, as well as Bob Dylan, Janis Joplin, and Neil Young. As earlier, the new set included songs that the artist would revisit when his profile was even higher, notably the sorrowful and elegant "The Circle Is Small," which he revived for Endless Wire almost a decade later.
Perhaps the next best-known song on Back Here On Earth, also renewed on Gord's Gold, was "Bitter Green," another typically literate reflection on love derailed. Skilled as ever at seizing inspiration, Lightfoot wrote it in the back of a cab traveling from Heathrow Airport into London. "My wife adopted that as her song after our divorce," he reflected. "I went over to London to write the album, to jog my mind into a writing space." The song topped RPM's Canadian content chart and had Cash Box observing its pop radio potential in the US and describing it as a "bittersweet tale of a 'lost' girl."
The LP had a more simple, acoustic feel, with support only from guitarist Red Shea and bassist John Stockfish, but given extra depth by Lightfoot's own accompaniment on both six and 12-string guitars. Another track, the haunting "Affair On 8th Avenue," drew on his frequent visits to the US, where he was now playing clubs such as the Bitter End in New York and the Cellar Door in Washington.
"Cold Hands From New York" was another diary entry by a stranger in Manhattan. "I came down through Albany to New York to find what I'd been missin'," he wrote, in a travelog with references to such landmarks as the Lincoln Tunnel and Central Park. "I came down to live alone in New York, the city of the living/There were fortunes at my feet but most of men were taking, none were giving, or forgiving."
No fewer than eight of the LP's 11 tracks attracted covers, including one the following year by Waylon Jennings, who gave it an attractive, slowed down country ballad treatment with vocal accompaniment from the Kimberleys. Another cut from Back Here On Earth, "Gypsy," gained a 1974 rendition by Petula Clark.
Read more about Gordon Lightfoot's early albums here.
Lightfoot's touring in support of the album included a show at UCLA's Royce Hall in Los Angeles, where Robert Hilburn of the L.A. Times wrote: "He weaves folk, country and mainstream pop influences into a distinctly contemporary style of his own. His lyrics, melodies and delivery share a common honesty and intensity." Time magazine afforded Lightfoot prestigious coverage as the record emerged, and early in 1969, his preeminence was underlined as he won RPM's Best Folk Singer title, keeping Joni Mitchell in second place and Leonard Cohen in third.
Buy or stream Gordon Lightfoot's Back Here On Earth on Apple Music or Spotify.