'Did She Mention My Name?' Album: Gordon Lightfoot's Career 'Explosion'
The singer-songwriter was now being described as 'the most exciting thing that has happened to the Canadian music scene.'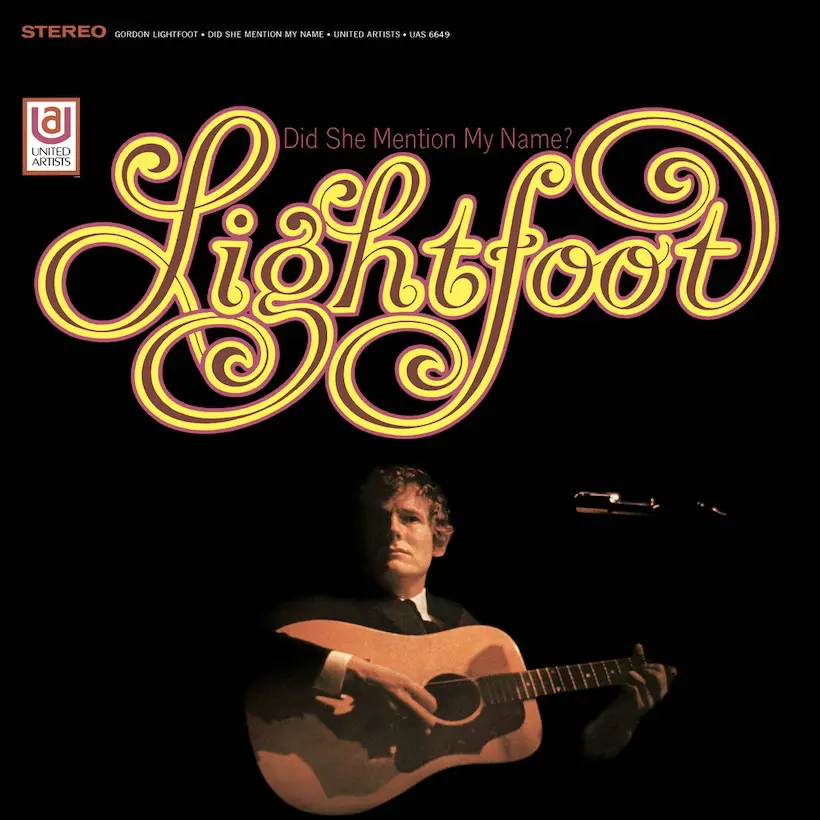 Within about a minute of the start of "Wherefore & Why," the opening track on Gordon Lightfoot's Did She Mention My Name?, you knew something was a little different. This third album, released in April 1968, featured the fast-rising Canadian troubadour's first use of strings, to elegant effect. But the essence was the same: Lightfoot, 29 at the time of the LP's release, seemed to have an inexhaustible supply of top-drawer compositions to call upon. By the time it emerged, he had already written more than 200 songs.
The new batch was arranged by John Simon, who took over as Lightfoot's producer, for this album only, at a time when he was becoming one of America's hottest studio properties. He had just overseen the Songs of Leonard Cohen album, released a few weeks earlier, and as 1968 went on, Simon would also produce the equally hallowed Music From Big Pink by The Band, Blood, Sweat & Tears' Child Is Father To The Man, and Big Brother & the Holding Company's Cheap Thrills.
Lightfoot's new set contained some of the most memorable songs of his early years, including the intense "Black Day In July," written about the Detroit riots ("pulsating rhythm item with compelling lyric content," said Billboard) and the gorgeous, heartbreaking "The Last Time I Saw Her," which would attract a hit country cover by Glen Campbell. Its words eloquently described the end of an affair: "The last time I saw her face/Her eyes were bathed in starlight/And her hair hung long/The last time she spoke to me/Her lips were like the scented flowers/Inside a rain-drenched forest."
"It's about the breakup of a marriage," wrote Lightfoot in the liner notes to 1999's Songbook. "In a way, you're predicting what's going to take place, and then it happens. In some sense you play the scene out in your mind, and after the fact, it hits you how close you were to the mark. It makes it a little tough to perform sometimes, but not tough enough to keep a great song down. In a way, it covers the same ground as 'If You Could Read My Mind' did years later."
The album also featured the whimsical "May I," the much-played "Pussywillows, Cat-Tails," the unusually brassy "I Want To Hear It From You," and the more folk-based title track, of which Lightfoot said: "It goes back to your high school sweetheart. You know you're never going to date her again, but you meet up with a friend from the home town and you ask after her, and about all the other things you've missed since you moved away. You want to reconnect with your roots."
Like its predecessor The Way I Feel, released 12 months earlier, the new LP featured lead acoustic guitar by Red Shea and bass by John Stockfish. Joining the team were widely-traveled drummer Herbie Lovelle and another hugely in-demand studio man, lead guitarist Hugh McCracken.
Lightfoot's achievements in his home country were recognized at the MIDEM music industry fair in Cannes. He was given the MIDEM International Trophy Award as "bestselling Canadian male singer" in the year between July 1966 and June 1967. Did She Mention My Name? achieved a Canadian chart position, at No.21, and his live engagements included folk festivals in San Diego and San Francisco – the latter his West Coast debut – and a residency at the Troubadour in Los Angeles in April.
In March, he was also the subject of a Canadian Broadcasting Company (CBC) Show of the Week TV special called Wherefore & Why, after the LP's opening song, in which he featured with Toronto scenester "Rompin'" Ronnie Hawkins and folk singer Bonnie Dobson, all signing Gordon's songs. Hawkins had recently released a single of his countryman's "Home From The Forest," a track from The Way I Feel.
Covers of Lightfoot's expanding catalog were coming from all angles: his friend George Hamilton IV recorded another track from that set, "Song For A Winter's Night," while 20th Century Fox signings the Raftsmen cut "Hands I Love," as had Harry Belafonte a few months earlier. The singer-songwriter's success was spreading to the big screen, too: he wrote and sang the theme tune for the 1968 movie Fade In, starring Burt Reynolds.
Canadian trade magazine RPM was sounding justifiably proud of the artist's ever greater profile in a January 1968 report, just before he won Top Male Vocalist in the publication's annual music poll. "The Lightfoot explosion is just about the most exciting thing that has happened to the Canadian music scene," they wrote. "He has an over-abundance of talent as a composer and artist and the world is just beginning to realise it."
Listen to Did She Mention My Name? on Apple Music and Spotify.