Best Bob Dylan Songs: 30 Legendary Tunes From A Master Songwriter
An introduction to one of the greatest songwriters of the 20th century.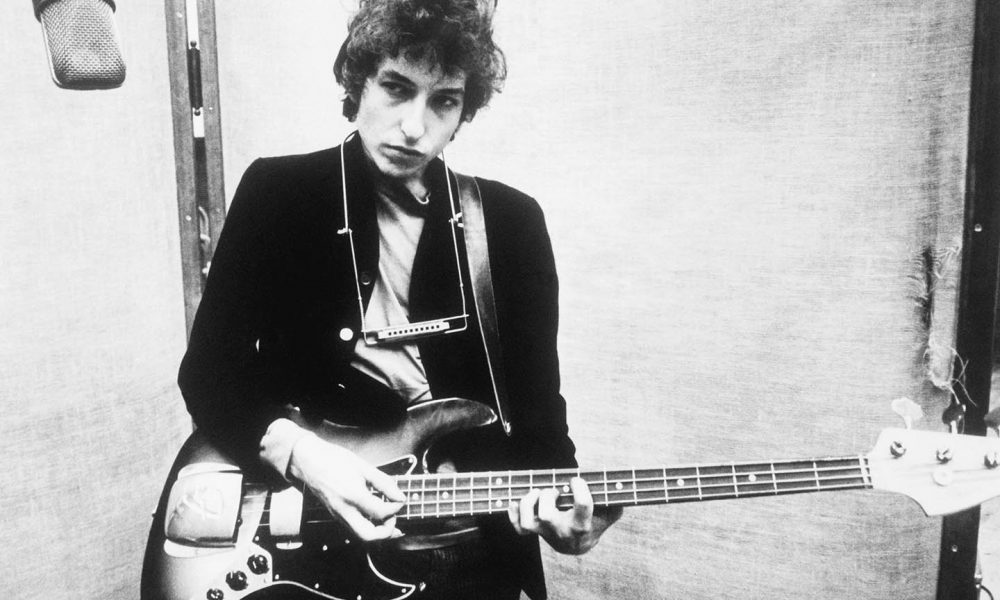 When singer-songwriter Bob Dylan won the Nobel Prize for Literature in November 2016, the Swedish Academy praised him "for having created new poetic expressions within the great American song tradition." Dylan, who was born Robert Allen Zimmerman on May 24, 1941, in Duluth, Minnesota, has sold more than 125 million records worldwide.
The 60s song "The Times They Are A-Changin'" transformed Dylan from a folk-club act and cult hero into the voice of a generation, as his compositions became anthems for the civil rights and anti-war movements. The musician, who is a member of the Songwriters Hall of Fame, Rock and Roll Hall of Fame, and Nashville Songwriters Hall of Fame, has also won Oscars, Golden Globes, and Grammy awards.
Dylan's meticulous craftsmanship as a lyricist has made him perhaps the most obsessively scrutinized and discussed artist in the history of popular music. Given his astonishing back catalogue, it's an almost impossible task to narrow down the best Bob Dylan songs… but we've selected his 30 essential tracks as a sort of introduction to the master songwriter.
Of course, there are bound to be lots of your favorites that did not make our list – wonderful songs such as "Make You Feel My Love," "Mr. Tambourine Man," "Just Like a Woman," "Sad-Eyed Lady of the Lowlands," "I Shall Be Released," or "Sara" – so let us know your favorites in the comments section at the end.
Listen to Bob Dylan's best songs on Spotify or Apple Music.
A performer whose music shaped an era
"All the great performers had something in their eyes," Bob Dylan wrote in his 2004 memoir Chronicles: Volume One. "It was that 'I know something you don't know.' And I wanted to be that kind of performer." That ability to capture the zeitgeist was evident even in the song "Blowin' in the Wind," one of his first and enduring masterpieces, written when he was living in New York's Greenwich Village for the album The Freewheelin' Bob Dylan. The song, an early chart hit for Peter, Paul and Mary in 1963, became an anthem of the civil rights movement, as did "The Times They Are A-Changin'," a genuinely groundbreaking call-to-action song about the shifting generations ("come mothers and fathers throughout the land, and don't criticize what you can't understand").
The musician, who started writing when the Cold War was at its height, dealt with a threat of a looming apocalypse created by the Cuban missile crisis in "A Hard Rain's A-Gonna Fall." Dylan, who tried out the song for a couple of friends ahead of debuting it in his first major concert at Carnegie Hall, was amazingly only 21 when he composed this searing indictment of the modern world. The song is a dense mass of wide-ranging allusions. "Subterranean Homesick Blues," another pivotal moment in rock history, seemed to capture the alienation intrinsic to the emergent counterculture. This powerful anti-authority anthem was used in the opening scene of the 1967 film Don't Look Back, which featured Dylan in an alleyway holding up cards containing lyrics from the song.
Bob Dylan - Subterranean Homesick Blues (Official HD Video)
Two other era-defining songs from Dylan were "Masters of War," and the six-minute masterpiece "Like a Rolling Stone," which had a massive impact on a generation of young aspiring songwriters. Over six minutes in length, the anthem was joyfully sung by audiences who repeated the line "how does it feel?" Acclaimed singer-songwriter John Hiatt, who heard the song when he was 13, said it "transformed" his life. "I had never heard lyrics like that. I had never heard a thing put together like that," he said.
Bob Dylan, master of the protest song
Although Bob Dylan joked in 1965 that "all I ever do is protest," he was naturally wary of being labeled as a "protest singer." What Dylan has always been is an uncompromising moralist. He remained unafraid of tackling issues of social injustice throughout his long career. "Hurricane," the first single from his 1976 album Desire, one co-written with Jacques Levy, was an angry song about the wrongful conviction of boxer Rubin 'Hurricane' Carter, who was convicted of a triple murder in New Jersey in 1966. The song deals with racism and false justice – and Dylan's moving plea for an innocent man to have his name cleared proved prescient: Carter's conviction was overturned in 1988.
"It's Alright, Ma (I'm Only Bleeding)," a song written in 1964, is a searing attack on commercialism and consumerism; while "Jokerman," from the 1984 album Infidels, is another song that deals with the themes of justice and peace, with a little geopolitics thrown in. Dylan said that "Jokerman" was an example of the painstaking process of lyric writing. "It was a song that was written and rewritten and written again," said the songwriter, who remains convinced that "the words are as important as the melody."
Bob Dylan - Jokerman (Official HD Video)
Even in his late seventies, Dylan showed that he was still capable of writing scorching songs about America's political and culture problems. His 2020 song "Murder Most Foul," which was included on his 39th studio album Rough and Rowdy Ways, addresses the 1963 assassination of President Kennedy, a tragedy which, Dylan said, "still speaks to me in the moment." The song, which lasts 17 minutes, demonstrated again Dylan's gift for imagery and eclectic musical references: The Beatles, Etta James, John Lee Hooker, and Verve jazz star Stan Getz are among the dozens of musicians to get a name-check in this modern epic.
An explorer of the human heart
Bringing It All Back Home, Highway 61 Revisited, and Blonde on Blonde are three of the greatest albums in the pop music canon, and they were released in the space of just 15 months in 1965 and 1966. Bob Dylan has a long history of writing affecting songs about love and relationships, including "It's All Over Now, Baby Blue," from the first of this trio of albums, a song about someone trying to make sense of their life after a breakup. Although Dylan is supremely gifted at writing about social issues, he is also an expert at penning personal songs.
Country and western singer Johnny Cash wrote to Dylan after listening to The Freewheelin' Bob Dylan, and gave the young singer a guitar when they both performed at the 1964 Newport Folk Festival, defending him in the row over playing electric. Dylan got the chance to pay homage to Cash when they recorded together on the 1969 album Nashville Skyline. Cash wrote the Grammy-winning liner notes in which he paid tribute to "a hell of a poet" who knew everything about "the edge of pain." The stunning love song duet "Girl From the North County," about remembering an old lover, is suffused with regret and touching nostalgia.
Another superb Dylan album is 1975's autobiographical Blood on the Tracks, which was produced by Dylan himself, and which added mandolin and organ to his repertoire. The album included the dazzling "Tangled Up In Blue" and "Buckets of Rain," the latter a simple yet slowly addictive and melodic love song, full of unsettling lines, such as "everything about you is bringing me misery." Everything about Dylan's best songwriting is unpredictable.
Bob Dylan - Tangled up in Blue (Official Audio)
Another of Dylan's ambiguous, complicated love songs is "Boots of Spanish Leather," a reflection on lovelorn yearning, with a bittersweet twist in the tale. Dylan is one of the most covered artists in pop history and one of the strengths of his songs is that they lend themselves to interpretations in so many genres. "Boots of Spanish Leather" has been covered by Nanci Griffith (country), The Dubliners (Irish folk), and Patti Smith (rock). That song was written when Dylan was in his early twenties. Half a century later, he wrote the haunting "Long and Wasted Years," a song he produced under the pseudonym Jack Frost, for the 2012 album Tempest. The song is a deft exploration of the twilight of a couple's troubled relationship.
Bob Dylan's songs that embraced Christianity
Bob Dylan was raised in a religious Jewish home, and spirituality has been a major theme in his work. "I have a God-given sense of destiny. This is what I was put on earth to do," said Dylan in 2001. One survey of 246 original songs he wrote between 1961 and 1978, including the striking "God on Our Side" (an evisceration of how religion was used to fuel cold war hypocrisy), showed that more than a third of his compositions had some reference to either the Old or New Testaments. The influence of biblical parables on his lyrics is clear in "All Along the Watchtower" from John Wesley Harding, a song about redemption that draws verses from Isaiah 21 and the Book of Revelations. Jimi Hendrix released a version about a month after Dylan, creating one of rock's most famous hits of the 1960s.
Dylan's 1974 soundtrack album Pat Garrett & Billy The Kid included the mesmerizing "Knockin' on Heaven's Door," a song that has become a modern pop standard, one covered by Guns N' Roses. Dylan, who became a born-again Christian for a time in the 70s, also dropped religious imagery into the potent song "Shelter from the Storm" ("She walked up to me so gracefully/And took my crown of thorns").
Bob Dylan - Knockin' On Heaven's Door (Official Audio)
Another of his most elegant songs, which is also full of religious imagery, is the exquisite "Ring Them Bells," a song Dylan believed "still stands up," more than 30 years after it appeared on his 1989 album Oh Mercy. That album was produced by Daniel Lanois. Dylan occasionally balked at being asked about his beliefs, incidentally, asking one interviewer why people didn't ask Billy Joel similar questions.
The poet of isolation
Bob Dylan's voice is utterly distinctive: a plangent, high, lonesome, nasal twang that became his first identifying thumbprint from the early 60s. Dylan has known isolation in his personal life. In 1967, following a terrible crash on his Triumph motorbike, the singer withdrew to Woodstock, New York, where he later worked with Robbie Robertson and The Band. Together, they created the now legendary Basement Tapes, including the beguiling song "You Ain't Going Nowhere," about the struggles of everyday life.
Dylan is a highly literate songwriter and one of his finest image-laden gems is "Changing of the Guards" from Street Legal. Dylan has read widely throughout his life. He talked in his Nobel Prize acceptance speech about the importance to him personally of novels such as Herman Melville's Moby Dick. Dylan said he loved that book because "it's filled with scenes of high drama and dramatic dialogue." Dylan created his own high drama in introspective songs such as "Stuck Inside of Mobile with the Memphis Blues Again," a composition about loneliness and longing and the battle for an outsider to escape the constraints of society. The song again demonstrated Dylan's gift for creating short, sharp, and memorable phrases, such as "where the neon madmen climb."
Bob Dylan - Stuck Inside of Mobile with the Memphis Blues Again (Official Audio)
"Visions of Johanna," another song from Blonde on Blonde, examines what it's like to feel displaced in life. "It's easier to be disconnected than connected. I've got a huge hallelujah for all the people who're connected, that's great, but I can't do that," Dylan admitted. The song, which was written shortly after his marriage to his first wife Sara Lownds and was recorded in a single take on Valentine's Day in 1966, included the lines, "we sit here stranded, though we're all doin' our best to deny it." In 1999, the UK's Poet Laureate Andrew Motion claimed that the song was the best ever written. Although fellow singer-songwriter great Van Morrison reportedly described Dylan as "the world's greatest poet," it was not a title Dylan welcomed. "Poets drown in lakes," he joked.
Bob Dylan's storytelling in song
One of the most remarkable aspects of Bob Dylan's remarkable song repertoire is its breadth and depth. Dylan has recorded songs from so many genres, including folk, blues, rock, pop, gospel, country, and the Great American Songbook. He has also worked with a wide variety of musicians, including Jacques Levy, Van Morrison, Willie Nelson, and Grateful Dead lyricist Robert Hunter. Dylan was part of 80s supergroup The Traveling Wilburys, alongside George Harrison, Jeff Lynne, Tom Petty, and Roy Orbison. Dylan has always been generous in his praise of fellow songwriters. In 1991, he told Paul Zollo that he believed Randy Newman had got songwriting "down to an art," adding that "it doesn't get any better than his songs 'Louisiana' or 'Sail Away.'"
Bob Dylan - Ballad of a Thin Man (Official Audio)
Dylan has also been assured at writing complex story-telling songs, including "High Water (For Charley Patton)" from the 2001 album Love and Theft. One of Dylan's best satirical songs is "Ballad of a Thin Man," reportedly about a journalist and his asinine questions. Two wonderful examples of Dylan's storytelling songs are "Joey," which tells the story of mobster Joey Gallo, who was shot dead on his 43rd birthday; and the adventure ballad "Señor (Tales of Yankee Power)." The latter song was produced by Don DeVito. Another triumph is the ambitious, lyrical "Desolation Row," an 11-minute epic that is full of bold imagery. The opening lines ("They're selling postcards of the hanging, they're painting the passports brown") refer to three men who were lynched by a mob in Duluth in 1920, after being accused of raping a girl. Dylan's father, Abraham Zimmerman, was eight at the time and living in Duluth.
Dylan has always taken inspiration from an array of sources, artistic and from real life. "In writing songs I've learned as much from Cezanne as I have from Woody Guthrie," he said. "It's not me, it's the songs. I'm just the postman, I deliver the songs." He was being modest. Dylan has delivered bags and bags of some of the greatest songs of modern times.
Think we missed one of Bob Dylan's best songs? Let us know in the comments below.