'It's Just Music, My Music': Gordon Lightfoot Develops His Song Craft With 'The Way I Feel'
The album was the follow-up to his United Artists debut 'Lightfoot!' and showcased the Canadian troubadour's rising confidence as a composer.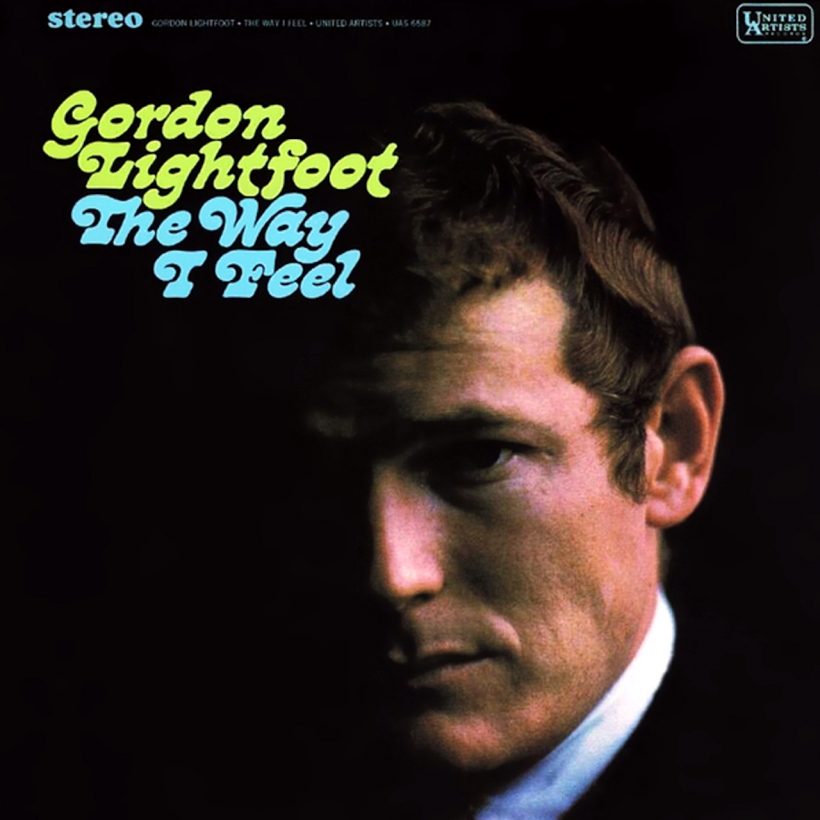 In the spring of 1967, Gordon Lightfoot was ready to release the second LP of a career that was winning him increasing acclaim as both an artist and a source for others to cover.
The Way I Feel was the follow-up to his debut United Artists set Lightfoot! of a year earlier. The Canadian troubadour's rising confidence as a composer was evident in the tracklist: that first album had three covers among its 14 songs, whereas the new release consisted entirely of 12 self-composed numbers. As we will hear, they included some with which he became even more closely associated when he re-recorded them in his 1970s superstardom.
The 1967 LP was another showcase for Lightfoot's evocative song craft, again produced by John Court and recorded early in the year in Studio A in Nashville. There was something of a heightened folk feel in the harmonica detail of Charles McCoy, on such tracks as "Walls" and "Crossroads." His new line-up on the record also included the installation of Red Shea on lead guitar – widely admired as key to Lightfoot's success in his emerging years – John Stockfish on bass, and Nashville stalwart Ken Buttrey on percussion.
In between the two albums, in the fall of 1966, Lightfoot enjoyed considerable success on the Canadian singles chart with the non-LP "Spin Spin," which reached No.7 on the RPM 100. This was soon after he had interrupted a live engagement in Ottawa to fly to Nashville with ASCAP president Stanley Adams to accept the latest recognition as a writer, the ASCAP Award for Best Country Song of the Year for "Steel Rail Blues," from Lightfoot!
Ahead of the release of The Way I Feel, Lightfoot played a month-long engagement at the Riverboat, the coffeehouse in Toronto's Yorkville district that was key to his development and that of Joni Mitchell, Neil Young, Ian & Sylvia, and visiting artists such as James Taylor, Tim Hardin, and Phil Ochs. Lightfoot wrote "Steel Rail Blues" there, and later said: "For me, the Riverboat was my first taste of the big time. It indicated that you must be really doing something." By March, Lightfoot was playing two sellout shows at the city's Massey Hall.
During that Riverboat residency, he told RPM's Francine Drubick of his musical style: "There ain't no label on it and there's a lot of people hard-pressed that want to put a label on it. It's just music, my music, and it doesn't fit into any category." In February 1967, he won the magazine's award for Top Folk Singer, ahead of RCA Victor's Marti Shannon and Arc's Catherine McKinnon.
Song For A Winter's Night
There were three songs on The Way I Feel that Lightfoot revisited for the 1975 double LP collection Gord's Gold, by which time he was a US chart-topper. As explained in that album's liner notes, he recut them because "he doesn't like listening to his early work." The tracks were "Softly," the beguiling "Song For A Winter's Night," and "Canadian Railroad Trilogy," which in 1967 represented perhaps his most ambitious writing to date, clocking in at more than six minutes, as an early example of his expansive storytelling style.
Canadian Railroad Trilogy
"Canadian Railroad Trilogy" was born when Lightfoot was commissioned by the CBC to write a song about the building of the Canadian railway, for Canada's centennial. On New Year's day, as recorded in the Chronology section of lightfoot.ca, he introduced the song on the CBC-TV special, 100 Years Young. "I got the idea to write it long from a mentor of mine named Bob Gibson, who is a major figure in the folk revival," Lightfoot said. "He had written a song called 'Civil War Trilogy,' which had a slow part in the middle, and I followed that pattern."
"Go-Go Round" (written when Lightfoot was hanging out with Ronnie Hawkins and the musicians that became The Band) and "The Way I Feel" both became Top 40 entries on the RPM singles chart in Canada, after which "Canadian Railroad Trilogy" was a non-charting release. Both that and "Song For A Winter's Night" were covered by George Hamilton IV on his early 1968 release The Gentle Country Sound of George Hamilton IV; indeed the latter song has attracted dozens of renditions, also including those by Nana Mouskouri, his fellow Canadian star Sarah McLachlan (for the 1994 soundtrack of Miracle on 34th Street), and Gretchen Peters.
"Believe it or not," Lightfoot wrote of "Song For A Winter's Night" in the liner notes for 1999's Songbook, "it was written in Cleveland during a midsummer thunderstorm. I was in an apartment that had been lent to me for the week while I was playing at a place called La Cave. Pouring rain, the middle of the summer, Cleveland, and I wrote this. Go figure."
Listen to The Way I Feel on Apple Music and Spotify.