'Sunday Concert' Guides Gordon Lightfoot From 1960s Towards Major Stardom
The setting for the live LP was Toronto's Massey Hall, where Lightfoot's prodigious talent had long been admired and celebrated.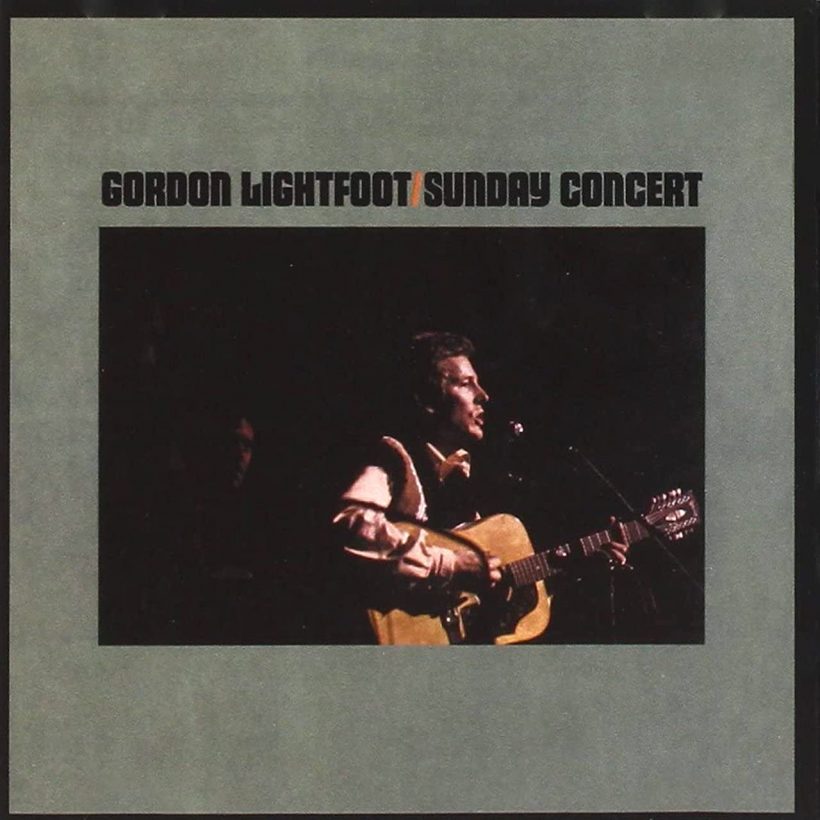 When Gordon Lightfoot decided to record his first live album, Sunday Concert, it was only appropriate that it should be captured in his home country of Canada, where his singular talent had been nurtured before his international breakthrough. It arrived at an important staging post, as his final album for United Artists, before his departure for Warner Brothers and released just two months before the end of the 1960s.
The setting was Toronto's Massey Hall, a venue at which Lightfoot's prodigious talent had long been admired and celebrated. The performance was recorded there in March 1969, a few months after the appearance of his fourth studio LP, The Way I Feel, and produced, like that set, by Elliot Mazer.
Red Haynes was again his sideman on lead acoustic guitar, but this time the bass role went not to John Stockfish but to Rick Haynes. The great lensman Jim Marshall took the photography, as Lightfoot delivered a set featuring favorites and new, previously unrecorded songs.
Ballad Of Yarmouth Castle (Live)
He played early numbers such as "Canadian Railroad Trilogy" and, in a medley, "I'm Not Sayin'" and "Ribbon Of Darkness," alongside fresh compositions such as "The Lost Children," "Ballad of the Yarmouth Castle," and "Leaves of Grass." Billboard called it "a well balanced program of the familiar and the new." The song about the Yarmouth Castle was based on the true story of a luxury liner that had caught fire and sunk in 1965, en route from Miami to Nassau, killing 88 passengers and two crew. The theme of maritime disaster preempted Lightfoot's return to a similar subject on one of his best-loved narratives, 1976's "The Wreck of the Edmund Fitzgerald."
In his Songbook liner notes, the composer wrote: "On Sunday Concert we combined two early songs, partly to save a little time in concert. 'I'm Not Sayin'' was probably the better of the two, and 'Ribbon Of Darkness' was a #1 country hit for Marty Robbins. 'I'm Not Sayin'' is about noncommitment, and a little bit of that sexist thing comes into play here.
I'm Not Sayin' / Ribbon Of Darkness (Live)
"'Ribbon Of Darkness' is about the demise of the relationship," he went on. "The two of them go well together, with the first song being about a man telling a woman it's my way or the highway, and in the second song she's left and he's licking his wounds. Pride cometh before the fall."
Further covers of Lightfoot's ever-expanding songbook emerged regularly, by the Irish Rovers, Connie Smith, Harry Belafonte, and others – as did, in the fall, a further measure of his Canadian preeminence in the LP The Gordon Lightfoot Instrumental Songbook, by the Neil Chotem Orchestra. He was also the toast of Liberty/United Artists' London conference, at which he was pictured in a June edition of Cash Box with the company's UK chart-topper Peter Sarstedt.
As the album was released in October 1969, Lightfoot was treading the boards as ever, for example breaking the attendance record, previously held by Belafonte, with three shows at Centennial Concert Center in Winnipeg. Then, in Billboard's November 15 issue, Sunday Concert became his first album to enter the Top LPs chart, climbing to No.143 in a six-week stay. It was a Top 5 success in Canada. By the end of the month, Billboard was reporting "capacity crowds in every city" on his nationwide US tour, with "The Lost Children" and "Ballad of the Yarmouth Castle" gaining the most airplay from the live record.

Read more about Gordon Lightfoot's early albums here.
As the decade ended, news was revealed of Lightfoot's signing to Warner's Reprise label. "We think Lightfoot will be as big in the United States as he is in Europe and Canada," label manager Mo Ostin told the trade press, as the company launched a major artist drive that also included the signings of Ella Fitzgerald, Dion, Fats Domino, and Herbie Hancock.
Lightfoot, who had already laid down 15 tracks for his new paymasters by December, was, said Ostin, "another strong example of Canada's resources of contemporary music talent for the international market." The prediction proved accurate, and even brighter lights lay ahead.
Listen to Sunday Concert on Apple Music and Spotify.