Behind The Scenes Of INXS' New 'Kick' Skateboarding Music Video
uDiscover Music meets the talent behind the skateboarding video for INXS' classic Kick album, filmed at Venice Skate Park in Los Angeles.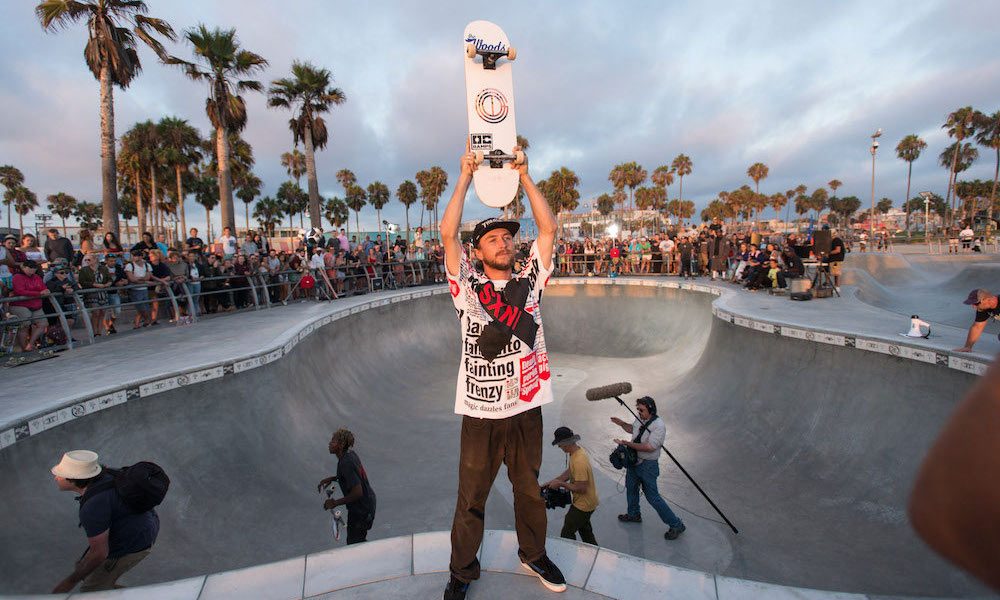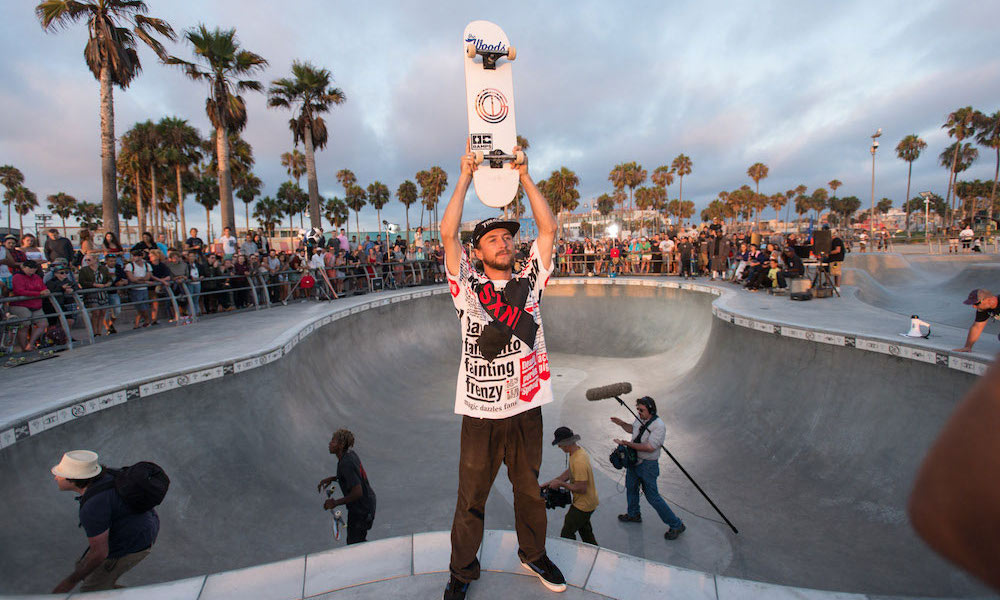 The smooth concrete contours of Venice Skate Park may seem like an unlikely setting for a music video for INXS, but the iconic Aussie rockers share more common DNA with the skate world and Southern California than most realise. During the infancy of MTV and the mainstream popularity of skateboarding, INXS travelled to the infamous Balboa Island Arcade & Boardwalk, in the Newport Beach area of Southern California, to shoot the video for the second single to come from their world-conquering Kick alum, 'Devil Inside', a cinematic ode to excess directed by famed filmmaker Joel Schumacher.
Just like Venice, the video captured the colourful cast of characters that populated the Balboa boardwalk in the 80s, from bodybuilders to bikers, hustlers and skateboarders. According to former INXS guitarist Kirk Pengilly, the band met world champion skateboarder Mark "Gator" Rogowski, who gifted him with a custom Vision skateboard, one of the pioneering skate brands of the 80s.
Soon enough, both Pengilly, guitarist Tim Farriss and frontman Michael Hutchence had embraced skateboarding, with Michael even riding around on Vision's Psycho Stick skateboard, which would later grace the cover of Kick.
More than 30 years later, their music returned to the land of sand and skaters to shoot a music video for the 1987 album's title track, at the birthplace of modern skateboarding, Venice Skate Park.
INXS - Kick (Official Promo Video - 2017)
To direct the video, Chairman and CEO of Petrol Records, Chris Murphy, tapped the talents of seasoned music video director and filmmaker Steve Hanft, the man behind such influential music videos as Beck's 'Where It's At' and 'Loser', and Elliott Smith's 'Baby Britain'.
As both a skater and filmmaker who even films from his board, Hanft jumped at the chance to helm a skate-driven film for such an influential band. He also recruited another famous skate-shooter, Dave England, of the dangerous stunt collective and MTV reality franchise Jackass, to help capture these skaters in their element, following every twist and turn around the bowl on his board.
In order to simulate the all-encompassing sound of the new Dolby Atmos mix of Kick – released as part of the 30th-anniversary 3CD deluxe box set reissue of the album – Hanft and his crew set up microphones all around the park to capture every grind, scrape and wipe-out, transporting the listener to ground zero of the skate park. Unlike most professional shoots where a cleared set is the default, the filming team took advantage of the swelling crowd of bystanders – including INXS bassist Garry Gary Beers – who gathered on a sweltering summer day in Venice Beach, capturing the energy of an enraptured audience that watched in awe. Then they stacked speakers around the park and blasted the Kick album, letting the skaters improvise and glide along to the music.
The concept for the music video quickly came together, according to Hanft: "The skateboarding aspect of the video is a tribute to the music, which now features a new Dolby Atmos mix by producer Giles Martin for the 30th anniversary of the Kick album, and we wanted to make a music video that celebrates that with visuals and skating to the music."
When it came to casting the video, Hanft wanted to highlight local talent who represented the Venice scene, and who would lend a sense of authenticity but also showcase the next generation of rising stars.
"We're showing this team of skateboarders that are coming up in Venice and how this city [Los Angeles] is like heaven and hell at the same time," he says. "I just wanted the guys who could blast the biggest airs and who know the spot really well. Venice Beach is where modern skateboarding was invented with the Dogtown skaters. These are the new Dogtown skaters. So now we're here, 30 years later, and we've got skateboarders going even higher and doing even better tricks."
The roster for the video includes up-and-coming LA native Leandre Sanders; skater and surfer Justin Kalani Burbage, who hails from Hawaii; sponsored skater from Northern California, Brooks Humphrey; and locals Miles Lee Centeno and Isiah Sanchez.
While not everyone originally hails from the area, they've all adopted Venice as their new home and have become part of its ad hoc community with its unspoken rules and rituals. More than just a hangout spot to perfect new tricks, some of these skaters have even used the park as a temporary crash pad when things get tight. But most importantly, all of them share a deep reverence for the history of the park and the talent that came before them.
One of the biggest names to watch is Leandre Sanders, who's been skating since he was eight years old and used to take the bus from Inglewood to skate at the park every day. Since moving to Venice (following a two-year stint in INXS' homeland, Australia), Sanders is one of the stars of the park and is gunning for the Tokyo Olympics in 2020, now that the games have added skateboarding as an official category. The ambidextrous skater (who skates street regular but bowls goofy) has earned the nickname The Man With No Stance, and has been working on a documentary about his colourful life for the past six years. While the 21-year-old still calls Venice home, he talks animatedly about his time in Australia and wanting to return down under to film more.
On top of their loyalty to the park and their peers, another commonality among this set is their love of music. Every skater at the park is never without a pair of headphones, and their musical tastes run the gamut well beyond the stereotypical skate-punk music that has long been associated with the sport.
"I usually listen to a lot of hip-hop," Sanders says, "but also a lot of Jimi Hendrix, since I'm obsessed with him. Before doing this shoot, I mostly knew their [INXS'] music from the Supreme 'cherry' skate video."
The video in question is a 2014 skate film by the iconic skate and streetwear brand Supreme, and features not only legendary skateboarders Mark Gonzales and Dylan Rieder, but also a diverse soundtrack that includes Cypress Hill, Raekwon, Jane's Addiction, The Cure and, most prominently, INXS' 'Never Tear Us Apart', originally released as the fourth single from Kick.
In today's multi-hyphenate environment, where everyone has a side hustle for their side hustle, many of these skaters juggle various projects, in addition to skate competitions and sponsorships. Sanders has worked various fashion campaigns, while Justin Burbage appeared in the music video for Nicki Minaj's 'The Night Is Still Young'. Brooks Humphrey is a former DJ and music producer turned skater, and even a licensed real estate agent. That said, skateboarding is still what dominates and defines these kids' lives.
Even though he grew up surfing the swells on the east side of Oahu, in Hawaii, Burbage found other ways to entertain himself growing up when the conditions weren't in his favour.
"Sometimes we got crap swells so my mum actually taught us, all you have to do is take your skateboard to the ditch and go surf the cement wave," says Burbage. "I was about eight years old when I started skating. She was like, 'Listen, kid. We ain't got no TV, or video games, now go take this skateboard and skate the ditch.'"
Coming from a family of surfers, skaters and BMXers, Burbage grew up skateboarding before he bought a one-way ticket and decamped to Venice at the age of 17. Given the rising costs that gentrification has brought to the former beachside artist colony, Burbage and others have, over the years, resorted to squatting at the skate park, in cars and on friend's couches, in order to stay in the city they love.
"This is where skating happens and this is where, if you want to watch skating on the beach and where there's history, you come to Venice," Burbage says. "This is where it all happened, so we're never gonna leave." Fellow skater Humphrey agrees:
"You can gentrify the hell out of this place, skateboarders will always come here. As long as there are walls, Venice will have graffiti; and as long as there's concrete, Venice will have skateboarders."
Like Sanders, Burbage's musical tastes are equally diverse and depend on his mood.
"If I'm going to go big and risk breaking something, I might as well listen to some metal while I'm doing it," says Burbage. "I used to listen to Suicidal Tendencies a lot, but if it's for a competition I want something calming to help me focus, and I'll go for Bach because skating itself is an art form and I feel like classical music naturally accompanies it."
Just as the skate videos of the 90s showcased the individuality of each skater, the new music video for the Kick title track aims to bring back skateboarding as a form of expression. Brooks Humphrey perfectly summarises the relationship between skateboarding and its soundtrack:
"You cruise, you find the beat, it matches everything you do; you're kicking to the beat, doing tricks to the beat. With music, it becomes just a completely different experience. You're not just hearing the sounds of life; you are in a production and suddenly you're a piece of some greater ensemble."
The 3CD deluxe and 2LP half-speed mastered 30th-anniversary editions of Kick can be bought here.
Format:
UK English