How Jessie Reyez Went From Hometown Hero To R&B Rebel In 8 Steps
By staying true to her roots and refusing to compromise, Jessie Reyez has perfectly set the stage for her introduction to the world.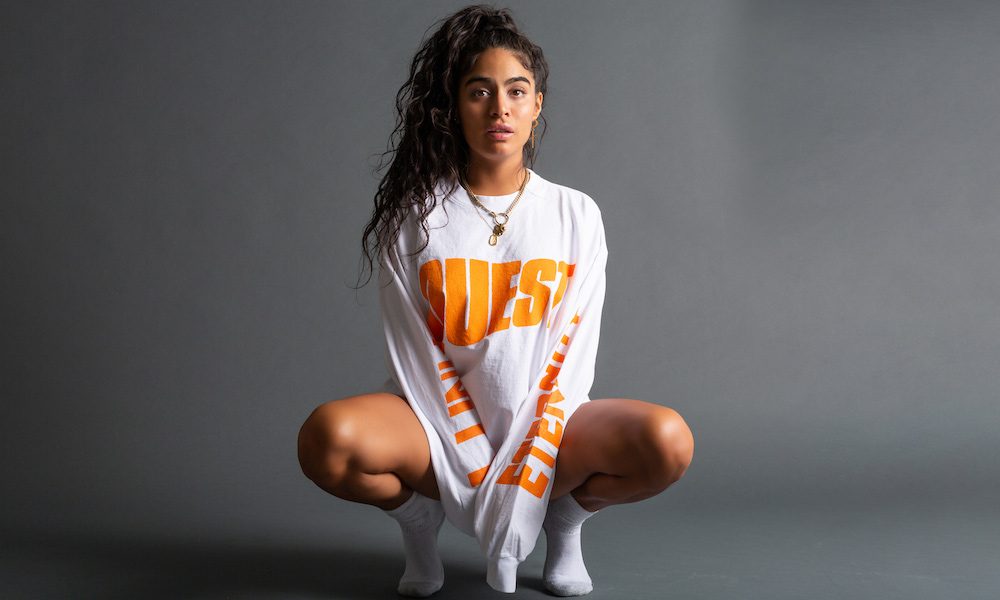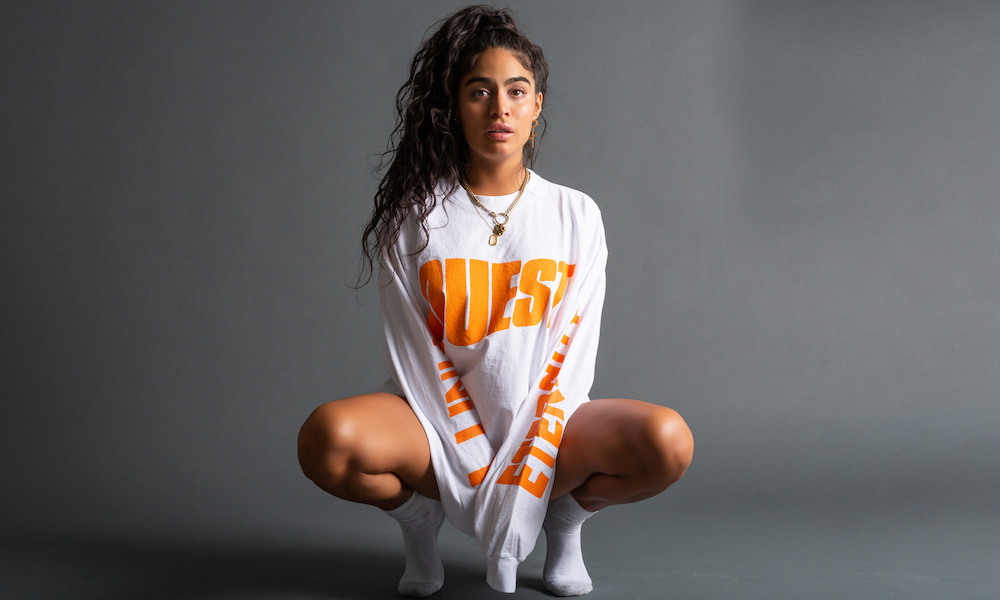 Jessie Reyez has the kind of arresting voice that can both fill and silence a room. Her distinctive cadence and unflinchingly honest lyrics have garnered her legions of fans, but she still stands on the precipice of global stardom.
She's checked all the boxes on her way pop stardom: Sold out shows? Yep. Show-stealing late-night TV appearances? Of course. A Grammy nomination? Obviously.
It's been four years since she released her breakout hit, 'Figures', a swaggering, bluesy-R&B tale of heartbreak, taken from her debut EP, Kiddo, and she's quickly risen through the ranks since. A few acclaimed EPs, festival slots, JUNO wins and a Grammy nomination later, and the Colombian-Canadian songstress is poised to conquer the world.
As she releases her major label debut album, Before Love Came To Kill Us, through FMLY and Island Records, we chart Jessie Reyez's path to pop stardom in eight steps.
Listen to the best of Jessie Reyez on Apple Music and Spotify.
How Jessie Reyez Went From Hometown Hero To R&B Rebel In 8 Steps
1: Play the long game
2020 is going to be Jessie Reyez's year, but her rise to fame was anything but overnight. During an era when a song can go viral overnight, Reyez is something of a throwback, building a name for herself by pounding the pavement, handing out mixtapes, busking the streets of Toronto and keeping her eyes on the prize.
After a brief stint in Miami, Reyez landed a coveted spot in The Remix Project back in Toronto, a non-profit arts incubator and mentorship program for creative youth from low-income households. One of the mentors was Chicago rapper King Louie, who saw potential in Reyez, and the two collaborated on 'Living In The Sky' in 2014, featuring Reyez on guitar and backing vocals. The collab earned her buzz outside of Toronto and the singer-songwriter headed overseas to open for PartyNextDoor on his Infinity World tour before releasing her EP Kiddo on her own FMLY label. Just a year later, she signed to Island Records. Now with two critically acclaimed EPs under her belt – Kiddo (2017) and Being Human In Public (2018) – Reyez has strategically set the stage for her full-length debut.
2: Bet on yourself
Even though her lyrics are strikingly raw, Reyez is not someone who wastes much time on self-doubt. She is fiercely ambitious and if it seems like her lyrics deal with extremes, that's because Reyez lives like there's no tomorrow.
"I think about dying every day/I've been told that that's a little strange, yeah/But I guess I've always been a little strange/'Nother reason why I work like a motherf__ker/… Walk around with warpaint on my face," she sings on 'Saint Nobody'. Reyez echoes this sentiment on 'Great One', on which where she sings, "I wanna make a billion dollars/Bring it to my pops/Say, 'Daddy what you prayed for.'"
Call it first-generation immigrant mentality, or an unfailing work ethic, but when Reye says, "I wanna die a legend," she means it.
3: Stay true to your roots
Born in Toronto to Colombian parents, Reyez grew up with Latin culture, and much of her music speaks to the multicultural experience. She also grew up in a musical household, with her father playing traditional bolero songs like 'Bésame Mucho' by Trio Los Panchos, and her mother teaching her to dance cumbia at family parties. She also credits her upbringing to prioritise family over everything, even as her star continues to rise.
Throughout her music, Reyez pays tribute to her roots. Kiddo features a brief interlude titled 'Colombian King And Queen', featuring a sweet voicemail from her parents, praying for her success. She also included the beautiful acoustic lullaby 'Sola' on her follow-up EP, Being Human In Public, and wrote and recorded 'Con El Viento' for Alfonso Cuarón's Oscar-nominated movie Roma.
But it was with her 2019 track 'Far Away' that Reyez became the voice of a movement. Originally written as a long-distance love song, Reyez decided to address the immigration crisis with her music video, showing how mass deportations decimates families.
4: Be authentic
Reyez has never had time for personas. When the line between art, life and social media is so blurred, part of what cuts through the noise and connects with fans is her clear sense of self. The 28-year-old singer-songwriter sings how she speaks: a bit raspy with an edge on it, conversational and intensely personal. On tracks like 'Dear Yessie' and 'Ankles', Reyez doesn't mince words.
"Sometimes when you're singing a song it's like a wound you're trying to heal, but then you keep opening the wound," she told NPR. But it's Reyez's self-described "sad songs" that fans connect with so deeply. It comes as no surprise that she lists another torch singer, Amy Winehouse, as an inspiration; the late British star also fused full-bodied soul with a dark sense of humour. Reyez can also convey the kind of tear-in-the-throat delivery that's required to cover a country classic like Patsy Cline's 'Crazy'.
5: Don't compromise
As more artists are called upon to speak out on important issues, Reyez doesn't consider herself a political activist, just someone who speaks her mind. Her music tackles the power dynamics of gender, power and privilege. She addresses double standards on her feminist anthem 'Body Count', on whose video she casts herself a persecuted witch in the Salem witch trials. Amid the bouncy guitar lines and Reyez's playful warble is a more cutting commentary on sexism.
As a rising talent in the industry, Reyez knows all too well the obstacles ahead, especially when it comes to those who hold the power. Her 2017 single 'Gatekeeper' was inspired by her experience with a music producer who tried to coerce her to sleep with him in order to advance her career. Reyez spoke out about the incident, bringing the #MeToo movement to the music industry. Along with the chilling single, Reyez released a companion 12-minute short film that recalls the harrowing encounter and highlights exploitation in the industry.
6: Work with the best
Since her time with King Louie, Reyez has worked with an eclectic set of collaborators across all genres, from Calvin Harris, on his star-studded Funk Wav Bounces Vol.1, to Sam Smith on 'Promises', 6LACK on the her 'Imported' remix and Lewis Capaldi on 'Rush'. She even won over Beyoncé on her song 'Scar', recorded for The Lion King: The Gift album. Reyez has also linked up with Eminem on two Billboard Hot 100 hits, 'Good Guy' and 'Nice Guy', both from his surprise 2018 album, Kamikaze.
In addition to pouring out her soul on stage, she's also lent her songwriting talents to others, penning 'Go For Broke' for Machine Gun Kelly and contributing to the 2018 smash hit 'One Kiss', featuring Calvin Harris and Dua Lipa.
7: Control the narrative
Thanks to savvy, upstart artists who now navigate pop stardom on their own terms, we've come a long way from the assembly-line pop that dominated the charts in the mid-00s. From developing music-video concepts to stage design and songwriting, Reyez is the creative force behind it all. As she told Galore Mag, when it comes to songwriting, "There's no politics, no big plan, no numbers, just heart to pen." The singer started writing poetry in middle school, before a serious heartbreak turned her into a songwriter. Reyez isn't afraid of exploring her dark side, either: she deals in extremes; love destroys but can also redeem. But as 'Love In The Dark' shows, she's equally capable of writing a dizzying love song.
8: Amplify others
As someone who's had to fight their way for a seat at the table, Reyez is quick to champion others. She's worked with the industry's leading non-profit, Women In Music, which advances opportunities for other women in music. She's also encouraged fans to "be part of the solution" by linking to immigrants' rights non-profit organisations like the ACLU, Al Otro Lado and the Florence Project in her 'Far Away' video. Some of her loftier goals include opening an orphanage in her parents' native Colombia. Before she saves the world, however, Reyez is ready to restore your faith in pop music.
Jessie Reyez's debut album, Before Love Came To Kill Us, is out now. Listen to it on Apple Music and Spotify.
Format:
UK English