'Golden Heart': How Mark Knopfler Found Himself 'Another Situation' On Solo Debut
As he called time on Dire Straits, Knopfler had ideas percolating for 1996's first non-soundtrack LP in his own name.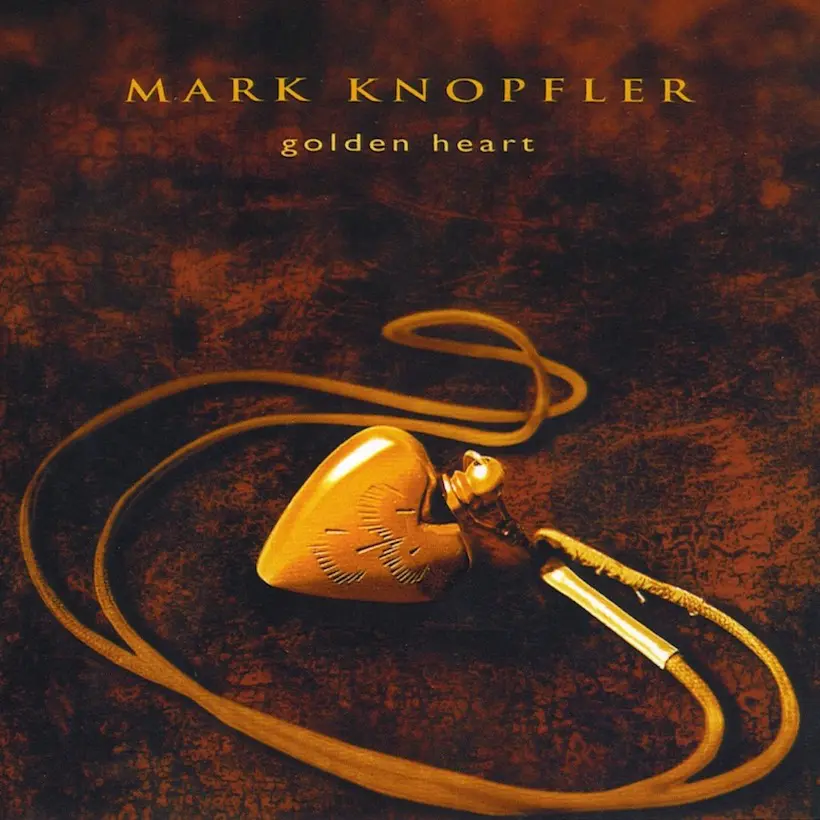 There was a gap of four and a half years between what turned out to be the final album by Dire Straits, On Every Street, and the release on March 26, 1996 of Mark Knopfler's solo studio debut. Some of that time was spent decompressing from the stadium-level exertions of fronting a global rock band. But throughout, the unrelenting creative drive that has always been his (heavy) fuel had ideas percolating for his first non-soundtrack LP in his own name.
Between August 1991 and October 1992, Dire Straits straddled the world, one last time, on the tour supporting that sixth studio album of their multi-platinum lifespan. It was exhaustive and, both physically and mentally, exhausting, and Knopfler knew in his heart of hearts that he didn't want to live his life like that anymore.
"When we were doing the On Every Street tour," he told this writer, "it was massive, because we had to take our own stage and lighting rig, and you get extra truck drivers in and extra everything. It got so big, I just wanted to go another way.
"If playing in huge places all the time suits some people, then it's great, good luck to them. Some people feel at home in it. I wouldn't say I felt out of place in it, but I never really felt it was a fix that I needed as a permanent part of my life, and I thought if I was going to improve as a writer and a player, I was going to have to get myself into another situation.
"When it got as big as it got, that was when I thought I should turn around and start walking back from there," he continued. "It seemed to me to be the only intelligent response. I was getting away from being the guy writing the song with his guitar. To me, that's the centre of the whole thing. I don't want to get too far away from him, ever."
He already had no fewer than five film score albums under his belt, all released during a six-year spell in the 1980s and palate-cleansers from the day job of reluctant rock figurehead. Now the door was open to not only a different, simpler life but a return to the folk-inspired music of Knopfler's youth.
Knopfler began writing for what became Golden Heart in 1994, when Dire Straits were technically still extant. But after the release of the contractually-required Live At The BBC album of early broadcast recordings by the group, he quietly called time, devoting his focus to the forthcoming project that would carry his name, and his co-production credit with American confidant Chuck Ainlay.
In these days long before the building of Mark's own British Grove Studios in west London, sessions took place at three studios in one of his musical touchstones, Nashville, at Emerald Sound and Javelina, both on Music Square, and at Sixteenth Avenue Sound. Further work was done closer to home at Air Studios in London. Keen as ever to be the captain of his own little crew, he worked with such A-list individuals as pedal steel maestro Paul Franklin, guitarist Richard Bennett, bassist Glenn Worf, and, naturally, his constant since the early soundtrack days of Cal and Comfort and Joy, Guy Fletcher.
The recordings also featured invaluable cameos from other characters in Knopfler's travels, including such luminaries as Paul Brady, Barry Beckett, Michael Doucet, Vince Gill, and Jo-El Sonnier. The charming lead single, "Darling Pretty," showcased Brady on whistle as part of an Irish dream team with Dónal Lunny on bouzouki, Máirtín O'Connor on accordion and the Chieftains' Derek Bell and Seán Keane on Irish harp and violin respectively. The song became a Top 40 UK chart entry.
Other highlights of a superbly sure-footed record included the atmospherically reflective "Rüdiger," the Cajunesque "Je Suis Desolé," and richly romantic songs such as "A Night In Summer Long Ago," the title track, and "I'm The Fool." Another single, "Cannibals," had more distinct Straits echoes. A final delight, and a reminder of Knopfler's innate understanding of the country idiom, came on "Are We In Trouble Now," a captivating love song that soon attracted a cover, and a Top 30 country chart entry, by Randy Travis.
Acknowledging the Celtic flavors of "Darling Pretty" and "A Night In Summer Long Ago" in particular, he mused: "Maybe it's with my mum being a Geordie [a north-east England native], and hearing border music since a very early age, and singing those Tyneside songs at school, and hearing Scottish music while I was in Glasgow as a very young boy, that it's easy for me to reach back into that area.
"I don't see it as a desire to get away from electric at all," he said. "The song comes first, the song is the king and you try to do the right thing by it. That's always been my way of doing it."
Knopfler and his band set sail on a world tour, extensive but much-scaled down from his band years, almost as soon as the record was out, visiting 66 cities and playing 88 concerts over the next four months. All the while, Golden Heart was beating strongly on charts worldwide, taking its place in the Top 3 across much of Europe en route to multiple gold certifications.
As the album emerged, the 46-year-old reflected: "My enjoyment of making records has increased with age. I love to write. The feeling of being inspired, for want of a better word, is one of the best feelings you can have."
Pre-order Mark Knopfler – The Studio Albums 1996-2007, which includes Golden Heart and is released ex-US on October 1.