'Let's Get It On': Marvin Gaye's Profound Travelog
A new collection exposes a transitional period, when Marvin Gaye was moving his creative center from Detroit to L.A.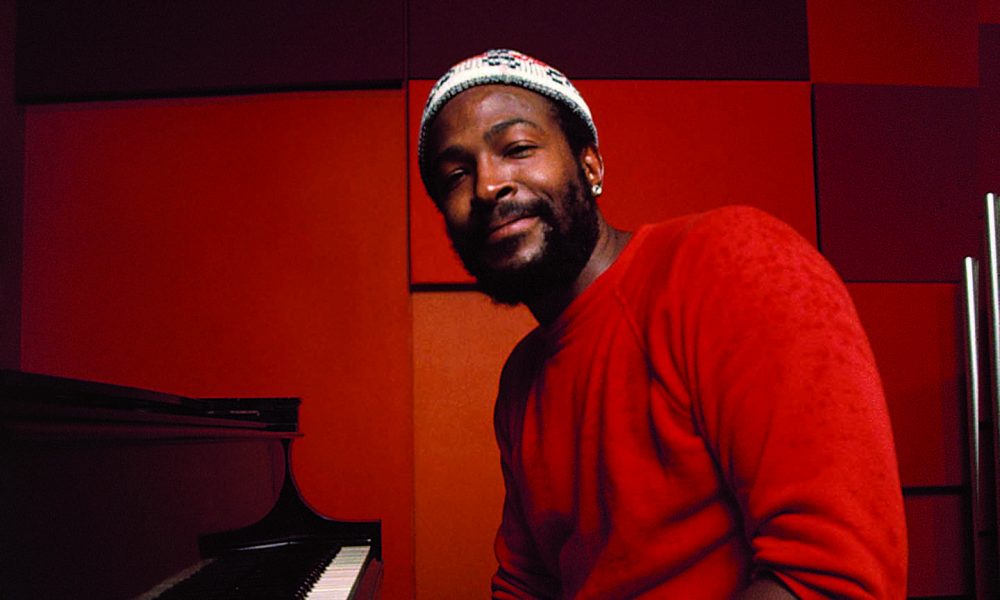 Marvin Gaye was at a crossroads. For the better part of a decade, he had made his career as the clean-shaven, suit-wearing "Prince of Motown." He had a nice house on Outer Drive in Detroit, in a tree-lined neighborhood next to his favorite golf course. He had a young son and was friends with local celebrities and athletes.
Now, Motown was relocating its headquarters to Los Angeles and Gaye faced a decision about where to base his operations. His self-produced What's Going On had just been a smashing, image-and-culture-shifting success. His eventual emigration from Detroit was more complicated than most people realize. A new Deluxe Edition of Gaye's 1973 album Let's Get It On tells the detailed story of this period for the first time. The new collection exposes a transitional period, when Marvin was moving his creative center from Detroit to L.A.
Gaye was not a stranger to the West Coast. He had recorded there, played at nightclubs like The Trip and Cocoanut Grove, and regularly filmed spots for national television. He had even acted in a couple of low-budget films. But moving his whole creative enterprise was different. It meant starting over, leaving behind the storied halls of Motown's Hitsville studio and the indispensable Funk Brothers backing band. Gaye didn't know if he could recreate the magic anywhere else.
Listen to the digital deluxe edition of Marvin Gaye's Let's Get It On now.
In the fall of 1972, Gaye tiptoed into the California entertainment ecosystem by composing the score for the Blaxploitation film Trouble Man. He then used musical parts from these sessions to create an album with the same title. At the same time, he cooperated with Motown for the first time in years by agreeing to record a series of duets with Diana Ross at the newly constructed "Hitsville West" studios in Los Angeles.
In January 1973, Marvin made the move. He bought a house in Beverly Hills and started to work exclusively in West Coast studios. "Trouble Man" had been released before the holidays and was peaking on the charts. There was no follow-up in the pipeline.
Around this same time, Marvin had a cache of tapes sent from Detroit to Los Angeles. These unfinished reels included nearly all the work he had started before and since the release of What's Going On in spring 1971. Many of the tapes, like those for "Distant Lover" and "Just to Keep You Satisfied," were projects that he had been toying with for years as a writer and producer.
Another set of tapes contained seven standards produced for Marvin by Bobby Scott in 1966, including "The Shadow of Your Smile," "She Needs Me" and "Funny, Not Much." He had revisited these songs several times since the backing arrangements had been recorded in New York. He had become fixated, rerecording his vocals over and over during downtime in the studio.
To get his juices flowing, Marvin reached out to the one-time popular singer Ed Townsend, who was now a freelance writer and producer based in Los Angeles. Having never worked with Motown, Ed was an outside voice who brought decades of experience into the session. He had recorded two albums for Capitol arranged by Nelson Riddle and was the model of the type of entertainer Marvin hungered to be: a successful, Black Sinatra-esque crooner. During their first meetings, Townsend helped Gaye to work through vocal ideas for the Scott-produced ballads.
Marvin doggedly worked on these tracks over the course of about a dozen different recording sessions. A bounty of new interpretations was put to tape, adding to the cache that he had already amassed from numerous sessions over the years. The results were stunning. They made clear that Gaye had matured.
Facing the difficult end of his marital commitment to his longtime partner Anna Gordy Gaye, his approach had deepened. He knew the tracks so well that he was now freely recomposing segments. He came up with new melodies and lyrics and reacted to and complemented musical material from the arrangements, which he had now memorized and internalized.
I Won't Cry Anymore (1973 Version)
Gaye simultaneously started on two new songs, both arranged by L.A.-based Motown staffer David Blumberg. One was "I Love You Secretly," which was later given to the Miracles. The other was "You Sure Love to Ball." Gaye may not have even realized it at the time, but he had just encountered the glimmerings of a new album concept.
The work intensified on a Tuesday in mid-March during a session with Townsend. The older producer brought several ideas to see if anything would stick. He used veteran arranger René Hall, who cut the session live with a 15-piece orchestra and a rhythm section featuring veteran drummer Paul Humphrey, pianist Joe Sample and bassist Wilton Felder, both moonlighting from the Crusaders. The guitarists were Don Peake and Arthur Wright.
The first tune was a ballad called "If I Should Die Tonight." Though reluctant at first, Gaye warmed to it. It was a torch song that showcased his soaring vocal abilities. It also helped to confirm the shift in Gaye's interest from politics and hard funk to love songs.
The next portion of the session was the real breakthrough. They cut a Townsend original called "Let's Get It On," which was about the producer's struggle with substance abuse. As he was wont to do, Gaye transformed the vocal melody and lyrics during the session. He turned it from a song about overcoming into a paean to intimacy. The churning cycle of the chord progression carried gospel overtones and once Gaye found his way, he was hard to stop.
Gaye would later overdub his lead, but a demo vocal was recorded that same day, which captured him relating Townsend's original idea. These early vocals were later retained for the lengthy reprise titled "Keep Gettin' It On."
With "Let's Get It On," Gaye knew he had something. But, following the breakthrough success of What's Going On two years earlier, Gaye was an album artist. He would now need to develop a full-length collection to serve as a major release.
His first impulse was to return to the tapes sent from Detroit. Gaye had been committed to working as a balladeer without success for more than a decade, and had several tracks that had been bouncing around for years with no real home. The new concept of relationships – instead of politics – allowed him to explore a neglected segment of his back catalog.
"Distant Lover" was the first older track he revisited. Its initial recording sessions had been held in the fall of 1970, when Motown's internal paperwork credited the song to Gaye and Sandra Greene, a figure who is, so far, otherwise unknown in the annals of music history. Development of this track was extensive in the following two years. Like most of his favorite material, Marvin worked on it during periods when he was dodging the Motown production staff, especially in late 1970 and early 1971 when the company had refused to release "What's Going On." The logs show that he recorded a vocal performance of "Distant Lover" on the very day that "What's Going On" was finally issued to the public as a single.
Gaye was asserting his independence with these songs. He logged nearly twenty sessions of work on "Distant Lover," an ungodly sum in the efficient world of Motown. By the time he revisited it for Let's Get It On, the track was nearly complete.
At some point, Marvin disappeared. According to multiple sources, he vanished into the desert. At the same time, Motown put "Let's Get It On" into physical production as a single. The company also enlisted the services of David Van DePitte, the arranger who had shaped What's Going On into a cohesive suite. They flew him into Los Angeles with carte blanche to get more music on tape. Marvin returned to the studio.
Van DePitte and Gaye began to develop new material. They held two long tracking sessions in May at Western Recorders in Hollywood. (The Motown paperwork labeled these sessions "Project 10,214.") These Van DePitte sessions established bed tracks for eight new songs. Four had provisional names: "Perfection," "Cakes," "Shake Well," and "My Love Is Growing." The others were less developed and simply labeled "Song #1," "Song #2," "Song #3," and "Song #4."
Van DePitte brought in a first-call cast of collaborators, including Herbie Hancock. The storied jazz keyboardist was in the midst of a lengthy run at the Troubadour in Hollywood with his then-current Mwandishi band. After his stint in the Second Great Miles Davis Quintet, Hancock was turning to more electronic, experimental, ethnic and funky forms of fusion. He'd just released Sextant, which included adventurous and lengthy tracks like "Rain Dance." Later that year, Hancock would form a new group that significantly altered his career trajectory: Head Hunters.
Drummer Paul Humphrey and bassist Wilton Felder anchored the rhythm section as they had on the Townsend sessions weeks earlier. Melvin "Wah Wah" Ragin and Johnny McGhee were hired as guitarists for both sessions. (Each would end up in Marvin's live band.) Hancock took lengthy solos, playing exposed, adventurous parts. Several of the cuts were recorded overnight due to Hancock's club work, with sessions not ending until sunrise.
Song #4 (Instrumental / Partial Vocal)
Van DePitte continued to sweeten the recordings for the next several weeks, adding full string and horn arrangements to all eight tracks. But Gaye never finished his parts. He toyed with words and melodies, attempting a bare sketch of vocals for "Song #4" and a slightly more developed vocal part for "My Love Is Growing." As he dove into the arrangements, the mostly upbeat instrumentals did not seem to fit with his developing romance theme. The Van DePitte sessions were left behind.
"Let's Get It On" was released as a single in mid-June. The song was paired with Gaye's cover of "I Wish It Would Rain," an album track recorded almost four years earlier during sessions with Norman Whitfield in Detroit. Radio embraced it quickly, and the record began a precipitous rise up the charts.
At about the same time, Gaye held another session with Ed Townsend and René Hall at Hitsville West. They completed tracks for three songs using the same core musicians. Two of the tunes, "Lovely Lady" and "I Don't Have to Get High to Do It," were eventually discarded. (The latter was congruent with Townsend's original concept for "Let's Get It On.")
The keeper of these sessions was a ballad. The final title is curious and indicative of the developing nature of the vocal part. The union contract called it "Don't Come Back No More," and Motown's internal files listed it as "Stay (Once You Go Away)." It would eventually assume the title "Please Don't Stay (Once You Go Away)." None of these actually reflect the first line of the song, in which Gaye sings "Baby, please stay, don't go away."
Please Don't Stay (Once You Go Away) (Alternate Mix 1)
Throughout July, Gaye worked on more self-produced material, completing "You Sure Love to Ball" while getting back to two more tracks from the vault.
One was "Just to Keep You Satisfied," a song that had been through multiple iterations during the previous five years. Beginning in 1968 as a song for the Monitors, and transformed into a Marvin track two years later as the alternate B-side version of "God Is Love," it was eventually reconceived and re-recorded for Motown group the Originals in the same session as "What's Going On." For these Let's Get It On sessions, Gaye reused these same backing tracks and kept the Originals on background vocals, adding saxophone overdubs and a battery of emotional vocal performances.
Another Detroit-based relic that Gaye revisited was called "Taken For a Ride." It had been recorded originally in November 1970 and was also among the tapes sent from Michigan in late 1972. Gaye added guitar and a newly reworked vocal element, complete with a self-constructed backing choir and new lyrics. The text now had a confessional theme and the title was changed to "Come Get to This." The groove was a throwback to the Motown of old. His ability to transform a discarded backing track into a completely fresh intellectual idea was uncanny.
Throughout the recording process, Gaye became inspired by a new muse, a high schooler from Los Angeles named Janis Hunter, who attended the initial sessions. Townsend facilitated the get-together, seemingly in an effort to inspire the singer. Jan's single mother was part of the musician crowd, aware and supportive. "Ed wants to keep Marvin happy," Jan recalls her mother telling her. "If it makes Marvin happy to see you, Ed will arrange it."
This could have been a ploy to entice Gaye to explore his sexuality. It also may have been the natural course of Gaye's philandering. He had been married to Anna, sister of Motown chairman Berry Gordy, for nearly a decade. With new California surroundings and a professional break from the Motown assembly line, Gaye seemed to be eager to move ahead. His relationship with Hunter blossomed. They eventually married and had two children. Even if their meeting was a stunt, the bond it created became significant.
The final album was delivered at the end of July. The cover image was taken in one long day of shooting by Jim Britt, who was so taken by Marvin's energy that he moved his Nikon camera off its tripod to capture the singer, wearing his now-iconic red cap and open denim shirt, in a decisive "sharp blur" shot. A series of Britt's images inside the record's gatefold show Marvin in various poses of the modern love man, smoking and playing air guitar. In one large photograph, he lay reclined in the shadows, staring upward in contemplation.
As he had done with What's Going On, Marvin included his own brief liner notes. Two paragraphs offer what was then a shocking and frank, adult-oriented statement. Sex and love should be considered separately. And sex has virtues on its own. Gaye also suggests that the album might operate as a soundtrack for the act itself. "I hope the music that I present here makes you lucky," he writes.
The final recording contains eight tracks, divided into two groups corresponding to the sides of the LP. Side One is dedicated to the fruits of the Ed Townsend sessions. Side Two features material produced by Gaye himself, including "You Sure Love to Ball" and the three Detroit-based tracks: "Come Get to This," "Distant Lover" and "Just to Keep You Satisfied."
Although taken from disparate sources, the record is incredibly cohesive. The glue is Gaye's vocal element, which had developed from single-line interpretations to large composites of singing, occupying multiple tracks in various configurations. He presents myriad vocal types, moving from whisper to shout, all while different versions of his persona enter and recede. The final statement is a vocal masterpiece.
Based on the apparent shock value of the single's crass message of "getting it on," some listeners might have expected a lowest-common-denominator attempt to capitalize on titillation. When experienced in its entirety, however, the complete album is far deeper. Yes, the four-song Townsend suite is pro-romance and brazen in its approach to sexuality. But the flip side transforms the mood into what seems to be a descending trajectory, from joyous to passionate then mysterious to maudlin.
We now know that this was reflective of Gaye's actual life circumstances. He was leaving Anna for Jan at the time. Strikingly, Anna Gaye is one of the credited songwriters for "Just To Keep You Satisfied," that last song of the collection. Gaye tailored the lyrics and directed the message to his estranged wife, while keeping her name on the song.
"Just to Keep You Satisfied" is delivered in past tense. "You were my wife, my life, my hopes and dreams," Gaye recalls. The track gives the listener a voyeuristic perspective on an intimate conversation between two partners at the end of a romance. He recalls the beauty of their time together, then reflects on their decline, tenderly asking "how could we end up like this?" He eventually explains his perspective on the breakup. The two partners, "could not bear the mental strain." If the opening of the album is thrilling and assured, its end is tragic.
Just To Keep You Satisfied
There was great anticipation for Let's Get It On. The single had been available for more than two months and had since risen to the top of both the Hot 100 and Soul charts. It was a banner year for black pop, with crossover successes from Stevie Wonder ("Superstition" and "You Are the Sunshine of My Life"), Roberta Flack ("Killing Me Softly with His Song"), the O'Jays ("Love Train"), Billy Preston ("Will It Go Round in Circles") and Diana Ross ("Touch Me in the Morning"), preceding Marvin's newest hit to No. 1 on the Billboard pop charts.
Let's Get It On topped the Black album chart and rose to #2 on the pop album listings. It would turn out to be the most successful album of Gaye's career in this regard. (He never had a #1 pop LP.)
In the end, Let's Get It On is an album about both sex and love. It considers the good and bad of human relationships in light of new public attitudes toward sexuality during the 1970s. And not just the raunchy stuff. From Don Peake's wah-wah introduction to the impassioned vocals of its last track, the collection is much deeper than most people realize. If Gaye was going to tell a tale of sex, he would include the whole story.
And now we can hear it all. A newly released Deluxe Edition produced by UMe's Harry Weinger tells the complete history of this masterpiece for the first time, cementing its legacy as a central collection in the history of 1970s soul music. There have been expanded editions before, including a revealing 2-CD set released more than two decades ago. But this new streaming collection is far more comprehensive.
Included is a complete set of the Bobby Scott-produced ballads from the beginning of these 1973 sessions. These contrast with many of the available versions of these standards, including the renditions from 1979 vocal sessions that made up the posthumous Vulnerable set. Mixed with reverence by Scott Frankfurt, these previously unreleased vocal performances shed light on Marvin's search for new direction.
The Deluxe Edition contains two single edits, which allow us to hear how the tracks sounded on transistor radios and 45-rpm records at the time, plus the original shorter LP version of "If I Should Die Tonight." Instrumental outtakes from the sessions with Ed Townsend are also included. And for the first time, we can now hear all eight of the abandoned, mostly instrumental cuts from the Van DePitte sessions dominated by Herbie Hancock at the piano.
If I Should Die Tonight (SaLaAm ReMi's Piano Mix)
There are creative new mixes of the studio outtakes by Kevin Reeves and John Morales that highlight elements of the original sessions originally left on the cutting room floor. Additional interpretations by Morales and Salaam Remi help to further illustrate the density of these performances, using only selected parts of the final mix to reveal expressive, previously inaudible, performances.
Just To Keep You Satisfied (John Morales's Stripped Mix)
Let's Get It On initiated a new chapter of Gaye's musical output, during which he assumed the role of a "sexuality sage." Years of success with duets had given him authority on the matter. With Let's Get It On as his major contribution to the genre, during the first half of the 1970s Gaye rose to the Mount Rushmore of soul music "love men," alongside greats like Isaac Hayes, Barry White and Al Green.
This shift in Gaye's persona was ironically facilitated by a return to balladry. Standards and jazz singing had fascinated him since the late 1950s. After warming up with new renditions of his favorite ballads, Gaye had a clear predilection for choosing torch song material when developing and selecting the songs for Let's Get It On. The bump and grind of "Let's Get It On" is counterbalanced with deep emotional outpouring in "Distant Lover." The sensuality of "You Sure Love to Ball" contrasted with the passion of "Just to Keep You Satisfied."
The album proved that Marvin Gaye could work anywhere.
Listen to the digital deluxe edition of Marvin Gaye's Let's Get It On now.