'Cracklin' Rosie': The Story Behind A Neil Diamond Classic
A song full of romance and mystery, it's a key track in Diamond's incredible career.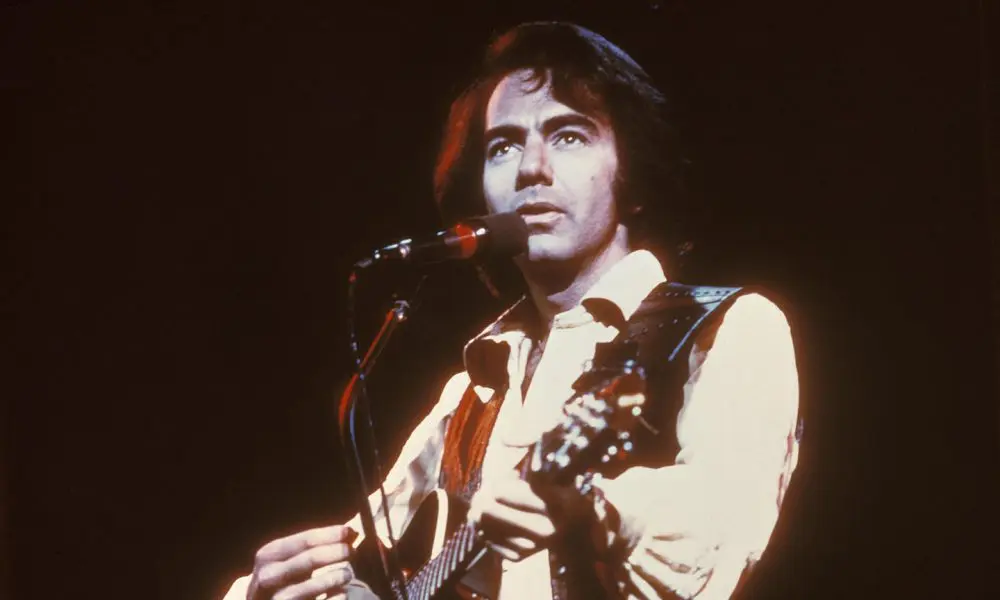 Of all the classic songs he's written, "Cracklin' Rosie" may be the one Neil Diamond's spent the most time explaining. No, it's not about a seductive woman – not literally, anyway. Or a fast train, even though it opens with the words "get on board." But if you thought of red, red wine, you're on the right track.
It all began with a story he learned while touring in Canada. After chatting with an interviewer whose parents were missionaries, he asked her for some of the local folk tales. The one that stuck with him was about a reservation where men outnumbered women. Over the weekend, "these poor chaps would rush down to their local general store and get themselves a large bottle of a very cheap wine called Crackling Rose. The story goes that the wine becomes their woman for the weekend."
Order the Original Broadway Cast Recording of A Beautiful Noise, The Neil Diamond Musical.
The recording
From there, his imagination went to work, and conjured up a song full of romance and mystery, released in late summer 1970. You don't need to know the backstory to key into the song's euphoric mood, which builds as the hero gets more intoxicated. In fact, he gets a bit carried away, feeling the love for his liquid companion and for the song in his head. (How many hit songs include two a cappella breaks?) If you think a weekend with a bottle of cheap wine would be a mundane experience, that's not the case here.
Things are helped along, of course, by the musicians. For this song, Diamond employed some of the legendary Wrecking Crew – drummer Hal Blaine, keyboardist Larry Knechtel, bassist Joe Osborn, and guitarist Al Casey. For all that, Diamond once pointed out a small imperfection during the tune. "'Cracklin' Rosie' was recorded first with a rhythm track, I overdubbed my guitar a couple times because there were some lines that I wanted to play," he explained in the early 70s. "Then my voice went on, and then we put horns and bells and cymbal crashes and the girl group and then the bridge section on. I don't know if I should mention it, because people will now notice it whenever they hear the record, but the tempo in the last chorus is completely different than the one just before it. There's a section where I sing, 'play it now, play it now my baby,' and it goes into a modulation, and the tempo is completely different. It's impossible to dance to."
The release
Nonetheless, "Cracklin' Rosie" did the one thing Neil Diamond had never done before: It hit Number One, becoming the first of three chart-toppers during the 70s. The single continued a mighty streak that had already been going on for years. "Sweet Caroline," "Holly Holy," "Shilo," and "Solitary Man" were all hits. One of his rare flops was "And the Grass Won't Pay No Mind," but Diamond wasn't complaining: It became his first song to get covered by Elvis Presley. The two singers maintained a friendship afterward and were even next-door neighbors for a time.
At the time of "Cracklin' Rosie," Diamond was still very much a part of the singer-songwriter movement – a perfect place to be in 1970. Landmarks were coming left and right: James Taylor, Cat Stevens, Elton John, and Joni Mitchell all released great albums that year (Carole King would follow with Tapestry in early 1971). Diamond had also begun to make serious, album-length statements. His first two albums for the Uni label, Velvet Gloves and Spit and Brother Love's Traveling Salvation Show, were both loosely conceptual and largely experimental, with a handful of tracks that couldn't imaginably be singles. During this era, Diamond began to strike a balance between his creative urges and his commercial instincts.
He mastered that on the 1970 album Tap Root Manuscript, which has "Cracklin' Rosie" as its leadoff track. The five songs on Side One are serious but accessible, including "Done Too Soon" (an early meditation on mortality) and the Hollies' "He Ain't Heavy, He's My Brother" (the album's only cover and a follow-up hit to "Rosie"). But side two is something else again, covered by the "African Trilogy," a 20-minute piece (dubbed a "folk ballet") that weaves together narration, folk rhythms, children's choruses, instrumental pieces, and just one characteristic Diamond vocal ("Soolaimon," also a hit). A radical step at the time, it proved to be well ahead of similar crossovers like Paul Simon's Graceland and Peter Gabriel's solo work.
The legacy of 'Cracklin' Rosie'
Diamond would continue to experiment for the rest of his Uni years, following Tap Root with Stones (a mostly-covers, singer/songwriter album) and Moods (another ambitious, conceptual work). More significant, though, was the late 1972 release of Hot August Night, which showed how far he'd come as a live performer. "Cracklin' Rosie" appears toward the end of the set, in a fully transformed version: Here it's bigger, faster, more intense, and dramatic. Diamond would continue at that pace for years to come.
Cracklin' Rosie (Live At The Greek Theatre, Los Angeles/1972)
More recently, "Cracklin' Rosie" has found an important place in A Beautiful Noise, The Neil Diamond Musical, given its status as Diamond's first No.1. The cast recording of the musical is produced by Bob Gaudio, the co-founder of the Four Seasons. Among his countless achievements through the years, Gaudio produced Diamond's platinum-selling albums You Don't Bring Me Flowers, September Morn, and the soundtrack to The Jazz Singer (1980).
Order the Original Broadway Cast Recording of A Beautiful Noise, The Neil Diamond Musical.