Who Were The Wrecking Crew? Behind The Most Recorded Band In Music
You've heard them, but do you know who they are? Studio musicians The Wrecking Crew are behind many of the most important recordings in music history.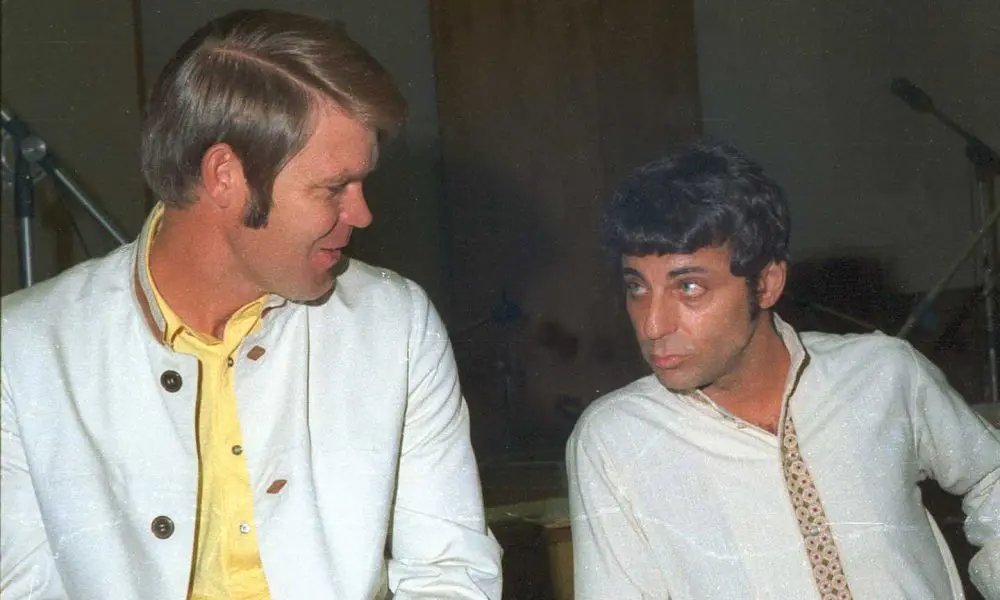 The Wrecking Crew were a group of all-purpose, highly revered studio musicians who appeared on thousands of popular records – including massive hits such as "Mr. Tambourine Man" by The Byrds and "California Dreamin'" by The Mamas And The Papas. The instrumental work by this group of session men (and one woman) defined the sound of popular music on radio during the 60s and early 70s, meaning The Wrecking Crew can reasonably lay claim to being the most-recorded band in history.
Who were The Wrecking Crew?
The exact number of musicians in the loose collective of Los Angeles session musicians known as The Wrecking Crew is not known, partly because of the informal nature of the hiring and also because much of their work went uncredited. Three of their key members were the magnificent session drummer Hal Blaine, bassist and guitarist Carol Kaye (one of the few female session players in that era), and guitarist Tommy Tedesco.
Among the leading musicians who were members at various times were: Earl Palmer, Barney Kessel, Plas Johnson, Al Casey, Glen Campbell, James Burton, Leon Russell, Larry Knechtel, Jack Nitzsche, Mike Melvoin, Don Randi, Al DeLory, Billy Strange, Howard Roberts, Jerry Cole, Louie Shelton, Mike Deasy, Bill Pitman, Lyle Ritz, Chuck Berghofer, Joe Osborn, Ray Pohlman, Jim Gordon, Chuck Findley, Ollie Mitchell, Lew McCreary, Jay Migliori, Jim Horn, Steve Douglas, Allan Beutler, Roy Caton, and Jackie Kelso.
How did they get their name?
After being known unofficially as "The Clique" and "The First Call Gang," Hal Blaine later coined the name The Wrecking Crew. In his 1990 memoir, the drummer said the name was in ironic reference to the complaints of older musicians that these young studio performers were embracing rock and pop, and thereby going to "wreck" the music industry.
Blaine said that producers from lots of different record labels admired the quality of their musicianship and their ability to improvise. They were given musical freedom. "Nine times out of ten the producer or arranger would tell us to use the charts as a guide, that's all. We were encouraged to go for it, to go beyond what had been written. We had the opportunity to create, to be a team of arrangers," said Blaine.
Drummer Hal Blaine Discusses Glen Campbell's Rise To Fame | uDiscover Interview
Blaine became one of the Crew's most sought-after members and it is estimated that he played on more than 35,000 tracks, working with bands as diverse as The Beach Boys, Gary Lewis And The Playboys, and Carpenters. Blaine's impressive drumming is one of the bedrocks of Simon And Garfunkel's masterpiece "Bridge Over Troubled Water."
What did they do?
During the 60s and 70s, Los Angeles producers needed reliable standby musicians who could be counted on to contribute to records in a variety of styles and deliver hits on short order. The Wrecking Crew were musically versatile performers who were usually brilliant at sight-reading. Their contributions feature in pop songs, television music, theme songs, film scores, and advert music. The reason The Wrecking Crew's contributions to so many hit recordings went unnoticed at the time was that record labels wanted to keep it that way, maintaining the illusion that famous bands, such as The Monkees, always played their own instrumental parts. "We all knew the game," said Kaye.
The Wrecking Crew were incredibly hard-working musicians. "You leave the house at seven o'clock in the morning, and you're at Universal at nine till noon; now you're at Capitol Records at one, you just got time to get there, then you got a jingle at four, then we're on a date with somebody at eight, then The Beach Boys at midnight, and you do that five days a week… Jeez, man, you get burned out," recalled guitarist Bill Pittman.
Some members had a strong jazz background
The Wrecking Crew were needed for a variety of styles, from pop music to Frank Sinatra's sophisticated swing. There was a jazz influence among these session musicians. Trumpeter Chuck Findlay, who played with Stanley Turrentine, Freddie Hubbard, and Lalo Schifrin, was a regular on sessions, as was drummer Frank De Vito – who had worked with Charlie Parker. Saxophonist Gene Cipriano, who played on recordings by Mel Tormé, Anita O'Day, Miles Davis, and Ella Fitzgerald, played on hundreds of pop records as a member of The Wrecking Crew.
The most famous jazzman in The Wrecking Crew was guitar maestro Barney Kessel, who can be heard on classic recordings by Julie London and Elvis Presley. Kessel also worked regularly with Phil Spector and appears on records by The Paris Sisters, The Ronettes, Bob B Soxx And The Blue Jeans, Darlene Love, The Righteous Brothers, and Ike And Tina Turner. Kessel was pivotal in introducing the 12-string guitar to rock and pop, an instrument he used on The Crystals' recording of "Then He Kissed Me." The guitarist who had backed Billie Holiday on Gershwin songs also played the mandolin on "Wouldn't It Be Nice" by The Beach Boys.
Wouldn't It Be Nice (Mono)
What musicians did they play with?
The Wrecking Crew were the session musicians of choice for Phil Spector when he constructed his Wall Of Sound, and they were at the top of most producers' call lists. The musicians appear on songs by nearly every prominent American pop performer of the era, including The Byrds, The Mamas And The Papas, Elvis Presley, Harry Nilsson, The Beach Boys, Sam Cooke, Carpenters, The Ronettes, Simon And Garfunkel, Frank Sinatra, and Nancy Sinatra.
What TV music did they make?
Tommy Tedesco was one of the core members of The Wrecking Crew and his guitar introductions were essential to many of the famous television theme tunes of the era, including The Twilight Zone, Green Acres, Bonanza, M*A*S*H*, Batman, Mission: Impossible and Hawaii Five-O – along with film scores such as Born Free. In 2008, his son Danny Tedesco made a documentary film called The Wrecking Crew which won the Idaho International Film Festival award for Best Documentary.
Who was Carol Kaye?
Carol Kaye was asked to fill in at a recording session for Capitol Records in 1963 and word quickly spread in Los Angeles music circles that her brilliant electric bass playing was a valuable commodity. "Carol Kaye was the greatest bass player I've ever met," said Brian Wilson. Kaye is reported to have played on 10,000 recording sessions, including with Sinatra, Stevie Wonder, The Supremes, The Temptations and Four Tops. She created some iconic rock basslines, including "California Girls" for The Beach Boys and "The Beat Goes On" for Sonny And Cher. She even came up with the bass structure for "Theme From Shaft." "I had no problems being the only woman," she said of her time in The Wrecking Crew.
Theme From Shaft by Isaac Hayes from Shaft (Music From The Soundtrack)
Did any Wrecking Crew members make it as solo stars?
Barney Kessel was something of an anomaly among The Wrecking Crew, because he was making successful solo albums for Verve Records while he was also doing session work. However, a handful of The Wrecking Crew's members also went on to make big names for themselves. Glen Campbell played on The Righteous Brothers' "You've Lost That Lovin' Feelin'," Sinatra's "Strangers In The Night," and for The Beach Boys and Elvis Presley before he became famous in his own right as a country music singer.
Pianist Mac Rebennack was also a member of the revered session gang, playing with everyone from Sonny And Cher to Frank Zappa, before he returned to New Orleans and found fame as Dr John.
Leon Russell was only 16 when he moved to Los Angeles to work as a session musician and he played on albums by The Beach Boys, The Rolling Stones, Jan And Dean, Bob Dylan and Herb Alpert before going on to find solo fame.
What Wrecking Crew songs would I know?
There are simply too many fantastic songs to list, but among the best-known Wrecking Crew songs that have not already been mentioned are Nancy Sinatra's "These Boots Are Made for Walking," Presley's "Can't Help Falling In Love" and "Viva Las Vegas," Jan And Dean's "Surf City," Simon And Garfunkel's "Mrs. Robinson," Sonny And Cher's "I Got You Babe," The Ronettes' "Be My Baby," The Crystals' "He's A Rebel" and The Monkees' "Last Train to Clarksville."
You've Lost That Lovin' Feelin'
What Wrecking Crew songs should I know?
The late Larry Knechtel, who later became a member of Bread, was still working as a session music in the 21st Century, including for The Dixie Chicks. Knechtel played keyboards, bass guitar, and harmonica as a member of The Wrecking Crew and said they were young musicians "in the right place at the right time… it was a lot of fun. We were all young. I was making big money and hearing myself on the radio."
Knechtel's piano introduction on Johnny Rivers' 1972 version of "Rockin' Pneumonia And The Boogie Woogie Flu" is an example of the class musicianship of these session musicians on less well-known numbers. Members of The Wrecking Crew also lit up Richard Harris' version of "MacArthur Park," which was written by Jimmy Webb.
Drummer Hal Blaine said that one of his favorite Wrecking Crew-driven songs was another Webb song, "Up, Up And Away," which was recorded by The 5th Dimension in 1967. The song swept the boards at the 1968 Grammy awards, winning Song Of The Year, Best Pop Performance By A Group with Vocals, Best Contemporary Song and Best Performance By A Vocal Group. The guitarist on that memorable record was Californian Al Casey, who stayed out of the limelight and ended up as a music teacher in Phoenix. "The Wrecking Crew were the unsung heroes of so many hit records," said Nancy Sinatra.