'The Concept Is There': Pete Townshend On The Who's 'Life House' Box
The Who songwriter talks about an extraordinarily perceptive vision of society's future.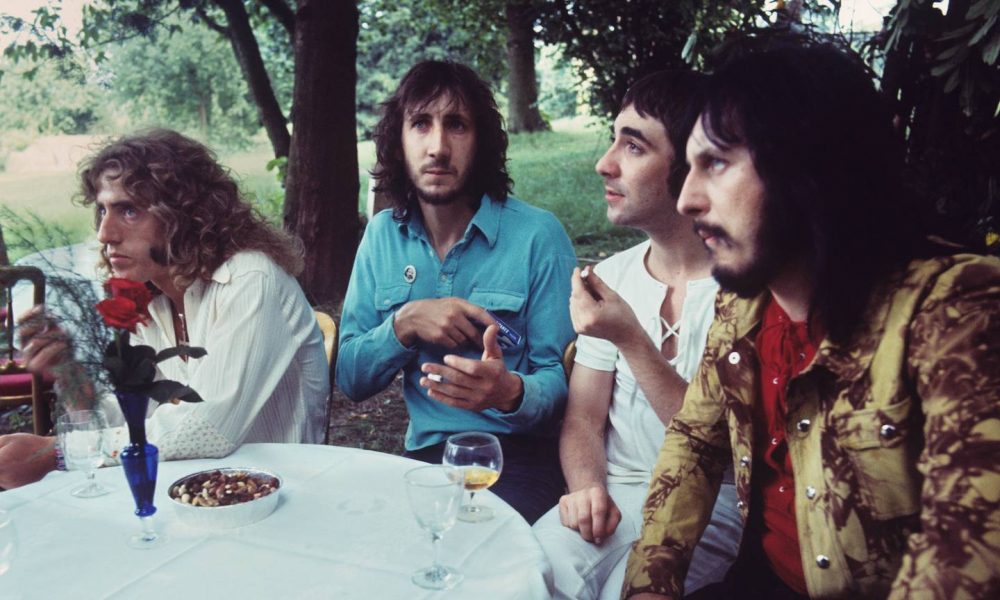 The Who's lavishly-mounted Who's Next/Life House set presents fans with the dream opportunity to hear the genesis of some of the group's most time-honored songs. But it is also a document of one man's grueling fight to have his creative voice heard and his unprecedented vision understood.
Shop the best of Pete Townshend's discography on vinyl.
That man, of course, was Pete Townshend, and that struggle to get his hugely ambitious and long-sighted Life House project off the ground would lead him towards depression and breakdown. The glory of the boxed set, in 10-CD and multiple vinyl sets with 155 tracks, 89 of them previously unreleased, is to shine new appreciation on an extraordinarily perceptive premonition of society's future.
Won't Get Fooled Again (Lifehouse Chronicles / Demo / Remastered 2022)
In the process, we hear how future Who classics such as "Won't Get Fooled Again" and "Baba O'Riley" came out of this highly challenging period to take their place on one of the band's most revered albums, Who's Next. The new set is gorgeously presented with a new essay by Townshend in a 100-page book with sleeve notes by Who experts and compilers Andy Neil and Matt Kent, a newly-commissioned graphic novel of the Life House story, and period images and memorabilia.
The box charts the period from 1969, when Townshend conceived Life House as a multi-media follow-up to Tommy, part film script and part blueprint for a "live musical experiment." More than 50 years later, he was much involved with the sonic excavation that led to the 2023 release, at least in terms of assessing and compiling the home demos of early takes of these songs, which are a large part of what makes the set so compelling.
"The only ones I was involved in at all [were] the demos," he tells us of his 1970-71 tapes recorded at the small studio of his family's home, an 18th century Georgian house in Twickenham, south-west London. Here they form two discs' worth of the inspired songwriting that produced the early versions of the above-mentioned songs; others from Who's Next such as "Going Mobile" and "The Song Is Over;" and others again that were written for the story including "Greyhound Girl," "Mary," and "Time Is Passing."
"That was a lot of work," he says. "I had to find the eight-tracks from my archive, listen to them on a tape machine – and the machine I used had Dolby [noise reduction], so it had to be set up very carefully – then I had to compare new mixes with mixes that I'd done in the past, because the Who's Next album has been revisited many times. I think the demos have been released a couple of times as well. So [I had] to try to add something new to them, some sizzle that might make them interesting, and possibly find a couple that haven't been released.
Who's Next | Life House Unboxing – OUT NOW
"In actual fact, what happened was I decided to just stick to a solid group of demos rather than use all of the little bits that were lying around at the time. The curators of the disc wanted to use anything and everything that was lying on the cutting room floor, and I resisted that, to some extent."
For more than half a century, and again with the new presentation of his work, many have praised Townshend for his percipient descriptions of a world decimated by climatic catastrophe and pollution, the loss of personal freedom, and a population sedated by an entertainment "Grid" via virtual reality experience suits, widely seen as a vision of the internet. He plays down any such far-sightedness.
"There were a few songs from Life House that were written specifically to be a part of the fictional film script, as it was," he says. "The project was in two parts. It was a fictional film script that was science fiction – naïve science fiction, really, looking back, because however prescient it appears to be today, I was reading science fiction like everybody did, and there were fantastic stories from the '40s onwards. Isaac Asimov and a whole number of science fiction writers that foresaw the future, as it is now. So I wasn't as smart as my shirt appears to be today."
Nevertheless, the opportunity to have his creation viewed in the wider context, both of the wider world and of what The Who went on to become, is one he affords some merit. "Who fans have always wanted a collection that tells the story, or fits in with the story, and I think now is another opportunity to look at the graphic novel, and get a sense of the two film scripts – because there was one done in '71 and another done around 1974 to update it – and they've been combined by James Harvey, the writer, into one story, which also adds new elements too, mischievous, delightful, fun stuff.
"But it's there, the concept is there," notes Townshend. "[You can] listen to the music and get a sense of what the project could have been, had it come to fruition."
The Note (aka Pure And Easy) (New York Record Plant Sessions / 1971 / Take 21 / Remastered 2022)
In a separate conversation, his bandmate Roger Daltrey says candidly that he struggled to grasp the full depth of Townshend's work. "I tried and tried at the time, because I liked the idea of the note," he says, referring to the notion of a single note that would bring a kind of celestial harmony to the world. "In fact, I think there's probably quite a lot of truth in it. But it's getting it on paper, and it was way beyond the days of the internet and the tech we've got today. So it was a bit of a brain stretch, to say the least."
Of Townshend's well-advanced home demos, he adds: "He used to play everything. He had the ability. Pete is an incredible musician, there's no doubt about that. In my opinion he's the best rhythm/lead guitarist out there. No one else plays like him, he's a total original."
Those demos led to studio sessions at the Record Plant in New York in March 1971, which form another disc in the epic storyboard of the boxed set, along with two more each of band performances at the Young Vic in London in April, and from a mighty concert at San Francisco's Civic Auditorium in December, the latter after the release of Who's Next. "You can hear those New York recordings and how great they are," says Townshend, who was still espousing the Life House idea at the time. "I thought 'Wow, we're going to crack this.'
"And then suddenly I realized that I'd lost Kit [Who co-manager and Townshend's mentor, Kit Lambert] and worst of all that he was using heroin. Not that that meant he was incapable of doing good work, because he was doing the most fantastic work with [U.S. R&B pacesetters] Labelle. It was that he was changed. So that was the moment when the depression set in, but it was very brief. I got on a plane, I came back to London, I went home to my wife and I said 'It's gone, I've lost it.'"
Love Ain't For Keeping (Remastered 2022)
Fortunately for Who fans, what was gained was an entirely new artifact, the Who's Next album that soon grew out of sessions with one of the U.K.'s most in-demand studio men. "I think [co-manager] Chris Stamp suggested that Glyn Johns might be a good producer to take the tracks to. I sent the tracks to Glyn, he liked them. I pitched the project to him, he didn't understand it, but he made an album that I knew was going to be a hit album. It was a great sounding record.
"We'd played the music so often, we'd actually done live shows with the music, with 'Won't Get Fooled Again,' 'Baba O'Riley,' 'Behind Blue Eyes,' 'Love Ain't For Keeping,' we'd done them at four or five gigs. So we went into the studio with Glyn and we cracked it in two weeks. That's the best way to make an album. It was very fast, and it went straight in the charts, and when we first went to L.A. and San Francisco, we were suddenly on a new roll."
Buy or stream Who's Next/Life House.