The Man Who Photographed Be-Bop
When a photographer gets a great shot of a performer it's most often because they are lucky or skilled enough to catch a moment on stage when something magical happens. To get great shots of performers in private is much more difficult. William Gottlieb managed, time and again, to achieve both. All too often, when photographers take pictures of people, they fail to capture the essence of the person – they merely capture an image. William Gottlieb knew most of the musicians whose pictures he took; maybe that's what helped him find the person behind the performer. His remarkable photos bring to life a unique period in the history of jazz. Bill Gottlieb is the man who photographed Be-Bop
Born in Brooklyn, New York in 1917, Gottlieb was of similar age to many of the jazz greats that feature in his photography. William went to Lehigh University to study economics; both his parents died while he was a teenager. It was in 1936 while at Lehigh that he first became interested in jazz. Having been brought low by a bout of food poisoning, he spent much of the summer in bed listening to jazz records which had been supplied by a high school friend and chatting with him about "America's contribution to the arts."
On his return to university, Gottlieb began writing a regular column for The Lehigh Review, later becoming its editor-in-chief. On leaving university he got a job on the Washington Post selling advertising space. After a few months he persuaded them to let him write a weekly column about jazz; the Post agreed to pay him an extra $10 a week. Initially, a photographer went to jazz clubs and concerts with Gottlieb, but soon the Post decided this was an unnecessary expense. Anxious to continue to get pictures for his column, he traded some of his precious jazz records for a 31/4 x 41/4 -inch Speed Graphic camera, film, and flashbulbs.
The camera was just like the ones that we're all used to seeing in classic Hollywood movies when photographers crowd around their victim. It all looks easy on film, but in reality using a Speed Graphic was a lot more complicated. Getting to grips with the new camera was a challenge. After just one afternoon's tuition from a Post photographer, William had no alternative but to teach himself. Because the Speed Graphic was limited to two exposures without reloading, it meant that he had to think through precisely what he wanted to take each time he used the camera. In addition, the film and flashbulbs were expensive, so there was none of the flexibility offered by modern digital photography. The result is quality, not quantity in William Gottlieb's work.


By the time war broke out he also had his own radio show in Washington DC that featured many of the great jazz musicians who passed through the capital. Other guests included his friends, Nesuhi and Ahmet Ertegun, both keen jazz fans as well as being the sons of the Turkish Ambassador to the United States. Ahmet Ertegun went on to co-found Atlantic Records. In 1941 William left his advertising job at the Post, deciding instead to teach at the University of Maryland. By 1943 he had been drafted into the Army Air Corps where he served as a photo officer.
With the war over, William settled in New York and got a job on Down Beat magazine as a reporter and reviewer, but he continued to take photographs. Many of his photographs were taken in the great jazz clubs that were to be found on 52nd Street or on 'Swing Street' the block between 5th and 6th Avenues.
By the end of the 1940s, having married and had children, William thought it time to settle down and get himself a regular job that would allow him to spend evenings at home, not out on the town with his jazz musician friends. He was offered a job at Curriculum Films, an educational filmstrip company. Later he started his own company, and when this was bought out by McGraw Hill he became a president of a division; it's where he stayed until he retired in 1979.
William Gottlieb died of a stroke in 2006, shortly after a documentary, entitled 'Riffs' about his life was made. His photographs have appeared on hundreds of LP and CD covers, on clothing, postage stamps, in scores of publications, and have been exhibited in galleries and museums around the world. William Gottlieb will be remembered, not least, because he captured people with a truth that few photographers managed to achieve. His photographs portray the essence of the performers – which words alone cannot convey.
For more go to the Library of Congress web site.

Count Basie, Ray Bauduc, Bob Haggart, Harry Edison, Herschel Evans, Eddie Miller, Lester Young, Matty Matlock, June Richmond, and Bob Crosby, Howard Theater, Washington, D.C., ca. 1941].


Charlie Parker, Tommy Potter (bass), Miles Davis, and Duke Jordan (at the piano) at the Three Deuces, New York, N.Y., ca. Aug. 1947


Duke Ellington and Django Reinhardt at the Aquarium, New York, N.Y., ca. Nov. 1946


Coleman Hawkins and Miles Davis at the Three Deuces, New York, N.Y., ca. July 1947


Dizzy Gillespie taken in New York, ca. May 1947


Barney Bigard, Ben Webster, Otto Toby Hardwick(e), Harry Carney, Rex William Stewart, Sonny Greer, Wallace (Leon) Jones(?), and Ray Nance, Howard Theater(?), Washington, D.C.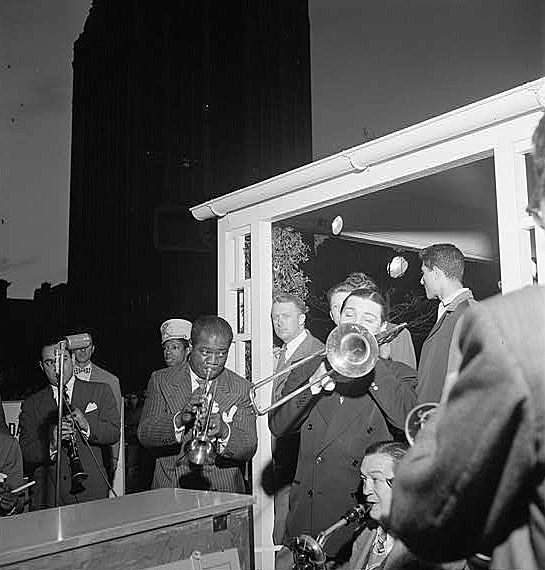 Louis Armstrong and Jack Teagarden ca 1948