Best Music Box Sets For Christmas 2023
Need a big, meaningful gift for someone in your life that loves music? These box sets, deluxe editions, and collections make perfect presents!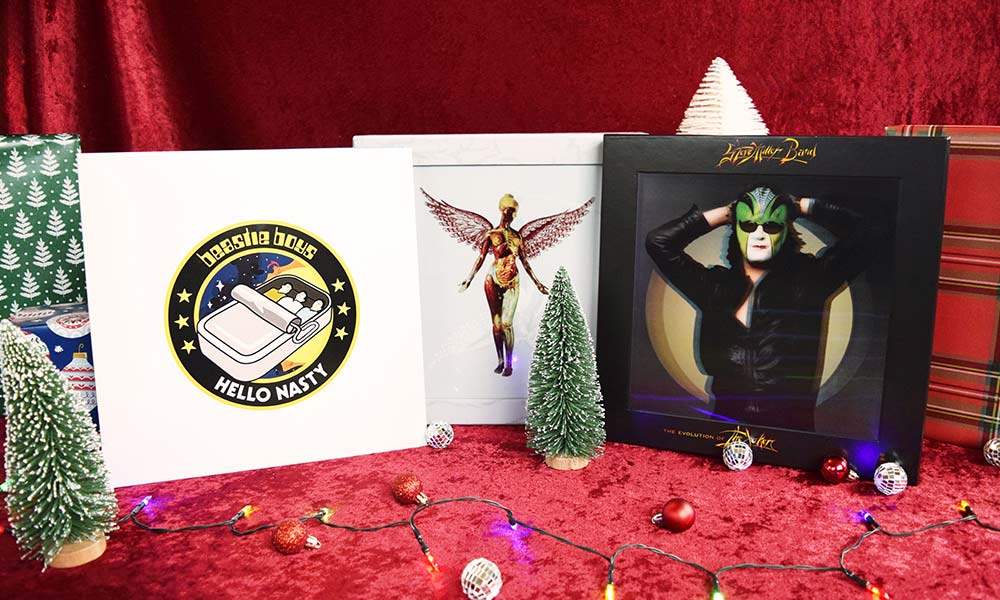 Need a big, meaningful gift for someone in your life that loves music?
These box sets, deluxe editions, and collections make perfect presents!
Nirvana – In Utero
Celebrating In Utero's 30th, this 8LP Super Deluxe features 180-gram pressings of the album + 5 b-sides & bonus tracks newly remastered, two complete concerts from Los Angeles '93 & Seattle '94 plus six bonus live songs from the tour – 72 total tracks – 53 unreleased tracks.
Bonus items: an Angel-on-acrylic panel; 48-pg book with unreleased photos; new 20-pg fanzine; LA gig poster litho; 2 ticket stubs; replicas of the promo Angel mobile, three gig flyers, all-access tour laminate & 4 backstage passes.
The Black Crowes – The Southern Harmony And Musical Companion Super Deluxe Edition
This deluxe 4LP box set includes a reproduction of the original 60-page promotional hymn book featuring insights on the record and the band's state of mind from both Chris and Rich Robinson. It also contains sheet music for the 9 Chris and Rich compositions. The project has been overseen by Chris and Rich Robinson and album producer George Draklouias. There are 14 unreleased recordings, including two studio recordings, a live concert from February 1993, and the never-heard-before live in-studio performance recorded at the end of the Southern Harmony session along with b-sides and the original album, now remastered.
The Who – Who's Next / Life House Super Deluxe Edition
Who's Next / Life House Super Deluxe Edition contains 10 CDs, all remastered from original tapes by long-time Who engineer Jon Astley, as well as a Blu-ray Audio disc with newly made Atmos & 5.1 surround mixes of the original album and 14 bonus tracks by Steven Wilson. The set features 155 tracks, including 89 unreleased tracks & mixes and another 57 previously released tracks but with a fresh remix.
Steve Miller Band – J50: The Evolution of the Joker Super Deluxe Edition
J50: The Evolution of The Joker, curated by Steve Miller, highlights 27 previously unreleased demos, live performances, studio outtakes, and rehearsals from Miller's personal archive, including eight never-before-heard songs. Miller also provides narration guiding the "evolution" of the songs from The Joker. The box set features a lenticular cover, a 60-page book with liner notes from both Steve Miller & Anthony DeCurtis, a reproduction of a vintage Joker iron-on, and a new Joker lithograph.
Aerosmith – Greatest Hits
For the first time ever, 44 tracks spanning their five-decade career on 180g black vinyl. It features "Dream On," "Walk This Way," "Sweet Emotion," "Crazy," "Cryin'," "I Don't Want To Miss A Thing," and many more.
Frank Zappa – Over-Nite Sensation (50th Anniversary)
To celebrate Over-Nite Sensation, there's a 4CD + 1 Blu-ray Audio Super Deluxe showcasing 88 total tracks with 57 unreleased tracks & mixes. It features the 2012 remaster of the original album by Bob Ludwig, along with additional masters, highlights, and mix outtakes from the original 1973 sessions mastered by John Polito. The package also features unseen photos from the album cover shoot, along with liner notes and essays by Mark Smotroff and Vaultmeister Joe Travers.
Rush – Signals 40th Anniversary
The Signals Super Deluxe celebrates 40 years with new Hugh Syme artwork throughout & the 2015 remaster on CD for the first time. The album vinyl will be cut for the first time at half-speed via DMM & pressed on 180g black vinyl for optimal vinyl quality. Bonus items include a 40-page book, four 7-inches, three lenticulars, five lithos & a double-sided poster.
Thin Lizzy – Vagabonds of the Western World 4LP
Celebrating the 50th Anniversary of Thin Lizzy's third studio album, Vagabonds of the Western World, with a 4LP on black vinyl. To celebrate the album's golden anniversary, the deluxe remastered LP set featuring rarities, radio sessions, unreleased music, rare photos, extensive sleeve notes by Mark Blake, and memorabilia across four pieces of vinyl and a hardback book.
Dire Straits – Live 1978-1992
This exciting Dire Straits package contains newly remastered versions of Alchemy and On the Night, both of which are currently unavailable on vinyl, as well as a variety of other live shows.
Brian May & Friends – Star Fleet Project Sessions (40th Anniversary) Box Set
The first CD Star Fleet Project + Beyond, features both the full-length and single versions of the title track and full-length album versions of "Let Me Out" and "Blues Breaker," as well as interviews and live performances. The second CD, The Complete Sessions, features 23 tracks newly mixed from the original analogue session tapes. The LP is presented in 180g transparent red vinyl. The box set also features a 7" black vinyl with an exclusive B-side. A badge and booklet featuring extensive liner notes complete the box set.
The Tragically Hip – Phantom Power 25th Anniversary
Phantom Power, one of the best Tragically Hip albums, is now a true double album with five brand new, never-before-heard tracks. The package also includes a 1998 live show, a 64-page book, and much more.
Tame Impala – Lonerism 10th Anniversary Super Deluxe Box Set
To celebrate the 10th anniversary of Lonerism, Tame Impala presents fans with a deluxe 3LP reissue of the album that features previously unreleased demos from the era. This expanded deluxe edition of the album also includes a deluxe 24-page booklet.
Camel – Air Born The MCA & Decca Years 1973 – 1984: 27CD + 5 Blu-Ray Boxset
In celebration of the 50th anniversary of the release of their self-titled debut album, this 32-disc super deluxe boxed set is the definitive tribute to the legendary band Camel. The boxed set features newly remastered versions of every Camel album and single issued between 1973 and 1984 but also includes new stereo and 5.1 surround sound versions of the albums, as well as new mixes of three concerts and much more.
Nina Simone – Four Women: The Nina Simone Complete Recordings 1964 – 1967 7LP Boxset
This set brings together in their entirety all seven albums Nina Simone recorded for the Philips label during the most significant period of her long and distinguished career. The following albums are newly remastered and cut from the original analog tapes: Nina Simone in Concert (1964), Broadway-Blues-Ballads (1964), I Put A Spell On You (1965), Pastel Blues (1965), Let It All Out (1965), Wild Is the Wind (1966) and High Priestess of Soul (1967).
Soft Cell – Non-Stop Erotic Cabaret: 6CD Box Set
Soft Cell's defining album, this 6CD box set, tells the full story of the record. It contains updated, extended versions of songs, remixes, rarities, instrumentals, live versions, and much more besides.
Public Enemy – It Takes A Nation Of Millions To Hold Us Back (35th Anniversary Edition)
It Takes a Nation of Millions to Hold Us Back was named one of the 100 greatest albums of all time by Time, "the greatest rap album of all time, a landmark and a classic" by Q, and "the greatest hip-hop album ever" by New Musical Express. In honor of the 50th Anniversary of Hip Hop and the album's 35th Anniversary, it has been reissued on 4LP in standard black vinyl.
Elvis Costello & Burt Bacharach – The Songs of Bacharach & Costello Super Deluxe Edition Box Set
The Songs of Bacharach & Costello brings together all of the published songs that Costello has written with Burt Bacharach, celebrating the three-decade songwriting partnership between them. Compiled by Costello, the Super Deluxe Edition includes the newly remastered album, Painted From Memory, along with a new collection, Taken From Life, featuring unreleased songs from the proposed "Painted From Memory" musical score, plus live performances and a detailed 10,000-word essay by Costello.
ABBA – Ring Ring (50th Anniversary)
ABBA celebrated the 50th anniversary of their debut album with a new collection of vinyl products. The 7″ boxset includes five singles from the album, each with a b-side companion track. The set features five color discs (transparent red, transparent yellow, white, blue, and red) housed in a lift-off lid box. Individual sleeves incorporate classic band imagery from the original era.
Florence + The Machine – Dance Fever Box Set
The limited-edition Dance Fever – The Singles 7" boxset gathers all the singles, remixes, and standalone tracks from that Florence era. The clamshell box contains seven 7" singles (each on different color vinyl) encased in their own beautifully crafted sleeve. Also included are inserts with credits and live photography from the Dance Fever Tour.