'Let England Shake': PJ Harvey's Mercury Prize Winning Classic
The album saw PJ Harvey pull away from her usual self-focused writing and look at the world outside.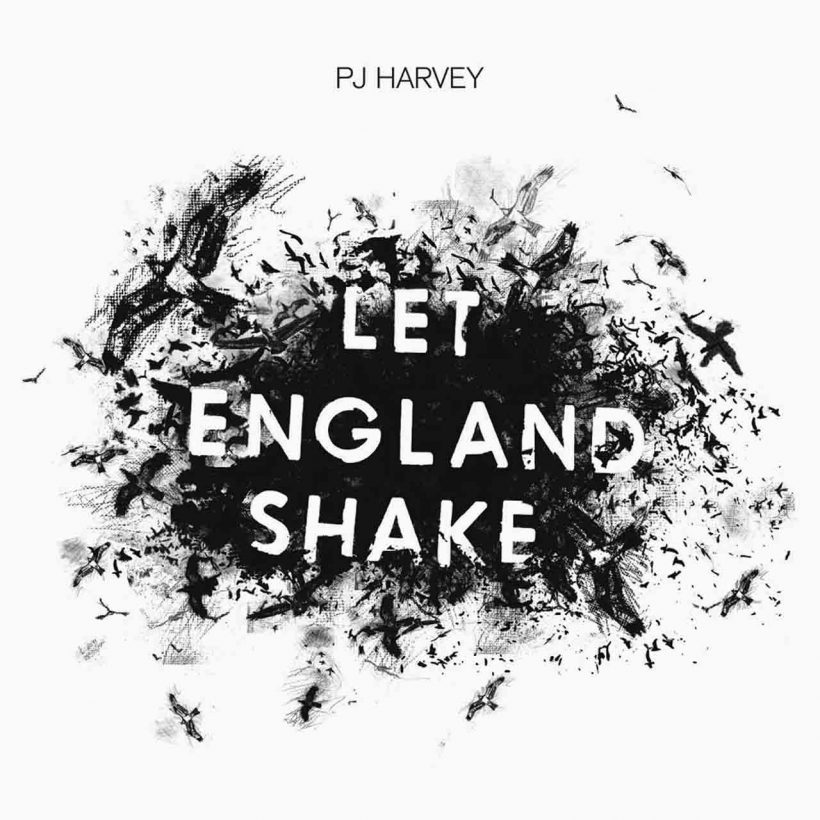 PJ Harvey's Let England Shake makes for difficult listening. That's nothing new for an artist whose work has always veered toward the dark and the disturbing, even during moments of joy. (See, for instance, her 2001 duet with Thom Yorke, "This Mess We're In" – a love song that hums with tension.) But her eighth album, which won the 2011 Mercury Music Prize, is unsettling in a different way.
This record is a sort of scholarly project – one where Harvey pulls away from her usual self-focused writing and looks at the world outside. Specifically, at national identity and conflict between nations. She turns those knotty concepts into 12 startling songs that pick away at the grimness of war. Even more surprisingly, these are some of the catchiest – yes, catchiest – tunes she's written. And there's scarcely an "I" pronoun across its 12 tracks. All told, 2011 didn't produce another record like it.
Buy PJ Harvey's Let England Shake now.
How did Harvey reach the point where graphic descriptions of battlefield gore flowed into her notebook? (Typical is the opening couplet of "The Words That Maketh Murder": "I've seen soldiers fall like lumps of meat/Blown and shot out beyond belief.") Let's backtrack a little. Central to Harvey's songwriting process had always been, as she once put it, "about the interior, the emotional, what happens inside oneself." But in 2008, when she started thinking about her next album, she found it impossible to look away from the TV news, which reported horrors in Iraq and Afghanistan. Both countries were in turmoil due to Western airstrikes and suicide bombings.
PJ Harvey - The Words That Maketh Murder
Jolted into awareness – it's no coincidence that the very first words on the album are "The West's asleep" – she began to research the subject of war. "I felt like something I hadn't really done yet with my writing was to approach big, concrete issues such as one's country, and conflict. Things which affect every one of us, every day of our lives," she told her hometown paper, the Bridport News.
Shake is indeed an album about one's country and conflict. Firstly, it's about national identity, something the English constantly grapple with – the quickest way to start a fight in a pub is to ask a drinker if they're proud to be English. Polly offers two contradictory answers. On the thumpy, music-hallish "The Last Living Rose," she implores, "Goddam Europeans, take me back to beautiful England," but takes quite a different tack on the folky-strummy "England": "England, you leave a taste/A bitter one." The Brexit referendum was still five years off, but she captured the opposing viewpoints to a T.
Secondly, it's about the discord between nations: not just Western involvement in Iraq and Afghanistan, but the Gallipoli campaign of World War I. Why Gallipoli, an early 20th-century assault by the West on the straits that protected Constantinople (later renamed Istanbul)? The result was great loss of life on both sides and defeat for the West, but in the UK the battle isn't much remembered by Harvey's generation. Her interest in it is unexpected, but it's possible that she was encouraged by Mick Harvey, Let England Shake's Australian co-producer. (Gallipoli was a formative struggle for Australia and New Zealand.)
In short, she approached this album like a scholarly poet. Harvey generally preps for a new record by reading and listening to music, but with this one, she did far more. There was "an enormous amount of research" – not just reading about war but watching interviews with soldiers, and studying paintings such as Goya's Disaster Of War series. She read the poetry of TS Eliot and Ted Hughes, listened to darkly emotional bands like The Doors, and took in an exhibition of pictures of Afghani people by Irish photojournalist Seamus Murphy.
Murphy ended up making short films for all 12 songs, and if one film captures Harvey's process, it's "The Words That Maketh Murder." It starts with the singer sitting at a table, holding an autoharp, PJ Harvey's instrument of choice for Let England Shake. She gulps a mug of water and flips through a big ring binder full of lyrics. Then it's straight into the song: "The words that make, the words that make…MUR-DER." Pause. And then: "I've seen and done things I want to forget/I've seen soldiers fall like lumps of meat/Blown and shot out beyond belief/ Arms and legs were in the trees." At the end, it fades into a sardonic lift from Eddie Cochran's "Summertime Blues": "What if I take my problem to the United Nations?"
Think that's brutal? Try this, from the title track. "Pack up your troubles, let's head out to the fountain of death/ And splash about, swim back and forth, and laugh out loud." She sings this in an unsettlingly high register, which is used throughout the album. All these songs of blood and guts, conveyed in a girlish tone reminiscent of Kate Bush: it's Harvey at her most challenging.
PJ Harvey - Let England Shake
The grim mood is offset by the music, which is as pretty and melodic as the lyrics are bleak. Recorded in five weeks in an isolated Dorset church with her usual crew – Mick Harvey, John Parish, and producer Flood, plus drummer Jean-Marc Butty – it could actually be the most tuneful album of her career. No joke. The melody line of the title track is based on the cheery 1953 novelty hit "Istanbul (Not Constantinople)." The demo version of the song – now issued on a new album, Let England Shake – Demos, along with a vinyl version of the parent album – samples the actual 1953 tune. "Battleship," meanwhile, is absolutely exquisite folk music, sung in a crystalline soprano. Elsewhere, "The Colour Of The Earth" is a Mick Harvey/Polly Harvey duet, bouncing along like a Victorian pub singalong.
Ultimately, PJ Harvey made Let England Shake to relay the stories of people who had fought wars. Two years of extensive research made her wonder, "Where are the officially-appointed war-song writers?" and she decided to take the job herself. "I didn't want to tell people what to think or feel," she told The Guardian in 2011. "I wanted to remain a narrator." Her narration resulted in one of the great albums of her career.
Buy PJ Harvey's Let England Shake now. A special edition of Let England Shake – Demos is also available.