Queen's 'A Kind Of Magic': The Story Behind The Song
It was a perfect track for the 'Highlander' soundtrack, but the song has had a much longer life than the film.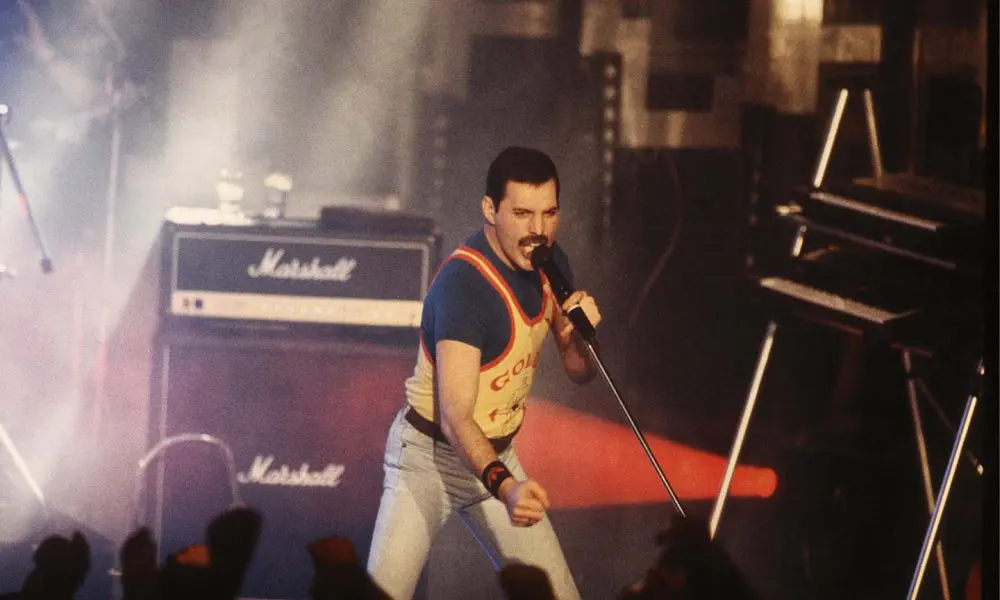 Queen drummer Roger Taylor once paid tribute to Freddie Mercury's "terrifically fertile brain" – and the singer-songwriter's powers of imagination were sparklingly evident in the way in which he helped turn "A Kind of Magic" from what Taylor called "a filmic" tune for the 1986 fantasy movie Highlander into a "dance-orientated" hit single. A Kind of Magic was Queen's first album after their triumphant performance in 1985's Live Aid concert, and it had a strong presence in Highlander, with six tracks from the record appearing in the film directed by Australian Russell Mulcahy.
Listen to Queen's "A Kind of Magic" here.
The most famous song is the title track, whose main line, "a kind of magic," is used by actor Christopher Lambert when his character Connor MacLeod is boasting about his immortality. Taylor loved the phrase and used it as inspiration for the tune, which included other references to the film script such as "no mortal man" and "one prize, one goal." "Originally it was used at the end of the movie, over the closing credits," Taylor later commented. "It was a grander concept with a much more broken-up tempo. Freddie really believed in this song and we reworked it as a single."
Mercury "polished" the lyrics, added the bassline, and re-arranged the structure, although the end result was still solely credited to Taylor. "The track, as originally conceived by Roger, was lugubrious and heavy and Freddie totally lightened it up to make it a commercially accessible thing, adding all the little riffs," recalled guitarist Brian May.
The recording
The single, which the band began recording in September 1985, was finally released commercially in the UK on March 17, 1986, ten days after the film opened in cinemas. The single was produced with David Richards during sessions for the album. Richards said he was pushed creatively by Mercury during the sessions for "A Kind of Magic." "It was pretty hard to keep up with all Freddie's ideas," he admitted in an interview. "I remember one day we were working on 'A Kind of Magic' and he said, 'I want to hear a herd of wildebeests swinging from left to right.' I said, 'Oh yeah, fine, how am I going to do this?' I spent another two days thinking about it, realizing he wanted some kind of stereo effect. Eventually, we came up with these magic effects that went swinging round."
The video
Queen asked Mulcahy to direct the music video, which was filmed at The Playhouse Theatre, near London's Trafalgar Square. "It was dilapidated at the time and we made it even more derelict for our atmospheric video," said May. "We thought it was a neat idea for Freddie to be the wizard and for us to be the guys he transforms from tramps into glamorous rock stars." May, who was using a 1921 three-quarter Gibson guitar during filming, said it was one of the group's best videos. "It's nicely shot; you can tell Russell is a movie director," he added.
Queen - A Kind of Magic (Official Video Remastered)
The legacy
"A Kind of Magic" reached No. 3 in the UK singles chart, and the song was used in that same year by the BBC for the introduction of the opening ceremony of the 1986 Commonwealth Games. Taylor remained fond of his composition, especially the catchy sing-along chorus. He included it on later solo concert dates and with his band The Cross. "It became very popular on stage and when we did it on the 1986 Magic tour, which was our last ever tour, it used to go down incredibly well. It had a good ending and it was always fun," he said. "Funny enough, they played it on the jukebox in the second Highlander movie as, by then, it had been a worldwide hit."