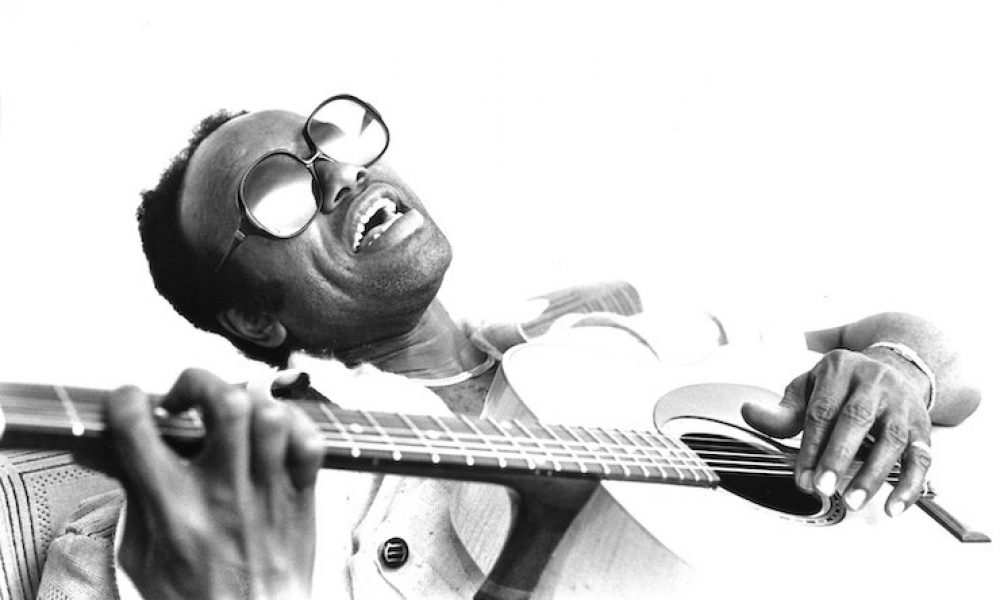 The death of Bobby Womack may not come as entirely surprising news, given his poor health of recent years and the fact that he had been diagnosed with both cancer and Alzheimer's disease. But it takes away one of the true originators of soul music history, a man whose influence bridged generations and whose catalogue of important work spanned a full 50 years.
A spin through our uDiscover collection, compiled from anthologies and original albums, reveals the length and breadth of a man whose innovation and innate soulfulness impacted a wide variety of stars beyond the world of R&B, from the Rolling Stones all the way to Damon Albarn.
The Cleveland native made his first mark on the gospel circuit with his brothers, who included Cecil (later to find success with his wife Linda, Sam Cooke's daughter, in Womack & Womack) and Harry, later the inspiration for Bobby's hit 'Harry Hippie.'
Bobby and his brothers came to the attention of Cooke, who mentored them during his gospel years and, after they changed their name to the Valentinos, produced their first record, 1962's 'Looking For A Love,' remade by Womack as a crossover pop hit 12 years later. In 1964, they did the original of Bobby's co-write 'It's All Over Now,' which was soon appropriated by the Stones for their first UK No. 1.
Womack's mutual admiration with the Stones continued throughout his career. He became good friends with the band, appreciating their role in popularising his songwriting on both sides of the Atlantic just as they did his uniquely impassioned and intelligent writing. Bobby became especially close with Ronnie Wood and made a sparkling guest appearance on their hit remake of 'Harlem Shuffle' in 1986.
Back in the '60s, he became an in-demand session guitarist and writer for the likes of Wilson Pickett and, later, Aretha Franklin, and began creating his own awesome catalogue when he signed for Minit in 1968. What set Womack apart was his ability to create raw, incisive soul of his own — such as 'I Can Understand It,' 'That's The Way I Feel About Cha' and his brilliant theme to the movie 'Across 110th Street' — but also to interpret the work of others, often in pop circles, notably his sublime covers of 'California Dreamin'' and 'Fly Me To The Moon.'
He was much covered himself, Rufus and Chaka Khan taking 'Stop On By' into the R&B top ten and James Taylor remaking 'Woman's Gotta Have It,' mirrored by Womack's version of Taylor's 'Fire and Rain.' American funk band New Birth took his 'I Can Understand It' into the R&B top five, and Georgie Fame delivered a fine version of his song 'Daylight.' Womack, meanwhile, could even turn his hand to soul-country, even releasing a full album of country interpretations in 1976, 'BW Goes CW,' from which we include his take on Charlie Rich's 'Behind Closed Doors.'
A key moment in Womack's extraordinary rebirth of the '80s was his guest vocal on the excellent title track of 'Inherit The Wind,' the 1980 album by Crusaders saxophonist Wilton Felder. That led to Bobby's appearance on the Beverley Glen label with his own superb set 'The Poet' album of 1981, featuring 'If You Think You're Lonely Now.' It was followed by 'The Poet II' in 1984, with further gems such as 'Tell Me Why' and 'Love Has Finally Come At Last.'
Subsequent '80s albums for MCA included further highlights (notably 'I Wish He Didn't Trust Me So Much' on 1985's 'So Many Rivers') before another downturn in a career that had frequently been blighted by drug use. Bobby's latest rebirth owed a great debt of thanks to his admirer Albarn, who hired him for an atmospheric vocal cameo on the track 'Stylo' on the third Gorillaz album 'Plastic Beach.' It led to their full collaboration on Womack's hugely acclaimed 2012 album co-produced by Albarn and XL's Richard Russell, 'The Greatest Man In The Universe.'
Albarn and Russell will be among the producers on what will sadly now be a posthumous follow-up, to be titled 'The Best Is Yet To Come' and reported to feature a stellar cast including Stevie Wonder, Rod Stewart, Eric Clapton, Ronnie Wood, Ronald Isley, B.B. King and many others.
"I like freedom in music," he said in a 1973 interview, "and when you show freedom, then you got me." Bobby Womack was a free and soulful spirit, and his music will live long.
Paul Sexton, freelance journalist and broadcaster
Format:
UK English