TC3 Fire On All Cylinders In London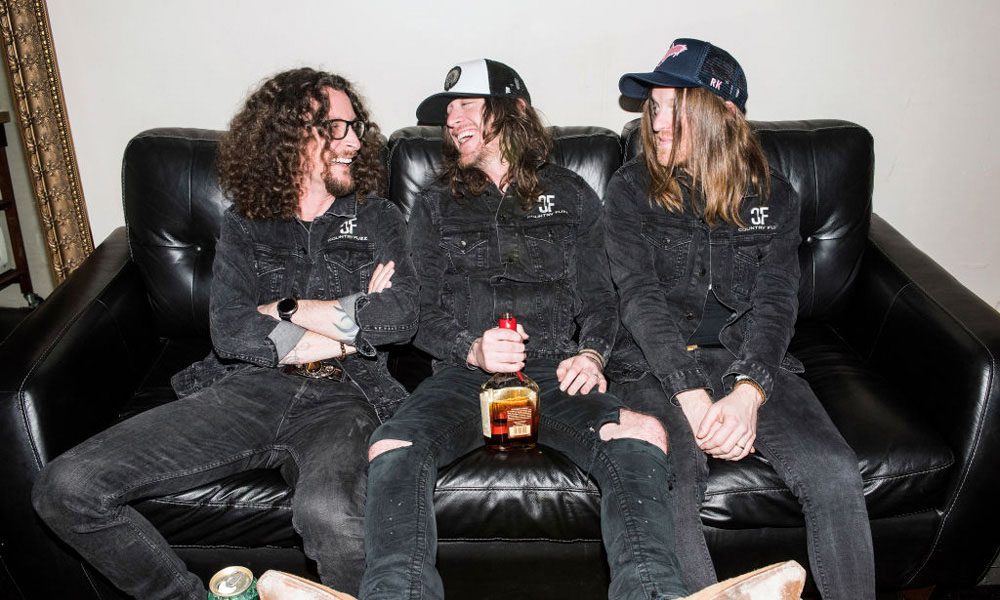 With their current US touring schedule continuing to keep them busy, The Cadillac Three were only able to fly in on the morning of this one-off London headline show, at the O2 Academy, in Islington, on 9 November. The last time the guys cut it this fine was at the Download Festival back in June… and their guitars failed to make an appearance. This time around, however, both band and equipment made it to the stage together – and both were smokin' hot…
After running through their usual pre-show ritual ('quila and a few beers), the Three took to the stage to the kind of reception typically reserved for heroes home from the front; this was the group's biggest UK headliner to date, and they were keen to honour the past while making it clear that new material is now in the can and a new album (the follow-up to 2014's Tennessee Mojo, and their second outing for the UK) on the way. With TC3 due back on these shores in early 2016, with East Texans Whiskey Myers in support, there is talk of a new single coming early in the new year, with the full album to follow by the spring. We shall see, but on the evidence of the two fresh tracks aired last night – 'Running Red Lights' and 'Graffiti' – something pretty special is being distilled, and sometimes these things take time…
'Running Red Lights' showed the more mellow side of the group's repertoire, proof once again that – as vocalist/guitarist Jaren Johnston likes to reminds us – rednecks also need love; a number in the vein of 'White Lightning', it rolled along like warm molasses, no drums needed to bring home the emotion. Meanwhile, 'Graffiti' probably stands as the most accessible song so far penned under the TC3 banner… It's a bit early to wheel out words like "classic", but it would take a wilfully cloth-eared individual not to recognise this as a potentially genre-busting breakthrough, pulling more from the band's love of Seger and Petty than hard rock or straight country. More will be heard of this one. Much more.
With new material rubbing shoulders with old favourites such as 'Tennessee Mojo', 'Get Your Buzz On' and 'Back It Up', this was by far the longest set ever played by the band on UK turf, and they were determined to shuffle the pack right from the start, with 'Days Of Gold' (a TC3 original, but a US hit for Jake Owens) leading the way, complete with Jaren's customary drum battle with kit-kicker Neil Mason. 'Life' was also a welcome addition (a track from the Tennessee Mojo album not aired in a while), while 'White Lightning' proved just as emotional a high-point as ever, with the sold-out crowd's singalong bringing a lump to the frontman's throat. (He does have a certain amount of form when it comes to getting watery-eyed about the song, having penned it in honour of his wife, Evyn.)
There was nothing unexpected about the set-closer, however. When Johnston wrote 'The South', he was looking to create a paean to his homeland in the spirit of Skynyrd's 'Sweet Home Alabama': something truly timeless; something 100 per cent real. And there's no question that it's a truly special track. However, as UK crowds have consistently shown, this is actually a song with universal appeal – an uplifting, hand-on-heart anthem about being proud of where you're from, wherever that is.
On a more regular night, the band – completed by Kelby Ray on lap steel and bass – might have added 'Down To The River' to round things off, but this was no regular night and there was just no way to follow the response 'The South' received. The Cadillac Three flew the Southern flag very high indeed in England's capital, and one jam-packed part of North London (its buzz squarely on) was ready to salute.
Words: Dante Bonutto / Photos: Tim Nicholson
Format:
UK English