Atlanta Rhythm Section
In a recording career that stretched from 1972 to 1999, the group produced a significant catalogue of "hard core muso" excellence, of which the chart hits were just the tip of the iceberg.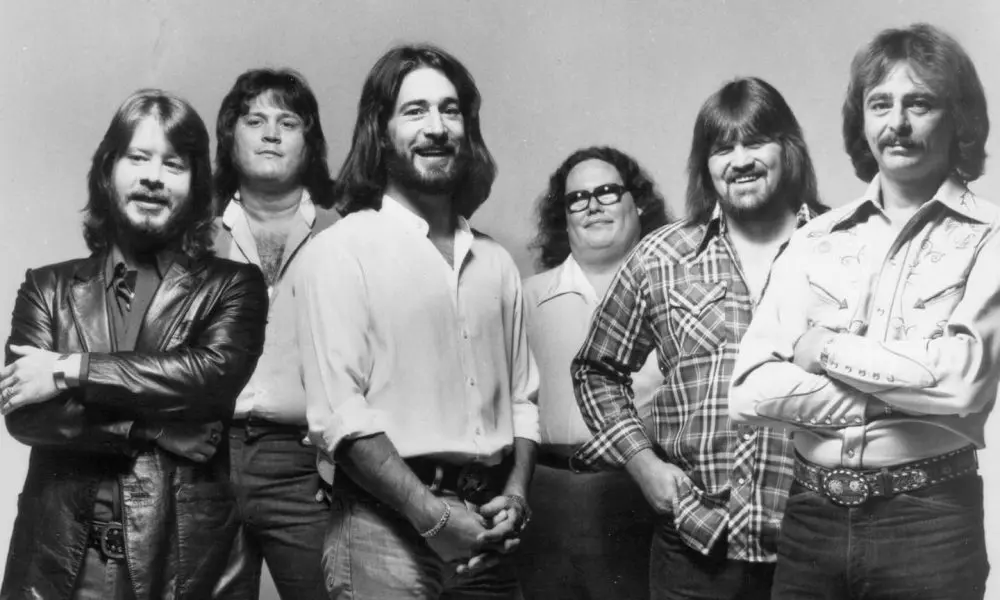 "Anybody can have the superstars, but we hardcore musos love the unheralded, the misunderstood, the acts with the goods that can blow almost everybody off the stage." So wrote the veteran industry commentator Bob Lefsetz in 2011 as he surveyed the legacy of the Southern rock phenomenon that was Atlanta Rhythm Section.
The six-man band from Doraville, Georgia were not superstars like the Eagles or Steely Dan although they certainly tasted mainstream success with a string of US hit singles in the 1970s that included 'So Into You', 'Imaginary Lover' and 'Spooky', and a platinum album, Champagne Jam, which charted at US No.7 in 1978.
But they could write, sing and play as well as any of the melodic-rock giants, and in a recording career which stretched from 1972 to 1999, Atlanta Rhythm Section produced a significant catalogue of "hardcore muso" excellence, of which the chart hits were just the tip of the iceberg.
Atlanta Rhythm Section was assembled in 1971 by the producer, songwriter and manager Buddy Buie from a pool of session musicians who worked at Studio One, a recording facility in Doraville, near Atlanta, Georgia. The line-up which featured on the band's first album, Atlanta Rhythm Section, released in 1972, comprised Rodney Justo (vocals), Barry Bailey (guitar), James B. Cobb (guitar), Paul Goddard (bass), Dean Daughtry (keyboards) and Robert Nix (drums). The album was produced by Buie who also co-wrote many of the songs on this and indeed all of the albums recorded by ARS.
Buie's plan was to spin a hit single from the first album and get the band out of their studio haunts and on to the road. But although geographically well-placed to benefit from the spotlight that was by then shining on regional stars such as the Allman Brothers Band, Lynyrd Skynyrd and others, Atlanta Rhythm Section was not your typical Southern rock-a-boogie band. Their songs were elegantly crafted with funky keyboard fills, creamy, virtuoso guitar licks and Justo's melodic vocal lines well to the fore. Despite the great chops, the album was not a commercial success. After a tour supporting Deep Purple and Buddy Miles, the band returned to the day job in Studio One, but without Justo, who took off in search of more lucrative work on the New York session scene.
The band did not have to go far to find Justo's replacement. Ronnie Hammond was an assistant engineer at Studio One, who was also a multi-instrumentalist and an accomplished session singer. Buie invited him to join ARS as the lead vocalist and Hammond obliged, announcing his presence in no uncertain terms with the band's second album Back Up Against The Wall (1973).
The late Ronnie Van Zandt of Lynyrd Skynyrd is reported to have called Hammond the best singer he'd ever heard, a view echoed by many of those in and around the group. "He was largely responsible for a lot of our success," said guitarist James B. Cobb, who co-wrote many of the songs which Hammond sang with deceptive ease and good-old-boy passion. The title song of Back Up Against The Wall, a Buie/Cobb composition all about barroom brawls and last-ditch stands, plugged into the Southern "outlaw" mythology with a typically stylish flourish and was later covered by country singer Travis Tritt.
With Hammond on board, the band began to find its feet, but commercial success remained elusive. 'Doraville', a single taken from their third album Third Annual Pipe Dream (1974), finally gave them a foothold in the US chart, reaching No.35. A song about their hometown in Georgia, 'Doraville' also played a key part in defining the band's identity and affiliations. Studio One had become a focal point for the Southern rock scene. It was where Lynyrd Skynyrd recorded 'Free Bird', 'Sweet Home Alabama' and 'Saturday Night Special', and while ARS generally favoured a sweeter, more easy-listening approach in their own music, their hearts were very much in that same authentic place. "Red clay hills, rednecks drinking wine on Sunday," Hammond sang. "Doraville, touch of country in the city/Doraville, it ain't much but it's home."
Having taken a promising first step up the chart ladder, ARS promptly took two steps back, or so it seemed, with their next two albums, Dog Days (1975) and Red Tape (1976), neither of which reached the US Top 100 or provided a hit single. But to dedicated fans of the band, these albums were where the deep stuff was to be found. 'Another Man's Woman' from Red Tape was a ten-minute track that Lefsetz compared to 'Stairway To Heaven'. "The tracks we liked best in the 1970s were mind-benders that started one place and took us to quite another," he explained, as he hymned the delights of the ARS arrangement "with its epic wailing, the intertwining playing, weaving a tapestry that was so tight you could bounce a coin on it and be so amazed that you kept doing so."
Atlanta Rhythm Section finally broke through to mainstream success with their sixth album, A Rock And Roll Alternative (1976), an accessible mixture of country, rock and pop delivered with the band's trademarked brand of spit and polish. The album housed their biggest hit single, 'So Into You', an easy-listening, light-but-funky mating call that sailed to No.7 in the US chart, hauling the album up to US No.11 and gold status in its wake. The stage was set for Champagne Jam (1977), the band's most successful album and the last to feature the classic ARS line-up.
"Champagne Jam is characterized by its smoothly melodic musical attack, with Ronnie Hammond's honeysuckle voice gloating atop a firm rhythm section that is periodically goosed by Barry Bailey's razor-sharp lead-guitar lines," said Rolling Stone in a review which grudgingly recognised the gilt-edged musicianship on display while bemoaning the band's inability to realize "the more undefinable aims of art (growth, spontaneity, et al)." Never a favourite of the critics even when they were an under-the-radar, cult act, at least ARS could now take comfort from having successfully realised the very clearly definable aim of selling substantial quantities of records.
Champagne Jam reached No.7 in the US chart, where it stayed for 40 weeks and was certified platinum (for sales of 1,000,000 copies). It housed a string of hit singles including 'Imaginary Lover', 'I'm Not Gonna Let It Bother Me Tonight' and 'Champagne Jam'. The band's ship had finally come in and it stayed in port for the follow-up Underdog (1978). It was an altogether more mellow collection, notable for the US Top 20 hits 'Do It Or Die' and 'Spooky'. The latter was a remake of a song with lyrics written by Cobb and Buie, which had been a US No.3 hit in 1967 for Classics IV, a band with whom Cobb and Buie had played in the 1960s before they started ARS. Underdog reached No.26 in the US chart and was certified gold. And 'Spooky' enjoyed the rare distinction of an entry in the UK chart at No.48.
But while ARS maintained their rigorous standards of excellence in all departments – performance, production, songwriting – the tectonic plates of popular taste were shifting beneath their feet. The arrival of punk and new wave music, which had weighed so heavily against them in the UK, now began to infect American tastes and although the band continued to put out albums that were just as musically accomplished as during their 1970s heyday, The Boys From Doraville (1980) and Quinella (1981) both stalled outside the US Top 60.
After that, with the 1980s closing in on them, the band lost direction and impetus. Various members – Hammond, Goddard, Cobb and others – drifted in and out of the line-up at different times before Hammond and Buie grabbed hold of the reins to write every track bar one on the band's 1989 album Truth In A Structured Form. This rather uncharacteristic collection of 1980s-influenced songs did not arrest the band's decline and it was to be another decade before they released their final studio album, Eufaula (1999), named after the city in Barbour County, Alabama, where Buie would eventually go to retire. Another collection of classic, smooth, Southern soul-rock songs crafted with meticulous attention to detail by Buie and various members of the group, Eufaula is fondly regarded by hardcore ARS fans, of which there are still many.
The band has continued to tour to the present, with Daughtry now the only member of the original line-up still in place, along with Justo who returned to semi-active service with the band in 2007. Sadly, many of those who graced Atlanta Rhythm Section with their supreme musicianship over the years will not be making a comeback, including Hammond who died of heart failure in 2011, Nix (cancer, 2012), Cobb (heart attack, 2019), Goddard (cancer, 2014) and Buie (heart attack, 2015). Thankfully, their music lives on.
Words: David Sinclair
Format:
UK English