The History Of Recorded Jazz
The history of recorded jazz is hard to pin down. So many conflicting stories make up a rich patchwork that guides us towards the truth of how jazz began.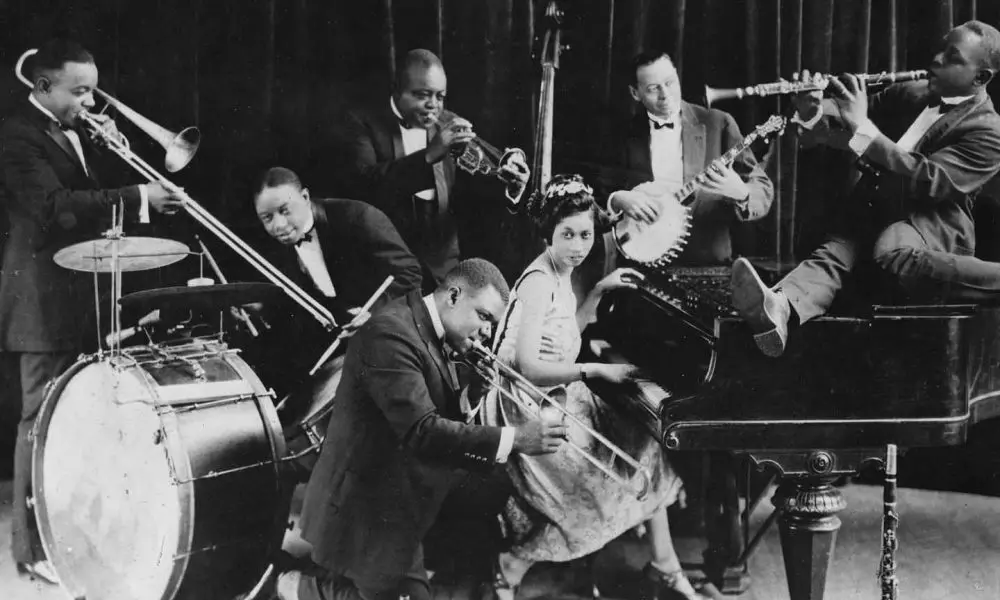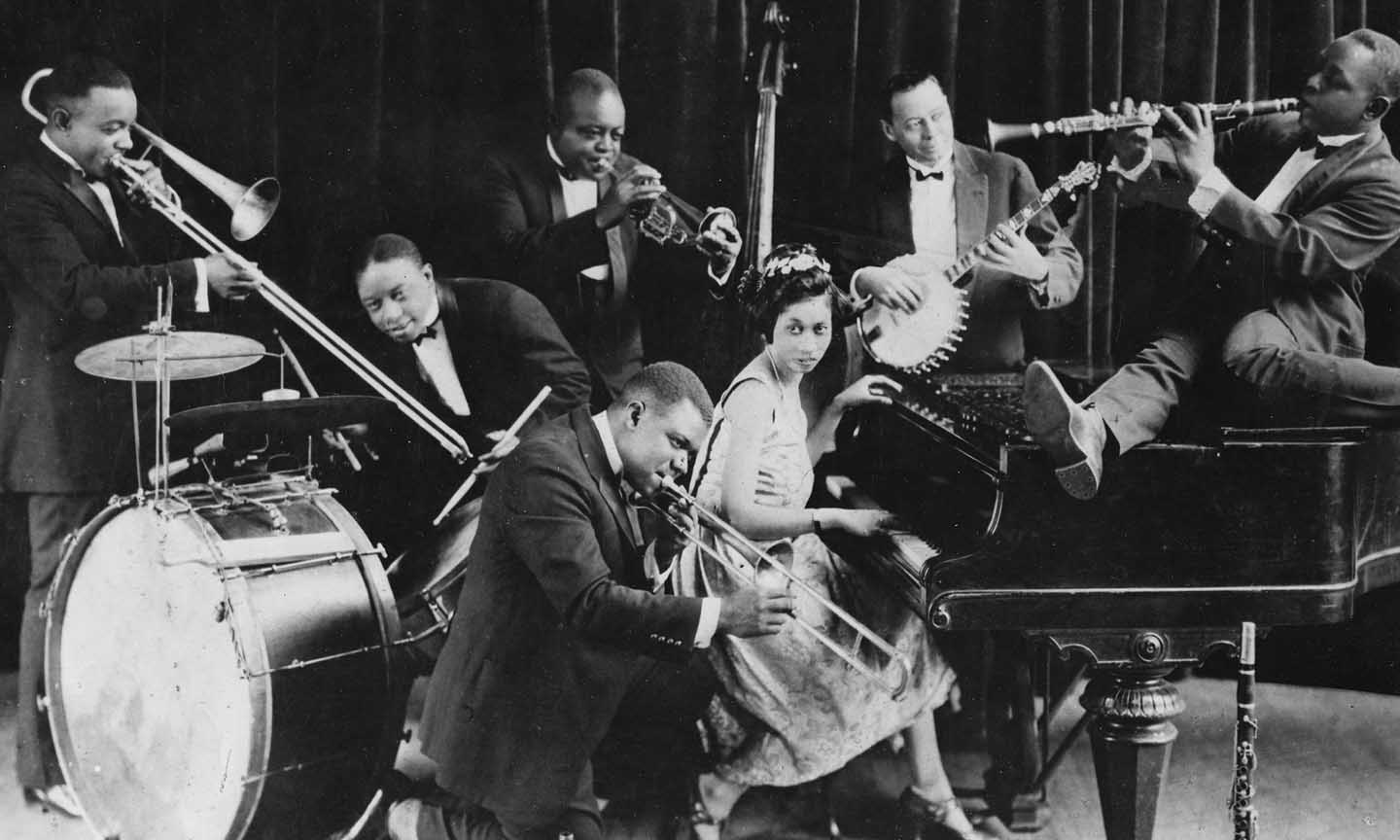 So much of our history is about establishing records: we are fascinated by who was first to do a particular thing. Yet all too often the history that's passed down is actually less accurate than we would like it to be. As the popular truism goes, "History is written by the victors," and the history of recorded jazz is no different.
The first recorded jazz band
Most of those who have written about it will tell you that The Original Dixieland Jazz Band was the first band to record a jazz record, in late February 1917.
The Original Dixieland Jazz Band were white musicians who had played together as Papa Jack Laine's Reliance Brass Band in New Orleans; a band that always included Black as well as white musicians. In 1916, a promoter recruited some of Laine's group to go north to Chicago to play, and in January 1917 they secured a gig in New York City at Reisenweber's Cafe.
This led to the British-owned Columbia Graphophone Company recording them, but the company found their playing so unappealing that they rejected the idea of issuing any records. Sharply divided opinions were – and always have been – at the heart of jazz.
The Original Dixieland Jazz Band was billed as The Original Dixieland "Jass" Band on the recording they made for RCA Victor in New York City on February 26, 1917. The challenge for Victor was to make the recording sound like the music they heard when the band played, despite it being recorded through a huge pick-up horn. Their novel solution was to place the musicians at various distances from the horn, the drummer being furthest away and the pianist closest. The challenge of capturing a true representation of a jazz performer has continued well into the hi-fi age.
Victor released "Dixie Jass Band One Step" and "Livery Stable Blues" in May 1917, which to our ears may not sound like jazz as we know it. During 1917 and 1918, the band, led by cornetist Nick LeRocca, recorded frequently and had changed their name to The Original Dixieland Jazz Band – partly through their success and partly because they passed it off as truth, the group became accepted as the first band to make a jazz record.
The truth is that a number of other artists could make that claim. There was Arthur Collins and Byron G Harlan, who released "That Funny Jas Band From Dixieland" in April 1917; it's just as jazzy as the ODJB. Borbee's "Jass" Orchestra recorded two songs nearly two weeks before the ODJB entered the studio, but they did not get released until July 1917. Like the ODJB, both these artists were white.
The first Black musicians to make a jazz record
Among the contenders for the first Black musicians to make a jazz record are pianist Charles Prince's Band, who recorded "Memphis Blues" in 1914, and then in 1915 he became the first to record a version of WC Handy's "St Louis Blues." In April 1917, Charles Prince's Band recorded "Hong Kong," a "Jazz One-Step." Not to be outdone, WC Handy's band were making recordings in September 1917. There was also Wilbur Sweatman's Original Jass Band, and the Six Brown Brothers in the summer of 1917, though there is a debate as to whether some of these records are jazz or its close cousin, ragtime.
"Just how the Jazz Band originated and where it came from is very hard to say. It hit New York during the winter of 1916-17 and once it got on Broadway it stuck. It is there yet and none of the great 'Tango Palaces' can be considered complete without it. Frisco's Jazz Band is as 'jazzy' as they come. It is the newest and smartest thing in modern music. If you have never danced to a 'jazz' you have a real treat in store." – From the paper sleeve of The Frisco Jazz Band's Edison recording of May 1917
Throughout the 20s, jazz took hold and New York became the recording – and arguably the jazz – capital of the world, following the music's early development in New Orleans, Chicago, Kansas City, and other industrial cities. In the early days, there were Black Swan Records, ARC Records, Gennett, OKeh, Paramount, and a whole host of other labels that took jazz, blues, and country artists into the studio to cut records – in fact, any performer who the early music moguls thought might sell records.
Louis Armstrong
Louis Armstrong arrived in Chicago in early August 1922 to play with King Oliver's Creole Jazz Band, and in April the following year they went to Gennett's studio at the Starr Piano factory to record the first of 28 sides that were to make history. These were not just Louis Armstrong's first recordings, but also the first real jazz records by a Black band, playing the kind of music that nightly entertained the crowds at Chicago's Lincoln Gardens. Later in the year Jelly Roll Morton also went to Richmond to record some of his early classics – he always told everyone he was the first musician to record jazz.
In June 1924, Armstrong quit the Oliver band and, a few months later, in September, Fletcher Henderson, who led the most prestigious Black band in America, lured him to New York. Henderson's orchestra had made their first record in the summer of 1921; just a week after Louis joined, the eleven-piece outfit were recording in a New York studio.
As well as recording with Henderson's Orchestra, Louis earned extra money, and gained valuable experience, working as a session player for, among others, Alberta Hunter, Virginia Liston, and Maggie Jones, as well as Bessie Smith, who was building a reputation that earned her the title Empress Of The Blues. Louis played the haunting trumpet refrain on Bessie's version of "St Louis Blues," recorded in January 1925.
By the latter part of the decade, The Dorsey Brothers Orchestra were big sellers on record for OKeh and Decca. When the two brothers went their separate ways, the Jimmy Dorsey and the Tommy Dorsey Orchestras were rarely off the charts. Not to be outdone, Louis Armstrong switched from fronting the Hot Five and Hot Seven to calling his band The Louis Armstrong Orchestra. Around the same time, Duke Ellington began his residency at New York's famed Cotton Club, while simultaneously releasing a string of fantastic records that sold in large numbers.
Radio, cinemas, and clubs
Radio helped spread the popularity of all the big bands: with nightly live broadcasts from the top hotels and ballrooms in New York, Chicago, and other major cities, jazz was well and truly in the mainstream. The fact that recording techniques had switched from the acoustic method used by the ODJB to embrace the advances of the electric era helped to make recordings even more popular, not least because they sounded so much better.
Shows at cinemas that featured bands, singers, comedians, jugglers, and acrobats, in addition to the movies, provided another showcase for what was often a whiter kind of jazz. The biggest of the big bands played them – Benny Goodman, Tommy Dorsey, Woody Herman, who, by the late 30s, could gross as much as $50,000 a week. Other bands, including Artie Shaw's and Charlie Barnett's outfits, dominated the hotel circuit that featured on the radio. Every one of them released record after record to capitalize on their fame and to satisfy the increasing appetite of fans, especially those who listened on jukeboxes.
Prohibition, which began in America in 1920, was partly responsible for creating the club scene on New York's 52nd Street. On the section between Fifth and Sixth Avenues, the brownstone buildings housed basement clubs where people heard a very different type of jazz from that played on the radio. This was almost "underground" jazz, often played by smaller bands that, in some cases, were experimenting with the form. By the mid-30s, clubs including The Famous Door, The Three Deuces, The Hickory House, and the original Kelly's Stables, on 51st Street, were in full swing, and performers including Sidney Bechet, Art Hodes, and Earl "Fatha" Hines, played "hot jazz" in their small, smoky interiors. Soon these artists were also making records.
Jukeboxes
Just as the clubs – big and small – and the ballrooms were important to the whole music business, the key issue for recording companies as well as performers was the making and selling of records. The musicians weren't motivated by royalties and recording fees; if they had been, none of them would have made much money. Releasing records was simply a way of raising a performer's profile to secure more lucrative gigs. Unlike the post-World War II years, when record sales reached the dizzy heights brought about by a more affluent society, in this period the focus was on records that could be played on jukeboxes.
Prohibition ended in December 1933, inadvertently creating the opportunity for the proliferation of jukeboxes across America. Bars and cocktail lounges were opening just about everywhere, and they needed music. Six months later, Billboard magazine published its first survey of the most-played songs on network radio. The following year, in April 1935, the NBC radio show Your Hit Parade, which ranked songs according to sheet music and record sales, was broadcast for the first time. That November, Billboard revealed a new chart covering record-company best sellers.
Jukebox manufacturers, such as Wurlitzer and Rock-Ola, found it hard to keep up with demand, and by late 1938, with well over 200,000 jukeboxes in use in America, Billboard featured a new chart. "The Record Buying Guide" was a weekly survey of the most popular records on jukeboxes around the country, and the first No.1 was Duke Ellington's "I Let A Song Go to My Heart," released on the Brunswick label.
Early record labels
The record business was dominated by big companies that released a steady flow of music in styles that were designed to appeal to all and sundry, from New York sophisticates to Southern blues-loving audiences, or country-music fans from the Carolinas or Kentucky. The Radio Corporation Of America (RCA) bought the Victor Talking Machine Company in 1929 and then launched the Bluebird label, selling lower-priced records featuring blues artists such as Tampa Red, country superstar Jimmie Rogers, and, from 1935 onwards, Glenn Miller's band.
When Columbia was taken over by CBS, in 1938, this set up a chain of events that saw the company divest itself of the Brunswick and Vocalion labels, which were subsequently bought by Decca Records in 1941. The British label had established its American operation in 1934, and among Decca's early signings were Louis Armstrong and Chick Webb's Orchestra, along with Chick's young vocalist, Ella Fitzgerald.
And then along came Commodore Records. Milt Gabler began working in his father's business, the rather grandly named Commodore Radio Corporation, on 42nd Street, in the early 30s. By 1935, Gabler renamed the family store the Commodore Music Shop and began to license old jazz recordings from the major labels, in order to reissue them. The store also became a magnet for the New York jazz crowd, fans, and musicians alike; in 1937, Gabler opened a new shop, on 52nd Street.
Commodore released records by artists as diverse as Coleman Hawkins, Sidney Bechet, Ben Webster, Teddy Wilson, and Willie "The Lion" Smith. In April 1939, the label recorded arguably its most important release, Billie Holiday's "Strange Fruit." The record company executives at Vocalion, Holiday's label, found the song's subject matter – the lynching of a young Black man in the southern states – so sensitive that they refused to release it and Gabler seized the moment.
Blue Note Records
On January 6, 1939, Alfred Lion, a young German émigré who frequented Commodore Records, was about to make history with a studio engineer and two boogie woogie pianists when they embarked on the first-ever recording session for what would be called Blue Note Records. Albert Ammons and Meade Lux Lewis recorded 19 takes and, two months later, BN 1 (two slow blues tunes, "Melancholy" and "Solitude," performed by Lewis) and BN 2 (the quicker "Boogie Woogie Stomp" and "Boogie Woogie Blues," by Ammons) were released. With no real distribution in place, Lion sold these records by mail order, at $1.50 each, which was double the standard retail price for a 10" record. Lion pressed just 25 of each disc – hardly an ambitious release schedule.
Through his friendship with Milt Gabler, Lion persuaded Commodore Music Shop to sell Blue Note's records – but two releases do not make a label. Five weeks after their first two discs came out, Lion was back in the studio to capture Blue Note's second session. This one was a full-blown affair, led by trumpeter Frankie Newton and trombonist JC Higginbotham. Albert Ammons played piano, Teddy Bunn was on guitar, Johnny Williams on bass, and "Big Sid" Sidney Catlett, played drums. The same group was back in the studio in June, though this time Meade Lux Lewis played piano. Making up the septet was Sidney Bechet, who cut "Blues For Tommy," then recorded a version of George Gershwin's "Summertime." This was a pivotal moment in the history of Blue Note: "Summertime" became a big seller, allowing the label to continue.
Norman Granz
The war years were tough for Blue Note – and many other labels – and with Lion having to join the army, their releases became intermittent. It wouldn't be until after 1945 that the label began to hit its stride. In 1944, on America's West Coast, another son of immigrants, Norman Granz, was developing his Jazz At The Philharmonic concert series. This would not only revolutionize live jazz, but would create a series of record labels that, like Blue Note, changed the face of recorded jazz.
The first Jazz At The Philharmonic record releases were issued through Asch Records, on 78rpm discs, in 1945. Later, when Granz started his Clef imprint under the wing of Mercury Records, he collected some of his later Philharmonic recordings into 78rpm albums that featured the beautiful cover art of David Stone Martin. In 1949, Granz issued a set of recordings in a 78rpm album he called The Jazz Scene, reflecting on what was happening in music at that time. This was the first "deluxe" album issue and featured individually numbered releases, all signed by Granz.
Launched in 1947, Clef's purpose was to record many of the artists that appeared on Jazz At The Philharmonic releases. Six years later, he started Norgran Records in order to exploit what he saw a "cooler" stream of jazz. Around this time, jazz labels across America were both excited and challenged by the opportunities afforded by the coming of the long-playing record, in 1948. The excitement came from a newfound freedom to record longer pieces of music that were the mainstay of live jazz performances, which the length of the 78rpm had constricted on record. The challenges were for smaller, independent labels such as Blue Note and Verve to repackage their existing material on 10" LPs, for which they needed artwork and colored sleeves that added additional costs for companies that were already financially stretched.
Prestige, Riverside, and Fantasy
Other independent labels sprang up in the wake of the long-playing record, all run by committed individuals who loved jazz. Bob Weinstock started Prestige in New York City in 1949, and their catalogue included John Coltrane, Miles Davis, Stan Getz, Gene Ammons, Thelonious Monk, and Sonny Rollins. The label was much like Granz's imprints, for which spontaneity was everything, rather than the Blue Note policy of paying musicians to rehearse prior to recording.
Another early independent was Riverside, launched in 1953 by Orrin Keepnews and Bill Grauer. To begin with, their approach was not dissimilar to Commodore's two decades earlier, in that Riverside reissued old jazz recordings from the Paramount and Gennett labels (early albums featured Jelly Roll Morton and King Oliver). However, by the following year they were issuing contemporary recordings, and in 1955 they bought out Prestige's contract with Thelonious Monk. Other artists that recorded for Riverside include Cannonball Adderley, Bill Evans, and Wes Montgomery.
Fantasy Records also began in 1949, having been founded by brothers Max and Sol Weiss, initially to release Dave Brubeck's early recordings. Brubeck believed he had a 50 percent interest in the company and worked as an unofficial A&R man, bringing Gerry Mulligan, Charles Mingus, Chet Baker, and Red Norvo to the label. When Brubeck found out he only owned 50 percent of his own recordings, he left and signed with Columbia.
Today, Prestige, Riverside, and Fantasy are all part of the Concord Music Group, and many of their iconic releases have been reissued under the banner of Original Jazz Classics – few catalogue reissue series are more aptly named.
Columbia Records
With a long and illustrious history, Columbia Records was very much a mainstream company through the 50s and 60s, but that did not stop them from issuing some of jazz's most notable releases. Under the watchful eye of George Avakian, Louis Armstrong released a string of fine recordings for the label in the 50s. Other releases featured wonderful cover art by Jim Flora, highlighting the fact that jazz album artwork was at the cutting edge during this period. In addition to signing Dave Brubeck and releasing his hugely popular album Time Out album in 1959 (it includes "Take Five"), they signed Miles Davis and released the first of dozens of seminal albums by the trumpeter, including, that same year, Kind Of Blue, an album which remains, for many, the greatest jazz album of all time.
During the late 60s and early 70s, Miles Davis pioneered the fusion of jazz and rock music with 1969's In A Silent Way and the following year's Bitches Brew. By 1973, pianist Herbie Hancock had also signed to Columbia, releasing his standout Headhunters LP, which heralded a string of fine albums over the next two decades.
Atlantic Records
Today, Atlantic Records is synonymous with classic rock, as well as great soul singers including Aretha Franklin, but in its early days, jazz was pivotal to the label's success. In the late 40s and early 50s they released records by Art Pepper, Shelly Manne, Erroll Garner, Howard McGhee, Dizzy Gillespie, Sarah Vaughan, Mary Lou Williams, Django Reinhardt, Earl Hines, Meade Lux Lewis, and Johnny Hodges. By 1955, Ahmet Ertegun, one of the founders of Atlantic, persuaded his older brother Nesuhi, who in the 30s had taken teenage Ahmet to see Duke Ellington in London, to run the label's jazz division. Nesuhi began signing West Coast artists, including Jimmy Giuffre, Herbie Mann, and Les McCann, later adding Charles Mingus, John Coltrane, and the Modern Jazz Quartet to the label's roster.
Blue Note and Verve
Two record labels above all others have shaped the direction and sound of jazz: Blue Note and Verve. Once Blue Note started recording Thelonious Monk in 1947, followed by Art Blakey, Howard McGhee, and Fats Navarro, they laid down a marker. Bebop was now their stock-in-trade and, as the 50s came along, the label established itself as a purveyor of the finest in modern jazz. Bud Powell, Sonny Rollins, Miles Davis, Jackie McClean, Clifford Brown, Horace Silver, Hank Mobley, Sonny Clark, Jimmy Smith, Cannonball Adderley, and Donald Byrd all recorded for Blue Note; even John Coltrane recorded a one-off album for the label, Blue Train, in 1957. It wasn't just the revolutionary sound of Blue Note's records, but also the cover art created by Reid Miles, using the photography of Francis Wolff, that set the gold standard for so many jazz fans.
In December 1955, Norman Granz started Verve in order to bring all his recordings together in one place, and to release the groundbreaking Songbook series by Ella Fitzgerald. During the second half of the 50s, Verve released repacked albums from the Clef and Norgran imprints, including the brilliant Genius Of Charlie Parker series, alongside new recordings by Billie Holiday, Anita O'Day, Dizzy Gillespie, Sonny Stitt, Gene Krupa, Gerry Mulligan, Oscar Peterson, Louis Armstrong (some classics with Ella), Herbie Mann, Stan Getz, Coleman Hawkins, Ben Webster, Mel Tormé, Count Basie, Tal Farlow, Blossom Dearie, and many others.
But in 1960, having moved to Switzerland, Granz sold Verve to MGM Records and precipitated a trend that would be followed by just about every independent jazz label thereafter. Creed Taylor was appointed its head, with the aim of "Preserving and enhancing the great image of Verve." He had been recruited from Impulse! and, prior to that, had worked at ABC-Paramount Records. Earlier still, he worked at Bethlehem for two years, where he recorded Charles Mingus, Herbie Mann, and the JJ Johnson-Kai Winding Quintet.
Impulse!, ECM, and beyond
ABC-Paramount had given Taylor the go-ahead to set up Impulse!, and one of his first four releases was Genius + Soul = Jazz by Ray Charles. From that album, they released "One Mint Julep" in early 1961, and it made No.8 on the Billboard Hot 100 singles chat. Ironically, however, by that time Taylor was at Verve, having been lured away by a bigger roster of artists and a more lucrative contract. Impulse! would go on to sign John Coltrane, whose 1965 album A Love Supreme would become another jazz landmark.
Almost immediately, Taylor struck gold at Verve, recording Stan Getz's bossa nova outings, particularly the Getz/Gilberto LP that came out in 1964 and made No.2 on the pop album charts, arguably doing more than any other record to turn people into jazz fans.
During the 60s, Blue Note was also swallowed up by a larger label, and, in the years since, small imprints with a heritage steeped in recorded jazz have been bought and sold by larger labels, resulting in this vast reservoir of music residing with one of the three major record labels. The upside of this are lovingly compiled reissues of these wonderful recordings, often coming with previously unreleased material.
But independent labels continue to succeed. The German ECM label, established – and still run by – Manfred Eicher, is much loved by fans for its eclectic release schedule. Nonesuch is another notable label, along with other smaller esoteric imprints. Meanwhile, Verve, Blue Note, and Impulse! are all strong labels within the Universal Music Group, continuing to release great jazz from some of today's younger artists, as well as some of the old stalwarts who still ply their trade.
Follow the Jazz Giants playlist for more of the greatest jazz ever recorded.