'Space Is The Place': How Sun Ra Sowed The Seeds For Afro-Futurism
The story behind the avant-garde jazz pioneer's iconic 1973 album.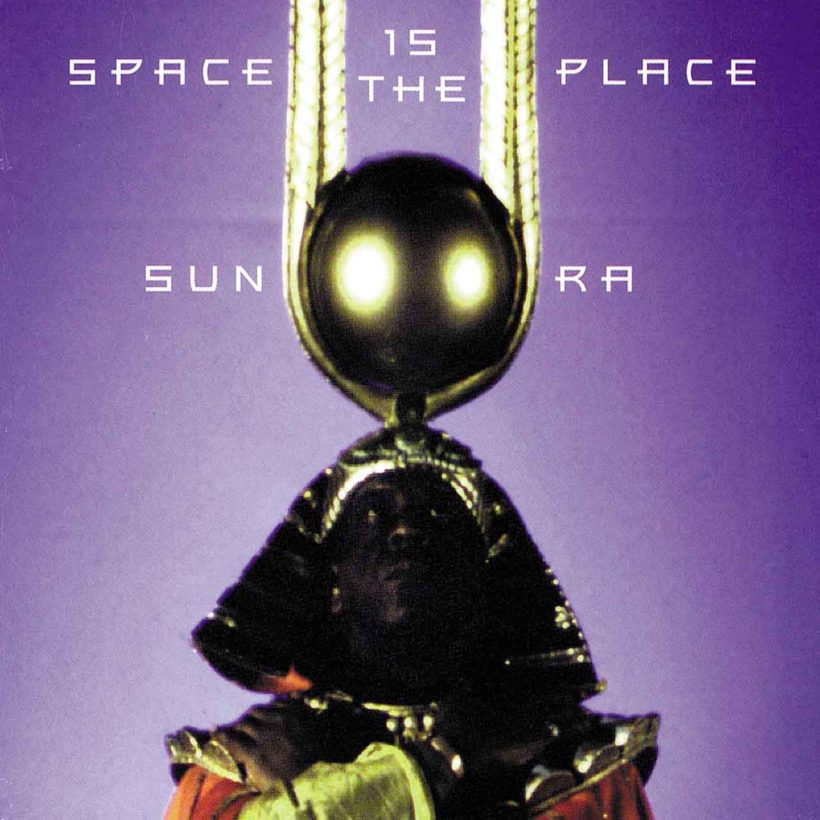 The pianist, composer, and bandleader Sun Ra was not only one of the most enigmatic figures in jazz, but also one of its most outrageously flamboyant and colorful. Once memorably described in Rolling Stone magazine as "the missing link between Duke Ellington and Public Enemy," Ra began building a space-themed musical universe in the 1950s. Over the course of the rest of his career, he recorded almost 200 albums. One of the most famous of those records was 1973's Space Is The Place.
Considered too eccentric for the jazz mainstream, Ra had been largely ignored aside from a small coterie of devoted fans until the late 1960s, when the more open-minded counterculture generation, smitten by the free spirit of avant-garde jazz as well as acid rock, helped take him out of the underground and onto the radar of a broader listening public.
Listen to Sun Ra's Space Is The Place now.
After years of releasing music in limited edition pressings with handmade covers on his small El Saturn label, in 1972 Ra came into the orbit of Ed Michel, a producer at Impulse! Records. Michel, whose credits included avant-garde trailblazers Archie Shepp and Pharoah Sanders, was a Ra fan and proposed that Impulse license and reissue some of the bandleader's back catalog; more importantly, he also wanted Ra to make some fresh recordings.
Impulse!'s involvement enabled Sun Ra's music to reach more people than ever, but much to Michel's dismay, his label's interest in the bandleader quickly cooled and the deal was nixed before all the records scheduled for release appeared in the marketplace. A disappointed Ra recalled: "Impulse! was going to spend almost a million dollars in publicity. They were going to put out fourteen LPs at one time. Something happened where they didn't keep their contract."
That wasn't the end of Michel's working relationship with Ra, however. Not long after the Impulse! deal soured, the producer received a phone call from Bob Krasnow, co-founder of a young label called Blue Thumb Records, who asked him if he'd like to produce a Sun Ra album for them. The result was Space Is The Place, a totemic work in Ra's enormous discography.
The seeds for the album began earlier in 1972 when Ra was persuaded by film director John Coney to feature in an 85-minute movie titled Space Is The Place about his life, music, and beliefs. What resulted was a bizarre but visually arresting collision of documentary and science fiction that included animation and also a nod to the then-in-vogue blaxploitation genre. The title track of the movie's soundtrack was a short piece that Sun Ra decided to revamp and expand for his Michel-helmed Blue Thumb album.
During a one-day recording session at Chicago's Streeterville Studios in October 1972, Ra, accompanied by his nineteen-piece "Intergalactic Infinity Arkestra," made Space Is The Place's title track into a 21-minute widescreen epic defined by eerie Moog synthesizer bleeps, wailing saxophones, and singer June Tyson's astral vocals. An anthemic celebration of the cosmos, the track took up the whole of side one of the album. On side two, Ra showcased four shorter tracks; among them, the wildly cacophonous "Sea Of Sound" and a short, explosive melee of voices and instruments called "Rocket Number Nine."
Space Is The Place was released in 1973 with a lavish gatefold cover that used a photo still from the movie, depicting a regal-looking Ra wearing his trademark flowing robes and an ornate, Egyptian-influenced headpiece topped off with what resembled radar antennae. On the LP's inside cover, there were quotes from Ra's book of esoteric poetry The Immeasurable Equation.
As it was released on a major label, Space Is The Place was easier to track down in record stores than many of Ra's independently pressed albums and consequently became an accessible touchstone for several generations of curious musicians. Rock groups like MC5, Sonic Youth, and Spiritualized fell under Ra's spell, while the album's prescient Afrofuturist leanings and distinctive iconography had a profound impact on Black music and culture. Everyone from Parliament-Funkadelic and Earth, Wind & Fire in the 70s to Erykah Badu in the 90s, and, more recently, Janelle Monae and Flying Lotus have spoken admiringly of Sun Ra.
In truth, there is no better entry point into the mysterious parallel universe that Sun Ra inhabited than this one. For its creator, though, Space Is The Place was much more than an album or movie title; it was a mantra that reflected his belief that humanity was part of something much bigger, better, and altogether more cosmic in nature. For Sun Ra, space wasn't the final frontier but the starting point for humankind's date with destiny and a higher extraterrestrial power.