French Fries & Champagne and Hot Sardines…The Perfect Combination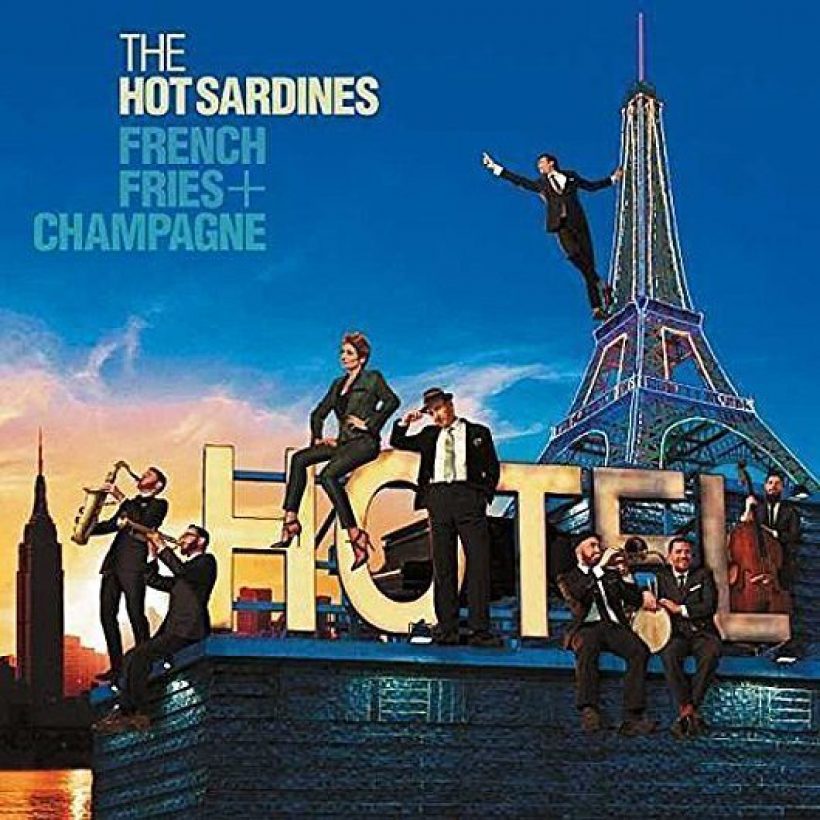 There's long been a saying – that is something of a cliché even – that says nostalgia will never die. But like so many clichés, the reason it rings so true is that there's more than a truckload of truth in the statement. There are no singers, bands or anyone playing music that does not have a sense of where they came from musically, and as the old saying goes, if you know from whence you came, there is no limit to where you can go.
Anyone lucky enough to have seen The Hot Sardines play live will know that they are gifted musicians, ones that can all play and perform superbly, but they do with a sense of love and respect for the music they perform. This reverential love for the music of years gone by is what their new album is all about. French Fries & Champagne is eleven songs that all sound like you're being taken on a trip back to the days of Ella, Louis, Dinah, Billie, and even that other Louis… Mr Prima himself.
Formed by bandleader, Evan "Bibs" Palazzo and lead singer "Miz Elizabeth" Bougerol, The Hot Sardines second studio album, French Fries & Champagne is released tomorrow (June 17). The record comes on the heels of their critically acclaimed self-titled debut album, which was named one of iTunes' best jazz albums of 2014 and spent more than a year on the Billboard Jazz Chart.
What is so clever about this record is the way that originals and covers blend seamlessly. There's a vibe of New York's 52nd Street, Parisian cabarets and New Orleans' French Quarter. Among the highlights is Alan Cumming, the Tony Award-winning and two time, Emmy and Golden Globe nominee, dueting with with Elizabeth on 'When I Get Low, I Get High.' The song was originally recorded in April 1936 at Decca's studio in New York City by Chick Webb and his Orchestra, featuring the 18 year old Ella Fitzgerald; it was written by the wonderfully named Marion Sunshine who was an actress, who was nicknamed "The Rhumba Lady."
The album title track is one of several originals including Evan's instrumental homage to his old neighbourhood, 'Gramercy Sunset,' and 'Here You Are Again,' a woozy, country-leaning track written by Elizabeth. The jazz standard 'Comes Love' starts as a minuet before Elizabeth, singing in her native French, conjures up spirits from the roaring '20s. Perhaps most surprising of all is the band's take on Robert Palmer's 1985 classic 'Addicted To Love', which fits perfectly the overall feel of the recording.
Produced by Eli Wolf (Elvis Costello and Norah Jones), the collection celebrates real music played by real instruments; it all sounds like it was recorded in one take, with everyone laying down their chops in perfect syncopation. As if to prove the point the band take their captivating live show on a US tour this summer. French Fries & Champagne and their live shows demonstrate the sheer joy they bring to music, both new and old.
You want the perfect record for summer? Look no further…
US Tour Dates
5/17: Madison, WI @ Overture Center for the Arts, Capitol Theater
6/16: New York, NY @ Joe's Pub
6/25: New York, NY @ Central Park Summerstage
6/28: Philadelphia, PA @ World Cafe Live, upstairs
6/30: Montreal, QUE @ Montreal Jazz Festival
7/1: Detroit, MI @ Jazz Cafe at Music Hall
7/2: Toronto, ON @ Toronto Jazz Festival, The Horseshoe Tavern
7/3: Ottawa, ON @ Ottawa Jazz Festival
7/29: Portsmouth, NH @ The Music Hall
7/30: Newport, RI @ The Newport Jazz Festival
7/31: Canadensis, PA @ The Skytop Lodge
9/28: Redbank, NJ @ The Count Basie Theater
10/1: Boston, MA @ Berklee Performance Center
10/4: Albany, NY @ The Egg
10/9: Newark, NJ @ NJPAC
10/20: Muncie, IN @ Ball State U, Emmons Auditorium
10/21: New Albany, IN @ The Ogle Center, Richard K. Stern Concert Hall
10/22: Jasper, IN @ Jasper Arts Center
10/25: Chicago, IL @ City Winery
10/27: Minneapolis, MN @ Dakota Jazz Club
10/28: Mason City, IA @ North Iowa Area Community College
10/29: Des Moines, IA @ Des Moines PA,- Temple Theater
Format:
UK English