Hear Rob Zombie's New Terrifying Tracks on '31′ Soundtrack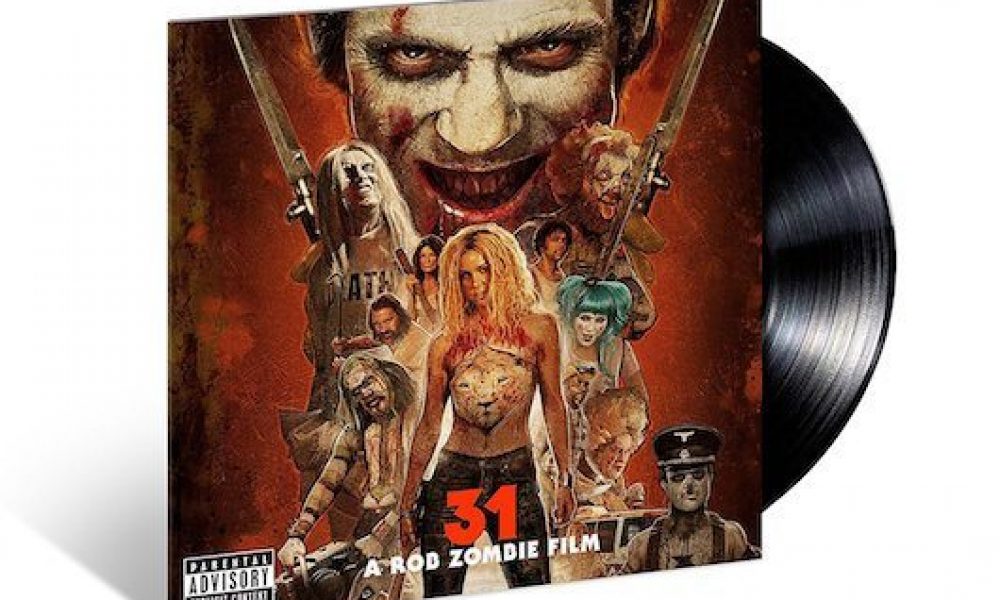 "Can't you smell that smell?" Ronnie Van Zant implores, but in this case it's less the whiff of whiskey bottles than it is of rotting corpses. But do you expect anything less from the rock'n'roll filmmaker, Rob Zombie?
Horror auteur Zombie delivers the same high-energy gore that the genre's fans have come to expect and love. Like his previous fare, The Devil's Rejects and Halloween, 31 serves up another homage to 70s horror, with a colourful cast of deadbeats and carnies.
Produced by Zombie, the 31 soundtrack includes eight exclusive original score compositions he co-wrote and/or recorded with collaborators John Five, Bob Marlette, and Chris 'Zeuss' Harris, as well as a few classic rock and country favourites from James Gang, Lynyrd Skynyrd, The Mamas And The Papas, Ernest Tubb and more.
The soundtrack is also interspersed with narrative clips from the film, including plenty of disturbing monologues from Malcolm McDowell. Even without his droogs and billyclub, McDowell cuts a terrifying figure as the primary torturer Father Murder in the film.
Despite its sunny disposition, the inclusion of 'California Dreamin'' is not heralding the coming of pleasant weather, but more sinister plot twists. But its appearance in a horror film shouldn't come as total surprise, considering its use in Wes Craven's equally sadistic cult film, The Hills Have Eyes in 1977. This counterculture hit and the other selected tracks help to set the tone for all the B-movie mayhem that's to follow, including the old James Gang tune 'Walk Away' and another country legend from Decca Records, Kitty Wells' 'We Buried Her Beneath the Willows'.
Rob Zombie has continuously surprised critics with his cinematic success. What initially appeared to be a mere foray into film has blossomed into a serious filmmaking career that's spanned over a decade and seven feature films. The writer-director continues to utilise his musical and visual talents to push audiences to new uncomfortable heights.
The 31 soundtrack is available for download and streaming here, with vinyl to follow on 14 April 2017, and the film will be released on home video on 20 December. Watch the trailer below, and scroll down to read the full tracklisting.
Rob Zombie's 31 Official Trailer #1 (2016) - Sheri Moon Zombie, Malcolm McDowell
'Call It A Day' – Al Bowlly With Roy Fox And His Band
'They Call Me Doom-Head' – Richard Brake
'Walk Away' – James Gang
'The Midway Say Sweet Charley' – Lawrence Hilton-Jacobs
'That Smell' – Lynyrd Skynyrd
'Fixing These Death Traps' – Jeff Daniel Phillips
'We Buried Her Beneath The Willows' – Kitty Wells
'You Digging What You See Pops?' – Sheri Moon Zombie
'Walking The Floor Over You' – Ernest Tubb
'Wolfman Jack Halloween Show' – Wolfman Jack
'RV Attack' – John Five, Rob Zombie, Bob Marlette, Chris Harris
'We Are Going To Play' – Malcolm McDowell
'The Game Begins' – John Five, Rob Zombie, Bob Marlette, Chris Harris
'Number 4' – Pancho Molar
'Bathroom Hell' – John Five and Bob Marlette
'Count Yourselves Lucky' – Lew Temple And David Ury
'Wet Kitty' – John Five, Rob Zombie, Bob Marlette, Chris Harris
'Hunt These Freaks Down' – Sheri Moon Zombie
'Inside The Cage' – John Five, Rob Zombie, Bob Marlette And Chris Harris
'Sex And Death' – Torsten Vogues and E.G. Daily
'Death And Sex Fight' – John Five, Rob Zombie, Bob Marlette And Chris Harris
'Perfect Game' – Richard Brake
'Moonwheel Zero Gravity Whirlpool' – Chris Harris
'I'm Not Crazy' – Richard Brake
'California Dreamin'' – The Mamas And The Papas
'The Eyes Of A True Champion' – Richard Brake
'The Show Must Go On' – John Five and Bob Marlette
'Another Exciting Year Of 31' – Malcolm McDowell
Format:
UK English