Paolo Conte – Live Around The World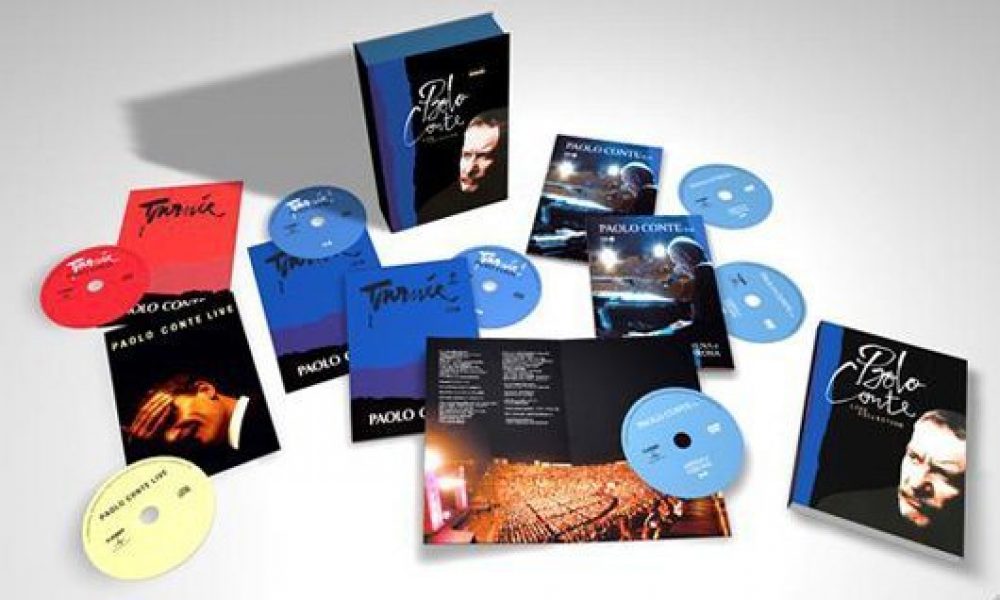 An accomplished jazz pianist who commands more styles than Rome has cultural landmarks, Paolo Conte's live shows have long been the stuff of legend for his many fans. Like an Italian Serge Gainsbourg, with Italian jazz, French chanson and Argentinian tango at his fingertips, Conte might one minute be singing a melancholy song about loss, the next taking a wry look at life's vicissitudes. All the while, he transposes audiences from the concert hall to a classy, globe-trotting lifestyle that Conte's music embodies.
A string of live albums released though the 80s and 90s have cemented Conte's reputation as a performer par excellence. On 1 July they get reissued in the 6CD+DVD Live Collection, a deluxe seven-disc box set that not only makes these much-loved albums available for the first time in ages, but includes a DVD with footage of the complete 2005 album Paolo Conte Live Arena Di Verona, along with a host of bonus video material.
Known to vary his setlists wildly throughout his career, Conte ensures that, for fans, his performances aren't just concerts, they're events. There's no way we could do justice to the scope of his live prowess here, but one glance at the tracklist will convince fans – if they need any convincing at all – that the Live Collection box set is an essential purchase:
CD1: Paolo Conte Live (1988)
'Dancing'
'Come Mi Vuoi?'
'Sud America'
'Blue Tangos'
'Gli Impermeabili'
'Aguaplano'
'La Negra'
'Jimmy, Ballando'
'Messico E Nuvole'
'Blu Notte'
'Vamp'
'Max'
'Don't Break My Heart (Spaccami Il Cuore)'
CD2: Tourneè (1991/93)
'Ouverture Alla Russa'
'Fuga All'inglese'
'Come Mi Vuoi?'
'Colleghi Trascurati'
'Pittori Della Domenica'
'Ho Ballato Di Tutto'
'Anni'
'Baci Senza Memoria'
'Happy Feet'
Macaco'
'Lupi Spelacchiati'
'Sparring Partner'
'Il Maestro'
'Madeleine'
'Azzurro'
'Pretend, Pretend'
'Reveries'
'Luxury Bound (Nessuno Mi Ama)'
'Bye, Music'
CD3: Tournée 2, Part 1 (1994/98)
'Dal Loggione'
'Un Fachiro Al Cinema'
'Eden'
'Novecento'
'Luna Di Marmellata'
'Chi Siamo Noi?'
'Nord'
'Gong-Oh'
'Sono Qui Con Te Sempre Più Solo'
'Legendary'
'La Donna Della Tua Vita'
'Chiamami Aadesso'
'Swing'
'Nottegiorno'
CD4: Tournée 2, Part 2 (1994/98)
'Rebus'
'Tua Cugina Prima (Tutti A Venezia)'
'Spassiunatamente'
'Schiava Del Politeama'
'La Frase'
'Sijmadicandhapajiee'
'L'avance'
'Il Treno Va'
'I Giardini Pensili Hanno Fatto Il Loro Tempo'
'Don't Throw It In The WC'
'Per Quel Che Vale'
'Do-Do'
'Una Di Queste Notti'
'Irresistibile'
'Roba Di Amilcare'
CD5: Live Arena Di Verona, Part 1 (2005)
'Cuanta Pasiòn'
'La Donna D'inverno'
'Sparring Partner'
'Come-Di'
'Elegia'
'Sotto Le Stelle Del Jazz'
'Alle Prese Con Una Verde Milonga'
'Sandwich Man'
'Schiava Del Politeama'
'Genova Per Noi'
'Via Con Me'
'Molto Lontano'
CD6: Live Arena Di Verona, Part 2 (2005)
'Bartali'
'Bamboolah'
'Lo Zio'
'Madeleine'
'Chissà'
'Lupi Spelacchiati'
'Gioco D'azzardo'
'Max'
'Diavolo Rosso'
'Eden'
'La Vecchia Giacca Nuova'
'Via Con Me (Bis)'
DVD: Live Arena Di Verona (2005)
'La Donna D'inverno'
'Sparring Partner'
'Come-Di'
'Elegia'
'Sotto Le Stelle Del Jazz'
'Alle Prese Con Una Verde Milonga'
'Sandwich Man'
'Schiava Del Politeama'
'Genova Per Noi'
'Via Con Me'
'Molto Lontano'
'Bartali'
'Bamboolah'
'Lo Zio'
'Madeleine'
'Chissà'
'Lupi Spelacchiati'
'Gioco D'azzardo'
'Max'
'Diavolo Rosso'
'Eden'
'La Vecchia Giacca Nuova'
'Via Con Me (Bis)'
Format:
UK English